MOSCOW -- It was love at first sight.
Irina Fedotova-Fet met Irina Shepitko met during a vacation in Sochi five years ago. Soon after, Shepitko moved to Moscow to be with Fedotova-Fet, who now describes their partnership as a "family."
"We're a couple of girls who have been together for a long time, who live together. We've been together five years," says Fedotova-Fet. "We're a family -- our relationship is in every way a marriage, just like all those heterosexual couples. We have a joint household, a life together, vacations, everything. We're a family, but the right to marry has been taken away from us."
The two Irinas attempted to formalize their union in May. Dressed in contrasting black and white tuxedos, the women arrived at a Moscow marriage registry, accompanied by a horde of foreign journalists, and asked to have their relationship recognized by the state.
After some confusion, the registrar accepted their application. But the couple was ultimately denied the right to marry. The outcome was not unexpected in a country where there is little public or legislative support for gay rights.

'Set A Precedent'
So the two women are trying a different strategy -- traveling to Canada, which together with Norway are the only countries that allow foreign same-sex couples to marry on their territory.
Fedotova-Fet and Shepitko will then return to Moscow, in the hopes that their Canadian union will be recognized.
You can judge a state's level of civilization by how it treats its minorities.
"Somebody has to start it sometime. We are the first real couple to fight for same-sex marriage to be recognized," Fedotova-Fet says. "We hope that we can set a precedent, and that more and more people will follow our example."
The issue of same-sex marriage has been stirring controversy in a number of countries during the last decade.
Gay-rights activists in some countries have pushed through legislation legalizing same-sex marriage; other governments have opted for civil-union legislation, which provides some, but not all, of the benefits granted married couples.
The United Kingdom in 2005 passed a law legalizing civil unions. In the United States, same-sex marriage has been legalized in six of the 50 states. In France, same-sex couples have had the right to obtain civil unions, called PACS, since 1999.
The Russian family code, which was drafted in the early 1990s, makes no such provision. But Fedotova-Fet says it does not explicitly prohibit foreign marriages of same-sex couples -- a loophole that she and Shepitko are hoping to exploit.
Hired A Lawyer
Still, Fedotova-Fet is not optimistic her marriage will be recognized in Russia. She and Shepitko are already prepared to take their battle to the European Court of Human Rights, and have hired a lawyer in France who is ready to take on the case.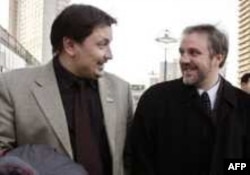 Eduard Murzin (left) and Eduard Mishin
It is not the first time a same-sex marriage has been attempted in Russia. In 2005, two men -- gay activist Eduard Mishin and Eduard Murzin, a straight gay-rights supporter and Bashkortostan lawmaker -- tried and failed to have a same-sex union registered in Moscow.
That marriage attempt was largely a show aimed at drawing public awareness to same-sex rights. Murzin says the new effort by Fedotova-Fet and Shepitko is an opportunity to remind all minorities in Russia to fight for their rights.
"You can judge a state's level of civilization by how it treats its minorities," Murzin says. "This is one more step toward people gaining the right to same-sex marriage -- something I am also fighting for, even though I'm a person of heterosexual orientation."
The gay-rights struggle has become more visible in recent years in Russia, where open debate on homosexuality and alternative lifestyles is routinely frowned upon.
Beaten By Police
The focal point of the debate often centers on the gay-rights parade staged annually in Moscow despite objections from authorities and violent dispersal by police.
Homophobia always has the same themes.
In May, riot police forcibly detained gay protesters at an attempted parade timed to coincide with Moscow's hosting of the Eurovision Song Contest.
Fedotova-Fet, who was among the protesters, says she was dragged away by police and hit in the stomach and back before being detained for 12 hours. Similar parades in 2006, 2007, and 2008 have all been marked by antigay violence.
Fedotova-Fet says she and Shepitko have received abusive letters and threats of violence since publicizing their attempt to marry.
"They write everything from, 'You crazy lesbians, you've never been with an ordinary man,' to, 'You've never been properly -- excuse me -- in your life' to, 'People like you need to be repressed, destroyed.'
"Homophobia always has the same themes," she says.
Homosexuality was decriminalized in Russia only in 1993, and opinion polls continue to show a strong opposition among the Russian public to homosexual lifestyles.

'Such Trends'
There are no open homosexuals in Russian society, even in the entertainment industry, apart from one veteran camp singer, Boris Moiseyev.
The Russian Orthodox Church, whose influence is growing in modern Russia, is vehemently opposed to same-sex marriage and maintains that homosexuality is a sin.
"We believe that marriage is a union between one man and one woman," Vsevolod Chaplin, a spokesman for the church, told RFE/RL. "History clearly shows that such trends like homosexual relationships and lesbianism do not make a person happy."
Life as a gay person may be improving in Russia's big cities, where gay communities are getting bigger and increasingly vocal. But for many gays and lesbians, says Fedotova-Fet, their sexuality remains something that has to be hidden away.
"If a person wants a career, to be more or less successful, he'll hide that he's gay," she says. "I have lots of gay friends who are fairly successful and pretend they're straight and even get married. If you're gay, you're marginal."