Two field commanders of the Islamic opposition located in eastern Tajikistan's Rasht Valley have reportedly agreed to lay down their weapons and join forces with government troops to "hunt down foreign militants."
The independent news agency Asia-Plus quoted authorities in Rasht as saying that 27 members of armed groups commanded by Mirzokhuja Ahmadov and Mullo Sadriddin surrendered their weapons earlier this week.
The news came after local media reported on October 14 that Tajik officials were negotiating with local commanders in Rasht to end intense fighting that has been going on in the onetime militant stronghold for nearly a month. The ongoing military operation against militants began when 28 government troops were killed on September 19 when their convoy was ambushed in Rasht's remote Kamarob Gorge.
Since late September, National Security Council chief Amirqul Azimov and deputy heads of the Interior and Defense ministries have been in Rasht, where they set up the joint staff of power ministries to oversee the military operation.
According to media reports, Azimov and the speaker of Tajik parliament Shukurjon Zuhurov, a native of Rasht, have met with the former Islamic opposition commanders in Rasht to convince them to stop the conflict.
Denied Involvement
Over 60 government troops have reportedly been killed in Rasht in the past month. More than two dozen soldiers were reportedly killed in a helicopter crash officials have attributed to technical failures, although media reports have indicated the helicopter was brought down by militants.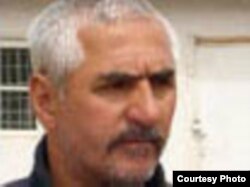 Mirzokhuja Ahmadov
Authorities blamed the September 19 attack on the government convoy on local and foreign Islamic militants. The Interior Ministry's press office initially linked Ahmadov to the Kamarob ambush. Ahmadov's house in Rasht was raided by government forces and he went into hiding.
Ahmadov has always denied any involvement in the Kamarob ambush and accused the government of putting pressure on former opposition commanders.
Ahmadov was a commander of the United Islamic Opposition Forces that fought against President Emomali Rahmon's secular government in the 1992-97 civil war. The war ended with a national peace and power-sharing agreement, which saw former opposition leaders getting a 30- percent share of official positions in local and central governments.
The situation in Kamarob remains volatile, with government troops still engaged in search operations in the mountainous area, where armed militants are believed to be hiding.
Tajik officials and experts close to the government have repeatedly blamed unspecified foreign countries for seeking to destabilize Tajikistan.
Powerful Sponsors
The Interior Affairs Ministry has said government forces recently uncovered a cache with supplies of weapons, food, clothes, and "propaganda materials" in Rasht.
Saifullo Safarov, the deputy head of the Center for Strategic Studies, a Dushanbe-based think tank close to the government, says the scale of militants' attacks indicate these groups have powerful sponsors behind them.
"It would have been impossible for those armed groups [in Kamarob] to purchase that amount of weapons with their own money," Safarov said. "They must have received financial support from the outside, unless these weapons are left from the civil-war era. However, it's difficult to say what country or what group is involved."
Since the Kamarob ambush, it has been difficult to get information from Kamarob as government forces have closed roads leading to the gorge. Communication lines to Rasht have been cut off since the conflict began in September.
State-run television and radio have largely ignored the fighting in Kamarob, limiting their coverage to listing casualty figures. Officials have been reluctant to publicly explain the situation in Rasht.
Authorities announced this week that militants who laid down their weapons voluntarily would not be prosecuted.
written by Farangis Najibullah, with contributions from RFE/RL's Tajik Service