The past year has seen a mind-boggling shift in the relationship between Europe and Belarusian President Alyaksandr Lukashenka.
The man once vilified by the Bush administration as presiding over "the last dictatorship in Europe" has been invited to join five other post-Soviet states in the European Union's Eastern Partnership, due to be formally launched at a summit tomorrow in Prague.

Lukashenka has also emerged from his 13-year exile from the arena of European politics. Last year, no fewer than a dozen EU conditions stood between Lukashenka and his right to travel to Europe. Last week, the Belarusian leader was meeting at the Vatican with Pope Benedict XVI and enjoyed a sumptuous dinner with Italian Prime Minister Silvio Berlusconi.
The thaw has its limits, of course. EU diplomats suggested it might be better for the autocratic Belarusian ruler to steer clear of the Prague summit, evidently in order to spare officials the public humiliation of sharing the international spotlight with a man still viewed by many as a pariah.
They also recommended that he refrain from recognizing the Moscow-backed independence of Abkhazia and South Ossetia ahead of the gathering, in order to avoid offending fellow participant Georgia.
Mercifully, Lukashenka took both hints. He authorized his first deputy prime minister and foreign minister to represent Belarus in Prague, and postponed a parliamentary debate on Georgia's breakaway regions until a later date.
Brussels has sighed with relief.
EU Realpolitik
Belarus's inclusion in the Eastern Partnership initiative highlights several intriguing aspects of the EU's realpolitik in its dealings with troublesome leaders like Lukashenka.
The bloc's desire to coax Belarus into the European fold -- despite Minsk's deplorable human rights record -- underscores the urgent search in Brussels for an effective antidote to Russia's political assertiveness after the Kremlin's military intervention in Georgia in August.
But it is precisely this perception of the EU's motivation that Lukashenka would like to suppress. Faced with the unsavory prospect of negotiations with Moscow later this year over the price of Russian gas, the Belarusian leader is eager to demonstrate that, Eastern Partnership or no, the relationship with Moscow is inviolable.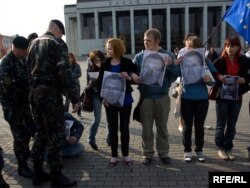 Police keep a close eye on demonstrators in Minsk in early May.
Inviolable but not necessarily loving. "We have signed a treaty with Russia on building a union state and we will not back down from this treaty even if Russia has a tendency to move away from what has been agreed," Lukashenka told Reuters this week, skating over the fact that the treaty was signed 10 years ago.
It's a statement that sends two messages. On the one hand, it underscores Lukashenka's resentment of the fact that the Kremlin chooses to charge Belarus more than Russia's domestic consumers for natural gas. On the other, it informs both Moscow and Brussels in no uncertain terms that Minsk will not involve itself in anything in the Eastern Partnership that can be construed as "anti-Russian." (Russia has complained that the Eastern Partnership is at attempt by the European Union to establish a "sphere of influence" in its post-Soviet backyard.)
Footloose And Fancy-Free
Then there is the perception that the West's notion of democratic standards tends to be flexible and can be easily "adjusted" to accommodate specific cases, depending on political expediency. The notion hasn't been lost on Lukashenka. Asked by Reuters why he repeatedly accuses the West of double standards, he answered bluntly, "If I had [natural] resources like Russia and Kazakhstan, our relations would be completely different."
The Prague summit arguably provides the Belarusian leader with an apt example of what he sees as EU hypocrisy. After all, critics might argue, while Lukashenka has been encouraged unofficially to skip the gathering, a second problematic leader from the West's perspective -- Azerbaijani President Ilham Aliyev, who is by most accounts no more of a dedicated democrat than Lukashenka -- is being welcomed with open arms. Lukashenka would probably argue that the roots of the disparate treatment lie in hydrocarbon resources. (One day after the Eastern Partnership gathering, Prague hosts a "Southern Corridor" energy summit at which Aliyev will play a prominent role.)
Convinced of the EU's inherent duplicity, Lukashenka appears unworried that membership in the Eastern Partnership will lead to demands that he change his autocratic behavior. "We have to destroy stereotypes in people's minds that Belarus can be isolated or taught a lesson," he told Reuters.
In fact, neither the Prague "disinvitation" nor demands to clean up his act are likely to distract Lukashenka from the biggest breakthrough in his political fortunes -- last week's trip to Rome and his meetings with the pope and with Berlusconi. It was the Belarusian leader's first visit to an EU country since 1996, and he appeared to enjoy it thoroughly.
Miracle Worker?
With his trademark brashness, Lukashenka invited the pontiff to visit Belarus, and offered to serve as a middleman in arranging a meeting between Benedict and Patriarch Kirill, the head of the Russian Orthodox Church, which remains in a protracted standoff with the Roman Catholic Church.
The Moscow Patriarchate grumbled at Lukashenka's offer to jump in and attempt what the Western and Eastern branches of Christianity have failed to accomplish over the past millennium. But the Belarusian president got what he wanted -- to emerge as an international media hero on the day of his trip to Rome.
Lukashenka only added to the frenzy by taking his 5-year-old son, Mikalay, with him to meet the pontiff. Mikalay is widely believed to be the product of an extramarital affair between Lukashenka and a younger woman once described by the Belarusian leader as a "doctor" working in a hospital in Minsk. Lukashenka, who has two adult sons from his legal wife, has offered cryptic suggestions that he may be raising young Mikalay to become his successor.
The Vatican, with its rigorous rules on marital and sexual conduct, has not commented on Mikalay's meeting with the pope. But international media outlets delighted in publishing photographs of Mikalay playing ball with visibly puzzled cardinals in the Vatican Library, even as his father was advising Benedict on how to bridge the 1,000-year schism between Orthodoxy and Roman Catholicism.
Lukashenka, it would seem, is back -- with big ideas, a 5-year-old heir, and an excellent mood. In his interview with Reuters, he said he was considering giving government jobs to members of the opposition.
That could prove the only bright spot for Lukashenka's detractors at a moment when Europe is arguably embracing an authoritarian leader without reforming him in the least.