On his recent trip to the United States, Russian President Dmitry Medvedev
visited California's techno-hub
, Silicon Valley, to meet with high-profile IT and Internet companies and explore further U.S.-Russian business ties. The visit was consistent with Kremlin efforts to foster high-tech innovation and diversify Russia's oil- and gas-dependent economy.
Pursuant to that vision, Russia is
seeking to develop
a high-tech hub south of Moscow called Skolkovo. The Kremlin has heralded the project as "the Russian Silicon Valley." RFE/RL correspondents Valentin Baryshnikov and Owen Strong spoke recently with Viktor Vekselberg, manager of the project, about how Skolkovo works.
RFE/RL: How is the system of private and government funding for Skolkovo going to work? Is it mostly a government funded venture? Viktor Vekselberg:
No, of course not. Again, we are creating this middle ground. What does it mean, creating this middle ground? At what moment are we going to say that we have reached a middle ground? It's when there is a functioning research university. There will be a research center for large businesses. There will be [a business] incubator. There will be branches from our other academic institutes. And we hope that the aggregate inventories of all these companies will be used to initiate the process of exchanging ideas and knowledge in order to create new ideas.
RFE/RL: So what sort of places or companies are you modeled after? Which companies or institutes is Skolkovo competing against?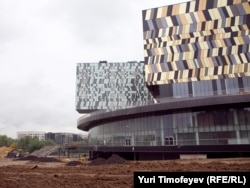 The Moscow School of Management, Skolkovo, under construction in May 2010
Vekselberg:
Right now, the task is to accumulate a certain level of intellectual potential. And only then can one be sure that that level of intellectual potential can be self-sufficient and create ideas on its own. And if you look at America, America itself doesn't have a large amount of these places, these kinds of territories. There is MIT, there's Stanford. Take the whole world [as an example] -- China also has three or four; Singapore has one; Taiwan two; India two. The key to success is a concentration of intellectual potential.
RFE/RL: What about tax breaks and incentives for start-ups to come to Skolkovo? What kind of businesses will be attracted to Skolkovo?Vekselberg:
In Skolkovo, we are interested in only certain activities. I mean scientific experimentation and experimental construction projects. Skolkovo is not a place for the creation of large factories. And the [tax] exemptions that are given to companies are only given to companies that focus on certain projects.
RFE/RL: Critics of this project say that in Russia this sort of project to develop new, groundbreaking technology is not possible because the technology, the factories all lag too far behind. I am wondering how you imagine the funding for the project will be broken up. Will it be mostly foreign investment? What kind of innovative potential will private Russian companies play?Vekselberg:
The start-up demands in the Russian market are no different from international initial investment requirements. Russia has an altogether different problem. Russian currently has a very poorly developed system of commercialization -- meaning that bridge between ideas and the formulation of an idea, a patent, and the development of that idea in business, in the market. Those types of specialists, that kind of technology, and that type of venture capital [don't] exist in the Russian market.
RFE/RL: What about in the long term? Is this the first of many technology hives in Russia?Vekselberg:
We are thinking about this project as a sort of pilot project. Where specific technologies should be regulated and stimulated. And, of course if [Skolkovo] is successful, then it should be spread throughout Russia.