Mass Grave Unearthed In Chechnya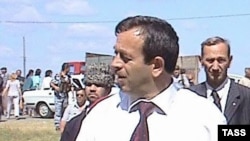 Chechnya's official human rights ombudsman, Nurdi Nukhazhiyev, is demanding an investigation into what he says is a mass grave containing the bodies of up to 300 men, women, and children.

Nukhazhiyev says the victims were all civilians and were killed when, in an attempt to escape the fighting, their column of vehicles came under fire from Russian troops in October 1999.

"All the vehicles [in the convoy] were carrying white flags made out of bedsheets, so the troops would not shoot," Reuters quotes Nukhazhiyev as telling a conference on missing persons organized by Chechnya's local government on July 1. "However, as soon as the column came over the brow of the hill ... the federal forces opened fire."

He said that after completely destroying the convoy of refugees, the soldiers buried the corpses together with their vehicles and belongings in a big pit on the territory of an asphalt plant, about 25 kilometers from the Chechen capital, Grozny.

About This Blog
"Watchdog" is a blog with a singular mission -- to monitor the latest developments concerning human rights, civil society, and press freedom. We'll pay particular attention to reports concerning countries in RFE/RL's broadcast region.
Journalists In Trouble
RFE/RL journalists take risks, face threats, and make sacrifices every day in an effort to gather the news. Our "Journalists In Trouble" page recognizes their courage and conviction, and documents the high price that many have paid simply for doing their jobs. More