It has been called the most bizarre volunteer job in the world.
The role of America's "first lady" is not really a job. There is no description of its duties, no written rules, and it is not mentioned in the U.S. Constitution. But the role of the U.S. president's wife does have expectations that have been shaped over the years, and public criticism serves as a sign that she has gone beyond the public's vision of what a first lady should do.
For instance, serving as official hostess, planning state dinners, and selecting a noncontroversial project or two to promote are acceptable. Wearing stylish clothes is recommended, although criticism about choices of attire or hairstyle must be expected.
Serving as an official adviser to her husband or having a public role in drafting policy, however, are considered stepping over the line. One of the unwritten rules is that a first lady should not have a career of her own.
When Michelle Obama becomes the first lady on January 20, she will inherit a role that some say may be too limiting for an accomplished Harvard-trained career woman.
'We Love Our Traditions'
Kati Marton, author of "Hidden Power," a book about presidential marriages, said in a 2004 interview that "the White House is not a good place for a career woman. We love our traditions and we seem not to want somebody who's going to experiment too much with the role."
Hillary Clinton, wife of former President Bill Clinton and now designated to be secretary of state in the new Obama administration, found that out firsthand when she served as first lady from 1993-2001.
"For the first time in my adult life, I was a volunteer -- a full-time volunteer -- 24 hours a day," she said in an interview for the U.S. television network PBS, also in 2004.
In the following video, RFE/RL looks at the role of the first lady in American life, and at how Michelle Obama may be able to learn from the successes -- and missteps -- of her predecessors:
Hillary Clinton tested the limits of her position when her husband named her to head a commission on health-care reform. The public's response was that she had strayed too far into the policymaking arena, forcing her to step back into traditional first lady territory.
"To our surprise, it was a firestorm that people were really upset and concerned about," Clinton admitted. "I was surprised to find out that Washington was more conservative than Arkansas [where Bill Clinton served as governor for 12 years] when it came to the role and responsibilities of the person who was married to the chief executive."
Cherie Blair, wife of former British Prime Minister Tony Blair, wrote a recent column in "The Times" of London headlined "My Advice To Michelle Obama: Learn To Like The Back Seat," and offered a bit of candid advice to the incoming first lady. Blair, the mother of four, and an attorney who continued her career while her husband was in office, remarked on what she sees as a double standard.
"It is something of an irony that in these days of pushing for equality, those of us married to our political leaders have to put their own ambitions on hold while their spouses are in office and keep their views to themselves," complained Blair.
'Mother-In-Chief'
The fact is no American first lady has ever tried to have an outside job while her husband was in office. So far, Michelle Obama has expressed no regrets about giving up her career. She has said that her most important activity, in the beginning, will be "mother-in-chief" -- getting her two daughters, Malia and Sasha, settled and used to their new life in the White House.
Promoting the needs of military families and the work-family balance that she, like millions of other Americans, struggles with are two areas of interest to her. Having a project to promote is a traditional first-lady activity. But whether she becomes a first lady who will test the boundaries remains a question.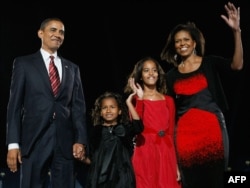 Michelle Obama says she wants to be "mother-in-chief" to her two daughers, Malia (second from right) and Sasha.
Myra Gutin, a professor at Rider College in Maryland and an authority on first ladies, points out that Michelle Obama has not signaled what her priorities will be.
"I think people are wondering how Michelle Obama will function as first lady since she has been very specific about saying, 'I'll be the first mother-in-chief.' People are curious how she and her family will acclimate to the White House. Then a little bit down the road, what area of advocacy will she embrace?" Gutin says.
Former first lady Barbara Bush, wife of former President George Bush, father of the current president, was happy to stay within the safe boundaries expected of the first lady.
"On issues of policy, I felt George was elected, I wasn't," she said in 2004. "I mean, there were so many things I could work on that were not -- that did not need government funding, that were not controversial. So why look for trouble?"
That doesn't mean that a first lady can't be powerful in more traditional ways -- as a trusted confidante to her husband, for instance. A first lady is someone who can tell the president the truth when, perhaps, others will not.
"Historically, there had always been very influential and even powerful first ladies who had played major roles in their husband's administration, but that had always been behind the scenes," Clinton said.
After the furor over her official appointment in 1993, Clinton took a lesson from her predecessors. She continued to be involved in working on health-care and welfare reform, but out of the spotlight.
'He Knew I Wouldn't Tell'
Eleanor Roosevelt was a trailblazing first lady who became the moral voice of Franklin D. Roosevelt's administration in the 1930s and '40s, but she was careful to deny she had any power.
Nancy Reagan, wife of former President Ronald Reagan, was someone who diligently kept an eye on his staff, and she had a hand in vanquishing some of her husband's closest aides. President Lyndon Johnson relied on his wife, Lady Bird's, critiques of his speeches, getting defensive when she said he had spoken too fast.
As Barbara Bush put it, "A president does need someone he can trust and someone who can talk to him. So I listened, and I cried with him or laughed with him. But we did talk and he knew I wouldn't tell."
The American public knows this unofficial "pillow talk" goes on between president and first lady, but there has always been a "don't-ask, don't-tell" acceptance -- as long as the first lady is not acting like the co-president.
Michelle and Barack Obama have, by all accounts, a warm and close relationship. She is known as the person who can ground him and bring him back to Earth when necessary. Before Obama's keynote speech to the 2004 Democratic Convention -- the speech that made him a political star -- Michelle Obama famously told her husband: "Don't screw it up, buddy."
We don't know whether Michelle Obama will be a groundbreaking first lady, but she will almost certainly provide the safe harbor that all presidents need.
Ricki Green, RFE/RL's associate director for visual media, was the producer of "The First Lady: Public Expectations, Private Lives" for the U.S. public television network PBS in 2004 and of two additional television biographies of first ladies.