MOSCOW -- For eight years, 16-year-old Akram has been living in Moscow's Children's Home No. 19.
He and his brothers and sister were all put into state care after they were discovered living in terrible conditions with their Uzbek father and Russian mother.
The post-Soviet period saw millions of people from Central Asia and the South Caucasus migrate to Russia in search of work. One consequence of the mass migration cycle of the past 20 years has been a rise in Kazakh, Uzbek, and other children living in Russian orphanages after being abandoned or taken away from neglectful parents.
Maria Ternovskaya, the head of the orphanage, says Akram and his siblings, when told to take showers, asked if it was summer. At home, they explained, they had only bathed when the weather was hot.
Today, Akram is a tall, handsome teenager, who happily displays a gold medal he won for a Moscow-wide drawing competition. He proudly shows it to Ternovskaya and other staff members, who congratulate him on his achievement.
Other siblings have also done well. Akram's older brother was adopted and is doing well in the United States. His older sister is studying at university.
"For Russians, they are not Russians. For Kazakhs and Uzbeks, they are not Kazakh and Uzbek," Kapilina says. "And they get the feeling that they are nobody. They are also subject to aggression because of their specialness. They are the most difficult group of children, because they are very difficult to find a family for."
Neither Here Nor There
Growing racism in Russia -- which has seen a rapid rise in the number of xenophobic attacks against Central Asians and people from the Caucasus -- has exacerbated the problem of placing children, Kapilina says.
Wards of No. 19 include Misha, a quiet 11-year-old who was abandoned after his Azerbaijani father was convicted of a crime and deported. There is also 5-year-old Leon, who was taken into care after his African mother and Russian father were unable to care for him properly. Another child is half-Mongolian; still another is half-Iranian.
The problem has been further complicated by a new trend -- the return of former migrants to their home countries as job opportunities in Russia dry up.
Sulaiman Shokhodr, from the Migration and Law rights center in Moscow, says there is a growing number of cases involving migrants' children who are abandoned or taken into care when families return home.
"It's an old problem, but it has become more current in recent years as earlier members of families came on their own, but now they come with their families," Shokhodr says.
The human rights ombudsman for Kyrgyzstan, Tursunbek Akun, said recently that 60 Kyrgyz children had been left in Russian orphanages during the past three years.
Two-thirds of the children have reportedly already been adopted, mainly by families in the United States.
For Russians, they are not Russians. For Kazakhs and Uzbeks, they are not Kazakh and Uzbek
These cases are not limited to Kyrgyz children. Gavkhar Dzhurayeva, the head of the Migration and Law center, recounts the story of two Tajik children who were left behind in Moscow after their relatives returned home. Some time later, distant relations came looking for them, but by that time, an American family had already expressed interest in adopting them. The home where they were living left the decision up to the children. They chose the United States.
Akun has attempted to convince the government in Bishkek to repatriate the Kyrgyz children still remaining in Russian orphanages. But Shokhodr says none of the governments in Central Asia or the Caucasus wants to make a priority of abandoned children at a time when there are so many problems related to labor migrants, including the increasing failure of Russian employers to pay wages.
Proud Of Home No. 19
But not all of the children resent the turn their lives have taken. Akram, a budding rapper, describes a home life filled with deprivation and neglect.
"I was born during the fall of the hammer and sickle. I was constantly tortured by feelings of hunger, cold, and housing estates, perestroika, shootings, and fights," he raps.
"Some great, more or less pitiful, drunken friends. Ended up in a children's home. Few of them knew what the love of a mother and father was. I remember my first victory, the first blood on the fists. You can hear about me on the home way. I will punish the wall, I will punish the roofs. Do you hear?"
Akram says ending up in No. 19 was one of the best things that's ever happened to him.
"Kids are happy here. They can achieve a lot in this life -- experience, a good education," Akram says. "Child psychologists work here. It's great here. I like that I ended up here. I'm proud of the children's home. When -- maybe, if -- I become famous, then I will say I came from Home No. 19. It's my home."
Many of Russia's children's homes are woefully underfunded; few children who spend their lives in state care are able to integrate into normal society. Statistics indicate one in 10 children living in orphanages commit suicide.
Unlike many Russian orphanages, No. 19 is based on the principle of helping children out of the system. Until recently, it featured a foster care center -- a pioneering system in Russia, where domestic adoptions and foster parenting are still extremely rare. Home No. 19 has succeeded in having 350 children adopted or placed in foster care in the past 15 years.
Unfortunately for the home, the program to place to children with foster parents was dealt a blow last year, when Ternovskaya says a new law was passed separating the supervision of foster families from the support networks offered by the staff at No. 19.
"The family was separated from the [foster] service. So the [foster] family is left isolated on their own with their problems," she says. What we did before was offer our help, and it was legally guaranteed. That's what we offered, and that's how we managed to build up this program. We answered for the results, just as the family did. It was a joint responsibility."
RFE/RL's Kyrgyz Service contributed to this report
Young And Homeless In Almaty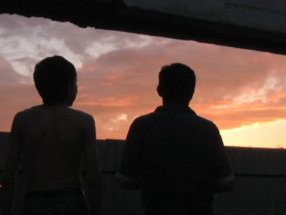 Young And Homeless In Almaty
In Kazakhstan's main city, there are homeless children who have fled abusive families or other domestic problems to fend for themselves on the streets. Yermek Boltayev of RFE/RL's Kazakh Service got to know one such teenager, 16-year-old Sava. Play