A similar project a decade ago ended in fisticuffs and charges of sexual harassment, but scientists hope that this time a simulated marathon space mission to Mars flies smoothly.
Six men are now locked away in a mock spaceship inside a Moscow research center, where they will spend 18 months in isolation. The mission is intended to help scientists understand how humans would cope with a real trip to Mars.
The crew -- from Russia, Italy, France, and China -- are to spend the entire mission inside a windowless facility at Russia's Institute For Biomedical Problems (IBMP). The task of the Mars-500 experiment is to mimic the timescale of a possible mission to Mars -- 250 days for the trip to Mars, 30 days on the surface, and 240 days for the return journey.
The project's technical director, Yevgeny Dyomin, told RFE/RL's Russian Service that the hatch will only be reopened when the experiment is over or if one of the participants is forced to pull out.
"[The experiment] can be interrupted if its conditions begin to pose a threat to [crew members'] health, both in terms of medical indicators and equipment," Dyomin says. "No other reason -- not even if a crew member decides to leave on his own -- will make us halt the experiment."


Lots Of Issues
Scientists hope that the experiment, financed by Russia, China, and the European Space Agency (ESA), will provide quality data about some of the technological challenges and psychological issues faced by a future Mars exploration crew.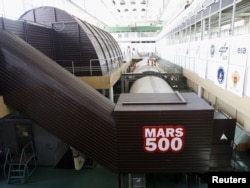 An overview of the "confinement module" where the scientists will conduct the Mars-500 experiment.
"There are psychological issues; the issue of lack of contact with Earth. There are issues related to psychological compatibility. There is the issue of claustrophobia. There is also the issue of a closed life cycle," says Lev Zelyony, the director of the Space Research Institute at the Russian Academy of Sciences. "And each of these may, in turn, serve as a reason that such a manned mission fails, because something slips."
The mock spaceship comprises a series of interconnected steel canisters, with a total volume of some 550 cubic meters.
During their "journey," the volunteers will have to survive on limited food rations and their only communication with the outside world will be via e-mail, delayed and occasionally disrupted to imitate the effects of space travel.
Eight-Hour Chunks
They'll have the same diet as real astronauts on the International Space Station -- packaged food given at the beginning of the experiment that will have to be rationed.
"Food or water cannot be renewed. What has been consumed is gone, so [the crew] will depend on their supplies," Dyomin says. "There is a greenhouse system that is expected to produce some greens, which will serve as food supplements. But this system will be launched at the very end of the experiment. Any other greenhouse equipment is there solely for the psychological effect -- flowers, berries. It's nice to look at and take care of, but [such equipment] cannot produce food for regular consumption."
The participants' days will be divided into eight-hour chunks -- of sleep, work, and leisure. They will have two days off in a week, except during simulated emergencies.
"We are going to simulate certain emergency situations, but we're not telling the crew about it yet," Dyomin says.
A team of three will spend one month aboard a special module meant to represent the Mars landing craft, while two will spend time exploring a reconstruction of Mars itself in an enclosed room with a floor covered in rocks and sand.
The ESA said the crew will also regularly play video games as part of its project to develop personalized software to interact with crews on future space missions.
'Glorious Time'
Ahead of the experiment, Chinese participant Wang Yue, 27, said he thought it was "all a glorious time in our lives." France's Romain Charles, 31, said the hardest thing will be the disruption of contact "with the family, the girlfriend, the friends with whom the distance is going to be difficult to manage."
Both Charles and Italian-Colombian Diego Urbina, 27, are engineers by training, while China's Wang is an employee at China's space training center. The 38-year old Russian captain, Aleksei Sitev, is a marine engineer and astronaut trainer and his two Russian compatriots, Sukhrob Kamolov, 32, and Aleksandr Smoleyevsky, 33, have medical backgrounds.
Psychologists have warned that months of space travel will push the team to the limits of endurance as they grow increasingly tired of each other. But Dyomin remains confident.
"It's probably a little easier with this particular crew because there are no firm ties [among crew members]. They are relatively new. None of them have ever participated in any such experiment...
"They will go through a process of training and adjustment. They're going to form their sympathies and antipathies, although we have not observed any antipathies yet. So far all of them have interacted in a friendly manner."
The project is the first full-duration simulated mission to Mars. A similar experiment at the same Moscow research center last year, which saw six volunteers -- four Russians, a German and Frenchman -- shut away for 105 days, went smoothly.
But an earlier eight-month simulation study carried out at the same institute between 1999 and 2000 ran into trouble, when a female Canadian scientist complained that she had been forcibly kissed by the Russian team captain and that two Russian crew members had a fist fight.
European space officials and the U.S. space agency NASA have separately proposed that potential manned flights to Mars could be possible around three decades from now. Both the United States and Russia are working on spacecraft that could be used for such missions, but design work is still in an early stage.
The distance from Mars to Earth varies between 55 million and more than 400 million kilometers, depending on where the two planets are in their respective orbits.
with agency reports