TEHRAN (Reuters) -- A moderate challenger to hard-line President Mahmud Ahmadinejad has condemned the authorities for blocking access to the Facebook social networking site ahead of the June 12 presidential election.
With the Internet playing a mounting role in political debate, authorities have curbed access to political, human rights, and news websites, and
blocked Facebook on May 23
.
Former parliament speaker Mehdi Karrubi said websites should be tolerated at "such a sensitive political period."
"[Facebook] was filtered by the authorities because of moral issues. But filtering Facebook just days before the election was wrong," Karrubi told a news conference.
Reformists say by blocking websites the government wants to force Iranians to rely on the state-run media, which they accuse of giving biased coverage in favor of Ahmadinejad.
Ahmadinejad is in a four-way race against two moderate candidates and former head of the Revolutionary Guards Mohsen Rezai.
Websites like Facebook have become an important campaign instrument for moderate candidates, particularly former Prime Minister Mir Hossein Musavi, who want to mobilize Iranian youth to vote out Ahmadinejad.
One Facebook page campaigning for Musavi had more than 5,200 members.
Iran's judiciary said last year more than 5 million websites were being blocked by authorities since they "inflict social, political, economic, and moral damage, which is worrying."
More than 150,000 of Iran's population are Facebook members and young voters make up a huge bloc -- which helped former reformist President Mohammad Khatami to win the election in 1997 and 2001. Khatami backs Musavi's candidacy.
Text messaging also has become an integral part of the campaign and has sparked a formal complaint from hard-line backers of Ahmadinejad, who is bearing the brunt of sometimes rude jokes.
"You can not change the driver [the president] of a crashing car [Iran]," read one message. The text messages normally end with a note to send them on to 20 friends.
The official IRNA news agency said Tehran's conservative prosecutor's office would crack down on messages that offended candidates.
The messages are unlikely to penetrate deep into Ahmadinejad's support base among the pious poor.
Iran Election Diary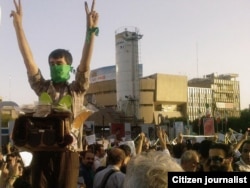 Disputed Presidential Vote
There have been protests and clashes with police on the streets of Tehran following the disputed reelection of Mahmud Ahmadinejad. RFE/RL collects videos, photos, and messages on social-networking sites coming out of Iran to attempt to get a picture of what is happening inside the country.
Click here