When, exactly, is Christmas Day?
The answer may seem evident to many, but in Moldova this question has been spoiling the seasonal cheer for almost two decades.
There are three kinds of Christmas revelers in that small nation on the edge of Europe -- followers of the Moldovan Orthodox Church who celebrate on January 7 according to the old Julian calendar; pro-Westerners and followers of the Romanian Orthodox Church who celebrate on December 25 according to the new Gregorian calendar; and those who compromise by having a double Christmas celebration.
Then there are the communists, who don't observe Christmas at all and exchange gifts on New Year's Eve around a secular fir tree.
Since the 1991 Soviet collapse, Moldovans have been quarreling on the best date to mark the nativity.
This year is no exception.
A decision by the new Western-leaning government to make December 25 an official holiday, in addition to January 7, has angered the Moldovan Orthodox Church and stirred fresh debate about the country's often conflicting ties with Russia and Romania.
"According to our people's Christian tradition, the birth of Jesus Christ should be celebrated on January 7," a woman in Chisinau says. "Why don't the Romanians make January 7 an official holiday to show respect to our Orthodox faith?
"We should celebrate on the 25th like other European countries, but January 7 should also be a holiday, so that nobody is discriminated against."

Unprecedented Move
The dispute first entered the realm of politics last winter when Moldova's then-president, Communist Vladimir Voronin, ruled that the traditional holiday tree would not appear on the capital's main square before December 30 -- days after Western Christmas.
His unprecedented move sparked outrage among liberal Moldovans, including Chisinau's mayor, the pro-Western Dorin Chirtoaca, who defied the official ban by putting up a Christmas tree in the city center on December 9.
Police removed the tree overnight and blocked off the site.
This year, Voronin is no longer president, and Christmas trees went up unhindered across the country in time for Western-style celebrations.
But the government's decision to make December 25 a public holiday was a step too far for the Moldovan Orthodox Church, which is loyal to the powerful Moscow Patriarchate.
The church lashed out at authorities, saying the decision caused "bewilderment" among the faithful and demanding that it be scrapped.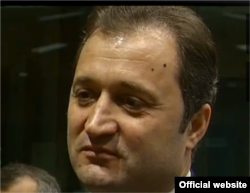 Prime Minister Vlad Filat
Prime Minister Vlad Filat made it clear he had no intention of backtracking.
"We took this decision all together," Filat said. "We discussed it with the head of the Moldovan Church, Vladimir. We are surprised by their change of attitude and their behavior. But everyone has his own priorities. The government's priority is to make sure that the rights and liberties of all Moldovan citizens are respected."
More Indulgent Position
The country's other Orthodox denomination, the smaller Metropolis of Bessarabia, which belongs to the Romanian Orthodox Church, has kept out of the Christmas row.
Its position on the matter is a lot more indulgent -- for years, it has catered to both camps by holding two separate Christmas services.
Many of its priests disapprove of the Moldovan church's forceful stance and accuse it of using the issue to boost its authority.
"What date one celebrates is a purely personal choice," says Ioan Ciuntu, a priest of the Metropolis of Bessarabia. "Why not make December 25 a holiday if many believers celebrate according to the new calendar? After all, those who celebrate according to the old calendar on January 7 and 8 can continue to do so. These days are not taken away from them. It's very easy to create problems and political games by playing on the feelings of believers."
Moldova is not the only country in the former communist bloc where the Orthodox Church has grown into a major political force since the demise of the Soviet Union.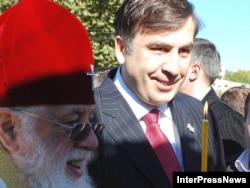 Georgian President Mikheil Saakashvili (right) and Georgia's Orthodox Patriarch Ilia II
In predominantly Orthodox countries like Russia, Georgia, or Serbia, the church has come to play a decisive role in public life as politicians increasingly turn to religious leaders for guidance -- and, often, voter support.
In Georgia, most people hold Patriarch Ilia II in high esteem. In 2008, a weekly Georgian magazine ("Kviris Palitra") named him Man of the Year after he won 53 percent of votes in a popular poll. President Mikheil Saakashvili garnered only 8.3 percent.

'Captain Must Lead'
Understandably, Georgian politicians have actively courted the Orthodox Church leader.
In May, thousands of opposition activists called on the patriarch following weeks of protests in a bid to obtain his political blessing. Despite his criticism of Saakashvili, he stopped short of publicly backing the opposition.
Ilia has been particularly critical of Saakashvili's failure to avoid last year's war with Russia over the pro-Russian rebel region of South Ossetia.
"The captain of a ship must lead his vessel, be able to maneuver, and escape reefs," the Georgian patriarch said.
Ilia nonetheless agreed to act as Saakashvili's political envoy during a December 2008 visit to Moscow, where he attended the funeral of Russian Orthodox Patriarch Aleksy and met with President Dmitry Medvedev.
A humble Saakashvili publicly thanked him for accepting what he called a "diplomatic mission" to convey Georgia's stance on South Ossetia to the Kremlin.
Last month, his government even moved to defend the patriarch's dignity after online videos mocking him sparked national outrage. The Interior Ministry summoned the two teenage authors of the video, and eventually let them go after what they described as a rough questioning.
The body of Serbian Orthodox Patriarch Pavle is carried in a procession during his funeral in Belgrade in November.
Perhaps nowhere are the bonds between state and church as palpable as in Serbia, where the death of Patriarch Pavle in November was marked with overwhelming pomp not seen since the 1980 death of Yugoslav strongman Josip Broz Tito.
The 95-year-old Serbian patriarch was widely respected for his humility, although he was also blamed for failing to openly condemn Serb ultranationalism.

Secular In Writing
Authorities declared a national three-day period of mourning, shutting down offices and schools. Critics said this violated the constitution, which defines Serbia as a secular state.
Ljubisa Rajic, a philosophy professor based in Belgrade, says the Serbian government is secular only in writing.
"The state has long since lost its secular character. The only question is how far this process will go," Rajic says. "I think it will continue until we have a situation where people who oppose the church's meddling in society and in state institutions will be under suspicion, just like people were suspected of straying from communism after World War II."
President Boris Tadic himself was actively involved in commemorations for the late Pavle, giving an emotional speech at his funeral and calling on a Holy Synod meeting. He described the patriarch's passing as a "personal loss" and said he had often consulted with him about important national decisions.
Authorities also allowed crowds of mourners to file past the patriarch's body and kiss his forehead, flouting strict guidelines issued earlier by the government to prevent a swine flu epidemic.
RFE/RL's Moldovan, Balkan, and Georgian services contributed to this report