CHISINAU -- For the first time in a decade, Moldovan leaders held official celebrations in Chisinau on Romania's National Day and renewed calls for closer ties between the two countries, which share a common language and history, RFE/RL's Moldovan Service reports.
Moldova's acting president, Mihai Ghimpu, became the country's first leader in more than a decade to lay a wreath at a monument in downtown Chisinau on the holiday on December 1.
Ghimpu, who has confessed to being a "unionist" but has promised not to seek union with Romania in the near future, told reporters today that this is his "national day," too.
"This is the day for all Romanians, and I am a Romanian," Ghimpu said.
"I have laid flowers to honor our ancestors and I want to wish all Romanians happiness and good health. I want good ties [with Romania] and let's not forget that we cannot deny our blood ties."
Also today, at a different event, Ghimpu hinted at a possible change to the Moldovan Constitution to change the name of the country's official language from "Moldovan," as it is now, to "Romanian."
Some top government institutions in Chisinau have already made that change on their websites, where the language-icon has become "RO" for Romanian instead of "MD" for Moldovan.
Other government offices have avoided the dilemma by placing national flags on the site instead of language names.

'One Language, Two Countries'
People in Moldova and Romania speak the same language.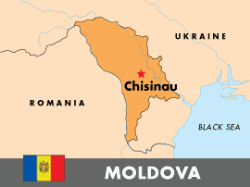 The term "Moldovan language" was coined by the Soviets when they annexed the territory that is now Moldova from Romania at the beginning of World War II, as part of the Ribbentrop-Molotov Pact.
Until 1989, Moldovans were forced to use the Cyrillic alphabet instead of the Latin one, in another attempt by the Soviets to differentiate the new Soviet republic from Romania.
Pro-Romanian sentiment has been on the rise in Moldova ever since the breakup of the Soviet Union, but it has became more vocal after a new, pro-Western coalition of four parties came to power in July.
In his first trip to Brussels in September, new Moldovan Prime Minister Vlad Filat said at a press briefing at EU headquarters, "Allow me to speak in Romanian, which is my native language."
Moldova's Communist government, which was defeated in a repeat of parliamentary elections in July, had insisted that the language be called "Moldovan," as written in the constitution, and tried to ban a history textbook titled "The History of the Romanians," which some Moldovan teachers used in class.
Romanian President Traian Basescu has recently said that a Communist Moldovan official he did not name had asked for a translator during a visit to Bucharest to talk to him, even though they speak the same language.
Burning No Bridges
But not all its leaders have joined the pro-Romanian trend at the top of Moldova's politics.
Presidential candidate Marian Lupu, the leader of the Democratic Party, told RFE/RL's Moldovan Service on the eve of Romania's National Day that the question of Moldova's official language can wait.
"I dare say that at this point we have a long series of matters [other than the language]: the economy, the social safety net, the school system, health care, which all need to be our top priorities," Lupu said.
Lupu's cool stance regarding Romania has prompted speculation that he is more interested in having good relations with Moscow and with the Communist Party, of which he was a member until this summer, than he is with neighboring Bucharest.
Lupu needs at least eight votes from the Communist opposition in order to win the presidential election in parliament on December 7.
Romania, an EU and NATO member, has welcomed Moldova's calls for better bilateral ties and has promised to be Chisinau's advocate in its aspirations to join the European Union.
Bucharest has insisted for several years that Moldova should be given a firm promise that it could one day join the European Union.
But Brussels has so far offered Moldova only the perspective of better ties and visa-free travel in exchange for reforms.