(RFE/RL) -- Moscow is observing an official day of mourning for the 39 people killed in the twin suicide bombings on the city's metro.
Flags on government buildings are flying at half-staff and mourners have lit candles and laid flowers at the site of the attacks, which also left more than 70 people injured, many seriously.
Security remains high in the Russian capital, with armed police patrolling entrances to metro stations. The Moscow subway is one of the world's busiest underground transport systems, carrying almost 6 million passengers a day.
Tatyana, a flower vendor who works outside Park Kultury, one of the metro stations hit by the blasts, witnessed the commotion as panicked commuters rushed out of the station.
"I saw a young man and also a young woman who were very severely wounded. It was awful. That's what I saw," she told RFE/RL's Russian Service. "Everyone on the square was crying. It was awful. This is a tragedy for all."
WATCH: Muscovites pay their respects to the 39 people who died in the suicide bombings:
Both Prime Minister Vladimir Putin and President Dmitry Medvedev have vowed to track down and kill those behind the terrorist attacks, the first to hit Moscow in six years.
Medvedev spoke late on March 29 after laying flowers on the platform at Moscow's Lubyanka metro station, where one of the attackers struck.
"These people -- we can't call them human beings -- they are just beasts, never mind whatever motives they may have, what they do is a crime according to any law and according to any morality," Medvedev said. "I have no doubt we'll find them and destroy them all."
Medvedev today also called for new laws to prevent terrorism, saying there was room for improvement in the work of government agencies.
Rush-Hour Terror
The first blast tore through Lubyanka, located beneath the headquarters of the Federal Security Service (FSB), during morning rush hour. It killed 23 people.
The second bomb went off less than 40 minutes later at Park Kultury, killing 12 more people. Another four people died in hospital.
In both attacks, the bombs were detonated as the trains pulled into the stations. Russian authorities say they believe two female suicide bombers detonated explosive belts packed with bolts and iron rods.
No group has claimed responsibility for the plot so far, but FSB chief Aleksandr Bortnikov said there were indications the perpetrators had links to the North Caucasus, where Islamist insurgents have claimed a series of deadly attacks outside the region.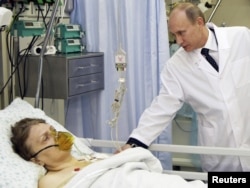 Prime Minister Vladimir Putin visits a survivor at a Moscow hospital.
Russian Foreign Minister Sergei Lavrov said militants on the Afghan-Pakistani border may have helped organize the attacks.
International Threat?


Speaking on March 29 on the sidelines of a Group of Eight (G8) foreign ministers' summit in Quebec, Lavrov said the perpetrators were part of an international terrorist network.
"All this reinforces the necessity of even stronger coordination of our international efforts so that terrorists -- those who organize, plan, pay for terrorist acts -- cannot feel safe anywhere," Lavrov said.
"It's a global terrorist network and we can only fight international terrorism on the basis of all the decisions taken by the international community, especially the United Nations."
Russian authorities have handed police sketches of a man suspected of helping the two female suicide bombers. They are also searching for another two women of Slavic appearance who are also believed to have helped the bombers board the metro trains.
The international community has offered its condolences to Russia and strongly condemned the attacks.
U.S. President Barack Obama pledged that his country would assist Russia in bringing the perpetrators to justice, and Secretary of State Hillary Clinton called terrorism a "common enemy."
G8 foreign ministers also denounced the bombings.
The attacks were the deadliest in Moscow since a bomb on a metro train left 41 people dead in February 2004. Six months later, a suicide bomber killed 10 people outside another Moscow metro station.
The March 29 bombings have sparked fears of a fresh wave of attacks by North Caucasus militants in mainland Russia.
Rebel attacks have been largely limited to the North Caucasus in recent years. But in November, a bombing blamed on the insurgents killed 26 people on a luxury train traveling from Moscow to St. Petersburg.
Chechen rebel leader Doku Umarov vowed last month to take the war to Russian cities.
written by Claire Bigg, with agency reports