Officials in Russia have said that preliminary results of the investigation into the death of a journalist in the Moscow suburb of Khimki indicate that he died of poisoning.
The Russian media carried conflicting reports of the circumstances surrounding Sergei Protazanov's death. A police spokesman told "Kommersant" that Protazanov was found drunk near his house on the evening of March 29. The spokesman said painkillers were also found on the scene. He added that Protazanov was taken to a local hospital, examined, and released into the custody of relatives.
On March 31, according to the police, Protazanov was found at home unconscious and again taken to a hospital, where he died. The spokesman said it is believed that poisoning by a yet-to-be-identified substance was the cause of death and that a decision on whether to open a criminal investigation is pending.
"Gazeta," however, also quoted a police spokesman who said Protazanov was found dead in his apartment on March 30. There were no signs of violence, and the spokesman also said the believed cause of death was poisoning.
"According to relatives, a week before his death, Protazanov had begun abusing alcohol. He also had been borrowing money from friends," the "Gazeta" police source said. "Earlier it was established that on March 28 he had been taken to a hospital by ambulance after being found by local residents in a drunken state." The spokesman said Protazanov was examined at the hospital and released.
However, Oleg Mitvol, deputy head of the government's environmental protection agency, told journalists today he believes Protazanov was killed as part of an ongoing assault against the newspaper where he worked, "Grazhdanskoye soglasiye."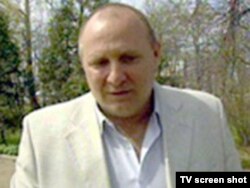 Mikhail Beketov
"Protazanov called his editor, Anatoly Yurov [over the weekend] and reported that he had been seriously beaten over the weekend," Mitvol was quoted as telling "Kommersant." "I do not believe that a journalist from 'Grazhdanskoye soglasiye' -- the only one who had not yet been assaulted -- died accidentally from a case of nerves. I do not believe that version."
"Grazhdanskoye soglasiye" is the only opposition newspaper in Khimki, a city of about 180,000 located just northwest of Moscow. Protazanov, who was a page designer, was one of several local journalists to be attacked in recent months. "Grazhdanskoye soglasiye" Editor in Chief Yurov was stabbed 10 times outside his home in February 2008.
"I do not understand why people are so afraid of this newspaper," Mitvol said. "Why would they stab the editor 10 times? Why would they murder a journalist? It is beyond my understanding. This is a small, local newspaper but the people there, unfortunately, are paying a high price for the freedom to express themselves against the municipal administration."
According to sources at the paper, Protazanov's death will delay publication of the next issue of the paper, which will carry an investigation into alleged falsification of the March 1 local elections in Khimki. The paper has written widely about environmental damage being done to protected forests in the region by the construction of the Moscow-St. Petersburg superhighway.
On November 13, 2008, Mikhail Beketov, editor in chief of "Khimkinskaya pravda," was
severely beaten
. He was in a coma for weeks and had to have his leg amputated as a result of the attack.
In January, Beketov's lawyer, Stanislav Markelov, was
shot to death
in Moscow. Beketov was widely known for his critical articles against the Khimki administration.
On February 3, the editor in chief of "Solnechnegorsky forum," a newspaper in the nearby city of Solnechnogorsk, was assaulted.
On March 12, the managing editor of "Molva Yuzhnoye Podmoskove" was beaten in the Moscow Oblast city of Serpukhov.
(by Robert Coalson)