WATCH: Nora Shourd has recorded an appeal to Iran's supreme leader, asking for his compassion, apologizing for the actions of the Americans, and appealing for their release.
It's been almost five months since Tehran detained three young Americans after they crossed the border from Iraq. Relatives say the three -- Sarah Shourd, 31; Shane Bauer, 27; and Josh Fattal, 27 -- were on a trekking expedition. Iran has accused them of espionage. Foreign Minister Manuchehr Mottaki said the three will be tried and "relevant sentences" issued. U.S. Secretary of State Hillary Clinton has called the allegations "totally unfounded" and appealed for their immediate release. The jailed Americans are reportedly being treated well but have been held incommunicado since October 29. RFE/RL correspondent Nikola Krastev spoke in New York with Nora Shourd, the mother of Sarah Shourd, and Cindy Hickey, the mother of Shane Bauer.
RFE/RL: Nora, what do you hope will be the response to your video appeal to Iran's Supreme Leader Ayatollah Ali Khamenei?

Nora Shourd:
I'm hoping that the response is that the kids will be released. We don't often get immediate responses when we do things like that, but our goal is to get the children out and maybe that will be the response.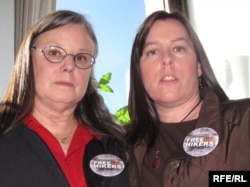 Nora Shourd (left) and Cindy Hickey

RFE/RL: How much assistance are you getting from U.S. authorities?

Shourd:
The State Department is working with us almost on a daily basis from the very beginning. They've been very, very helpful. They give us as much information as they get. Of course, they get their information from [Swiss diplomats in Iran]. They are very helpful and supportive and have been all along.
Cindy Hickey:
The frustrating part for us is the Swiss are only getting so much information. The information we have is that they're suspected of illegal crossing of the border and that's the only official information we have. And the fact that they haven't had a consular visit since October 29 is very hard for us.
RFE/RL: Do you have information on their condition right now -- what they are being fed, how they're taken care of, their daily routines?

Hickey:
They have been reported to be physically OK. We're very concerned about their psychological well-being. Also, in a personal message Shane passed back to me, he spoke of loneliness.
Shourd:
I'm mostly concerned about [Nora's] mental health at this point. I think it's very difficult for them. It's been almost five months now. They haven't had a phone call. They haven't spoken with us. We haven't spoken with them. No letters have reached us. We think they've gotten [our] letters. And we know they're very isolated, but we think they're physically treated well.
RFE/RL: Iran's foreign minister has been quoted as saying that the trekkers crossed into Iran with "suspicious aims" and the chief prosecutor has accused them of spying. Do you know with certainty what they've been charged with?

Hickey:
We don't. That's it. That's the most information we've had. Again, officially, it's been reported that they are suspected of illegal crossing of a border. We know our kids and we know that they never intended to cross the border into Iran. We also know very much that our kids had no ill intentions.
Josh Fattal (left), Sarah Shourd, and Shane Bauer (courtesy of www.freethehikers.org)

RFE/RL: Have you considered going to Iran as a way to appeal in person to the authorities?

Shourd:
You know, we don't feel that that would be very useful. We think that it may even be futile. We think that the work that we need to do to get them released we can probably do better here from where we are. We have a lot of support here. At this point, no, but those options could change, we don't know, depending on the situation. As of right now, no, we don't.
RFE/RL: What are your plans for the holidays this year?

Shourd:
I have two other children, so I am going to spend Christmas with my daughter and my grandchildren. It doesn't feel the same. It feels really empty without the rest of our children here. We will celebrate Christmas, but it won't be a celebration.
Hickey:
I have two daughters who are younger than Shane. Shane's always been very much their big brother and my children are very close. They will be with me and my siblings; some of my siblings will be with me. So it is going to be a time of strength, but the holidays are very spiritual and a very family gathering to us. So there is going to be a huge missing piece for us.
RFE/RL: Mothers have very strong emotional connections to their children. What does your intuition tell you might happen?

Shourd:
I know that Sarah is safe, OK? I picture her being safe. But I also picture her having some rocky moments. I know she'll be released eventually. I can't really put a time-frame on it, but I feel in my heart that she is OK and this is just going to be a part of her life that she is going to look back and say, "OK, it's over. I did that. Let's do something else now." But I think she's OK.
Hickey:
I, too, feel like Shane is physically safe. He's very strong physically and emotionally. I feel, too, that he has ups and downs in his emotions. I know that he's very concerned about us. I can feel that he's very concerned about Sarah and Josh also. So I, too, believe that he will be home. We're really getting restless, and we want it to be soon.
RFE/RL: If you could speak to your children, what would you say?

Hickey:
If Shane gets an opportunity to hear this, I want him to know that I love him, I miss him, and stay strong. We're doing everything we can to secure your release. And to the Iranian authorities, I just ask for you to look at this for what it is: an honest mistake. We apologize for any inconvenience and [ask you to] show some compassion and release our children.
Shourd:
If Sarah can hear this, I want her to know that we all care about her very much and miss her. You're not forgotten, Sarah. There are so many people that love you and that think about you. And to the Iranian officials, please show compassion for these children. They meant your country no harm. Please release them.