When NATO looks down its sights, what it sees depends on who's looking.
Afghanistan and Russia represent the contrasting directions before NATO.
Afghanistan remains a harbinger of things to come -- the continued expansion of missions outside the alliance's traditional European theater. Russia will continue to serve as a reminder that the allies cannot fully rule out a conventional threat, such as that posed throughout the Cold War by the Soviet Union.
The question that NATO leaders must answer at their summit in Baden Baden and Strasbourg on April 3-4 is: "How far can the alliance stray from its past and still remain what it is?"
Bastian Giegerich, an analyst at the International Institute for Strategic Studies, says the mission in Afghanistan encapsulates the defining challenges before NATO.
"I think, actually, Afghanistan crystallizes many of the issues the alliance will have to face," Giegerich says. "I think the key ones are burden sharing within the alliance, the question of what the correct balance between collective defense and crisis management is, up to NATO-Russia relations. I think Afghanistan is the keystone in that whole picture."
Described famously once by a French journalist as the "watermelon" in an alliance otherwise made up of apples and peanuts, the will of the United States ultimately is likely to decide.
New Perspective
Washington has undergone a shift in perspective since the end of the Cold War. Billed as "the most successful defense alliance in history" by President Bill Clinton 1997, the alliance became "the most successful military alliance" by the time President George W Bush welcomed seven ex-Soviet countries into its fold in 2004.
NATO's viability has always been a function of its utility for the United States. The subtle shift in presidential rhetoric reflects a shift in strategic preoccupation. Washington's concerns have increasingly moved farther afield from NATO's traditional European theater -- which needed to be protected against a conventional threat -- to Afghanistan, which is now a focus of the struggle against global terrorism.
Stephen Larrabee of the RAND Corporation in Washington says that success -- or failure -- in Afghanistan will have a direct bearing on how NATO's usefulness is viewed in the United States.
"Most of the challenges to the United States are obviously beyond NATO's borders, and if NATO is not able to carry out those missions and address those challenges, then many people would ask, 'What good is NATO for?'" Larrabee says.
Karl Heinz Kamp, director of research at the NATO Defense College in Rome, believes Afghanistan is not a "make-or-break" issue for NATO -- at least not yet. He says NATO will stay Afghanistan "as long as it takes" and points to the Balkans, where the alliance has maintained a military presence for nearly 15 years.
More important is the way interest has largely replaced what Kamp describes as "ideology" on both sides of the Atlantic. European allies may frustrate U.S. expectations when it comes to sending troops or military hardware to Afghanistan, but they are increasingly willing to support the United States in its pursuit of its strategic goals in the wider Middle East.
President Barack Obama's election has something to do with it, but so does the growing terrorist threat in Europe.
When U.S. Vice President Joe Biden told NATO ambassadors in Brussels on March 10 that instability in Afghanistan and Pakistan constitutes a national security threat for all of them, he was only repeating what Germany's then-defense minister had said already in 2002 -- that Germany's security "is also defended in the Hindukush."
'Core Mission'
The evolving meeting of minds between the United States and its European allies is likely to be cemented further after France formally rejoins NATO's military command.
Francois Heisbourg, special adviser at the Foundation for Strategic research in Paris, says France has now "turned its back" on rivalry with the United States.
"We're in a situation where Paris looks for the maximum amount of synergy and cooperation between the Atlantic institutions, on the one hand, and the European institutions, on the other, to try to see how one can maximize that combination rather than be in a situation of competition or European organizing itself as a counterweight to the United States," Heisbourg says. "That kind of thinking is what the French are turning their backs on."
Heisbourg notes that cooperation with the United States on a practical military level has "never posed a problem" for France, whose troops were in Afghanistan under the aegis of Operation Enduring Freedom long before NATO arrived in the country.
But analysts insist that the broad consensus in Washington, Berlin, and Paris on pursuing NATO's out-of-area missions does not mean its "core mission" of mutual defense has been neglected. Here, too, a consensus of sorts seems to exist.
Analysts point out two basic characteristics of this emerging consensus.
First, as Kamp says, the Russian-Georgian war in August 2008 disabused the Western European powers of the notion that "you could inject transformation into Russia just via cooperation."
Second, Larrabee says there will be no U.S.-Russian "deal" over further enlargement or commitment to the defense of Eastern Europe. He says Washington has "no inclination" to allow such an accommodation which would be a "repudiation of all Western policy since the end of the Cold War."
Russian Threat?
"[Eastern European allies] know better than anyone else that Russia has been trying to adopt a sphere of influence, and that that's been its policy all along since the end of World War II if not before that," Larrabee says. "What they should read into it is that the United States is not going to accept it. That's the message."
Out-of-area missions enjoy the blanket support of Eastern European allies, who do not necessarily believe that Afghanistan is the preeminent threat for them, but follow Washington's lead in the hope of future U.S. backing in any future conflict with Moscow.
Crucially, where Washington does not see eye to eye with its "Old European" allies is on the seriousness of the Russian threat.
Kamp says the right balance on this point has yet to be struck within NATO and that the issue will feature heavily on the agenda of the April 3-4 summit.
"The discussions we will have in Strasbourg are exactly about this point -- what does NATO have to do to make Article 5 credible at the same taking account of the fact that Article 5 today can mean something completely different than it has meant during the days of the Cold War," Kamp says.
"NATO is not a fire brigade," he notes, adding that, at the end of the day, the alliance is there to "defend the security and interests of its members."
This applies equally to missions such as Afghanistan and concerns such as Russia. Balancing them will be a matter of balancing the collective interest of the 26 allies.
NATO: 60 Years In Eight Minutes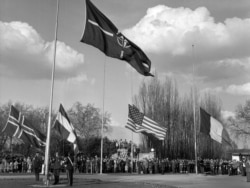 60 Years In Eight Minutes
In Washington in 1949, the North Atlantic Treaty Organization was born. RFE/RL looks at the dramatic and difficult moments in NATO history with rarely seen archive films and exclusive interviews. Play

NATO At 60 series:
Rolling With The Changes
End Of Expansion?
The Article Of Faith
Getting The Balance Right