Afghan and international troops have begun a key operation in districts surrounding the southern Afghan city of Kandahar in an effort to turn around the nine-year-old war against the Taliban.

Some 8,000 Afghan and NATO troops are hunting insurgents in narrow alleys, fields and orchards of Arghandab, Zhari and Panjwai districts surrounding Kandahar city in "Operation Dragon Strike." Officials say they expect heavy fighting in the coming days as the Taliban defends their stronghold.

Speaking to RFE/RL's Radio Free Afghanistan on September 26, Abdul Karim Ulusmal, the district chief of Zhari, described the operation as extensive and covering most rural areas of his district.

"The operation has been going on for two days," he said. "In Zhari district, they began from the village of Sanzarai and are moving forward. In my view they want to capture parts of the district where the enemy is active."

'Operation Dragon Strike'

The operation is considered the biggest since Gen. David Petraeus assumed command of all U.S. and NATO troops in Afghanistan in early July. Restoring security to Kandahar, the capital of Taliban regime before its demise in 2001, would boost President Barak Obama's effort to considerably weaken the insurgency before the beginning of troop withdrawals next summer.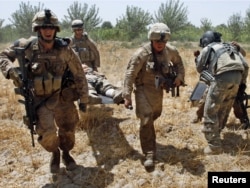 U.S. Marines are part of Operation Dragon Strike
In Kabul, German Brig. Gen. Josef Blotz, a NATO spokesman, told journalists that the alliance had launched its "kinetic," or combat, phase of "Operation Dragon Strike," a joint military push with Afghan forces around Kandahar intended to rid the area of insurgents and interrupt their ability to move freely and stage attacks. He says NATO expects heavy fighting in the coming days.

"This is the most significant military operation that is intended to clear specific Taliban strongholds in the adjacent districts to Kandahar city, which are Panjwai, Zhari [and] Arghandab," Blotz said. "It is a significant ground operation with air support obviously. And it is aiming at getting rid of Taliban strongholds in these areas."

Blotz said Afghan and coalition forces are destroying Taliban positions to deprive them of hiding places. "Once this is done, insurgents will be forced to leave the area or fight and be killed," he said.

NATO said militants have fought back with rocket-propelled grenades and small-arms fire but so far no Afghan or coalition troops have been killed in the operation.

Abducted Aid Worker

But a separate engagement in the southeastern Khost province over the weekend was more violent. In a statement, NATO confirmed that an airstrike following a cross-border attack on an Afghan National Security Force outpost near the Pakistani border in Khost province killed more than 30 insurgents on September 24. A follow-up attack the next day resulted in several more insurgents killed. It said there were no NATO casualties.

NATO said that insurgents were attacked under the rules of engagement in the cross-border skirmish. It did not give further details. It is unusual for NATO helicopters to attack targets on the Pakistan side of the border, where some of the casualties are believed to have occurred.

Meanwhile, British and Afghan officials are working to secure the release of a British aid worker and three of her Afghan colleagues. They were abducted on Sunday as they traveled in two vehicles in the eastern Kunar province. Kunar police chief Khalilullah Zaiyi claimed that his forces fought a gunbattle with the kidnappers near the attack site before the assailants fled.

Britain's Foreign Office in London said it could "confirm that a British national has been abducted in Afghanistan" without providing further details.

Tim Waite, a spokesman for the British Embassy in Kabul, said officials were working closely with all relevant local authorities and said the worker's family had been contacted. The abducted aid workers were employees of Development Alternatives Inc., a global consulting company based in Washington, D.C. The company works on projects for the U.S. Agency for International Development in Afghanistan.

With agency reports