BRUSSELS -- NATO defense ministers have agreed on changes to the alliance's strategy and command structures in Afghanistan to reflect a significant increase in U.S. involvement in the country.
Washington will send some 21,000 extra troops to Afghanistan this year and is seeking greater control over operations in a theater that President Barack Obama calls the biggest foreign-policy challenge for the United States.
The command shake-up approved by NATO and allied governments means that two U.S. generals, rather than one, will now run the combat operations in Afghanistan.
General Stanley McChrystal was appointed the top U.S. commander in Afghanistan by the Senate on June 11. He will also command the forces of the multinational International Security Assistance Force (ISAF) in Afghanistan. General David Rodriguez, will be in charge of day-to-day combat operations.
A separate, subordinate command will be created for ISAF operations. This reflects the fact that the 68,000 total U.S. troops expected to be on the ground in Afghanistan by the autumn will outnumber by more than two to one the 32,000 international ISAF soldiers there.
The rapid hike in the U.S. presence in Afghanistan attests to the importance Obama attaches to the country.
U.S. Defense Secretary Robert Gates reiterated the belief of the Obama administration that insurgents in Afghanistan and neighboring Pakistan constitute a threat to global security:
"The danger posed by instability in the region reaches far beyond the borders of Afghanistan or Pakistan," Gates said. "It is imperative that we get this right and quickly establish positive momentum."

Minimizing Civilian Casualties
Gates said NATO, alongside the United States, now has a new strategy for Afghanistan.
General McChrystal, Gates said, is expected to bring "fresh thinking" with his extensive counterinsurgency expertise acquired both in Iraq and Afghanistan. McChrystal was brought in in May to replace General David McKiernan, who lost the job after only 11 months in command.
Gates said McChrystal is already working on "new ways" to ensure that international combat operations in Afghanistan minimize civilian casualties -- something the U.S. defense secretary described as "one of the greatest strategic vulnerabilities" of the United States and its allies.
The United Nations says more than 2,100 civilians were killed in Afghanistan in 2008 -- the highest number since the Taliban was ousted in November 2001.
NATO Secretary-General Jaap de Hoop Scheffer offered a personal "apology" for the death of Afghan civilians.
"Let me say through you [journalists] to the Afghan people that we understand your frustration and your grief and your sorrow when innocent civilians are killed by our forces, [in] our operations," Solana said. "And, as I said yesterday, we and I apologize for these mistakes and are doing everything possible to reduce them."
But both Gates and de Hoop Scheffer placed the blame for the bulk of violent civilian deaths at door of the insurgents, who they said kill innocent people, unscrupulously mingle with the population, and use ordinary Afghans as human shields.
ISAF Involvement
De Hoop Scheffer also noted ISAF has lost nearly 1,000 troops of its own since the start of the Afghan campaign. In a few improvised words of farewell, the outgoing NATO chief said Afghanistan was "worth the price."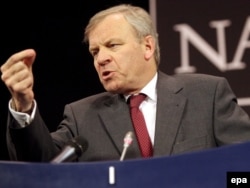 NATO chief Jaap de Hoop Scheffer apologized for civilian casualties in Afghanistan.
Gates predicted that the number of ISAF casualties will go up this year in the course of what he described as the "fighting season." Gates argued that international casualties have mounted for three years running, due to ISAF's growing penetration in parts of the country where it has not been present before.
NATO's secretary-general announced that allied ministers had promised enough forces needed to secure Afghanistan's presidential elections in August, as well as a possible second round later. He said that in total, eight battalions, or 8,000-10,000 men, will boost ISAF numbers in the country for that period.
Both Gates and de Hoop Scheffer sidestepped questions on whether some of these troops would stay on in Afghanistan indefinitely. The NATO chief did say, however, that troop numbers still fall short of what is required. Gates said some new contributions were offered today by smaller members of the alliance.

Call For Trainers, Financial Support
Under U.S. pressure, NATO also announced moves to take control of training high-ranking cadres within the Afghan National Army (ANA) and Afghan National Police (ANP). The United States wants to radically boost the strength of both bodies and nearly triple them from current levels to some 400,000.
It also reflects growing frustration with what is seen as an ineffectual EU police-training effort, with barely 200 trainers on the ground -- while the United States fields some 1,600 instructors.
However, a number of European allies have volunteered to help Afghanistan set up a military police force, or gendarmerie. France has committed 150 men as mentors, and Spain 40. Italy and Portugal are also expected to make contributions.
De Hoop Scheffer spoke regretfully about the allies' reluctance to invest in a new "trust fund" for the ANA and ANP, currently worth some $250 million -- a fraction of what is needed. The NATO secretary-general warned that Afghanistan will "never" be able to support the numbers it is expected to draft into its security forces with such a small budget.
NATO also approved the deployment of AWACS (Airborne Warning and Control System) aircraft to Afghanistan to perform air-traffic-control functions in the absence of ground radars.
NATO ministers also agreed to extend an ongoing antipiracy operation off the coast of Somalia, although assembling the necessary number of vessels appears to remain a problem.