Some important member states continue to back a quick Membership Action Plan (MAP) for Tbilisi, while others abhor the idea. Washington says it backs MAPs for Georgia and Ukraine. France and Germany -- which blocked a decision in April to force another debate in December -- are keeping their cards close to their chests. Unofficially, however, they indicate that the situation is now worse than it was before.
Perhaps sensing it is faced with a make-or-break situation, Tbilisi is trying to cast the choice before NATO in the starkest possible terms. President Mikheil Saakashvili told AP on September 12 that a "signal of weakness" from NATO could be the beginning of the end for the alliance. "If NATO gets scared away, then this will be a never-ending story," he said.
Hosting the North Atlantic Council in Tbilisi is a coup for Saakashvili -- even if the meeting was scheduled well in advance of the Russian-Georgian conflict in August.
It is not the first council meeting on the territory of the former Soviet Union, however -- that took place in Kyiv in 2000. But it is certainly seen as a provocation in Moscow, which has urged the alliance to call off the visit.
"We ask NATO to refrain from high-level visits to Georgia because the Georgian leadership interprets such trips as full political and moral support for Saakashvili personally," Russia's ambassador to NATO, Dmitry Rogozin, said on September 11.
Adding insult to injury, from Russia's perspective, the 26 NATO ambassadors will use the occasion to attend the inaugural meeting of the NATO-Georgia Commission, which was set up on August 19 by NATO foreign ministers, who also promised to assist Georgia rebuild its military.
Worsening Prospects?
Significantly, though, both NATO and the United States, as Georgia's most ardent backer within the alliance, have studiously steered clear of openly offering Tbilisi military hardware.
NATO officials are also adamant that no decision on the MAPs will be made before December and that no outside powers -- meaning Russia -- will affect it.
Behind the scenes, however, cautious counsel seem to prevail. Germany, especially, argues that Georgia and Ukraine must
meet certain "criteria"
before they are eligible for MAPs.
As NATO has no formal benchmarks for awarding MAPs, the criteria in question boil down to membership criteria themselves -- which a MAP must help aspirants achieve. These most pertinently include political and economic reforms, the need to settle internal ethnic or external territorial disputes, and being able to contribute to the alliance's security.
Arguably, Tbilisi's standing on all these counts is now worse than it was before August. And, the argument of the skeptics in Brussels runs, only an overtly political decision could override the shortfalls in meeting "objective" criteria. This, in turn, would be tantamount to admitting that NATO decisions are subject to the vagaries of ulterior motives.
And, nearly all allies agree, both Georgia's and Ukraine's MAP bids stand or fall together. A nod to Ukraine now would leave Tbilisi horribly exposed.
All of which leaves NATO with a circle to square. The alliance must not be seen as bowing to Russia, but neither do the allies think they can afford an open confrontation with Moscow. How high the stakes really are was indicated by President Dmitry Medvedev on September 12, who told a group of foreign experts according to AFP that he "would not have hesitated for a second" to attack Georgia had the country had a MAP in August.
Thus, the allies are left to ponder the ramifications of Article 10 of NATO's founding North Atlantic Treaty, which says they may invite to join any "European state in a position to further the principles of this treaty and to contribute to the security of the North Atlantic area."
Crisis In Georgia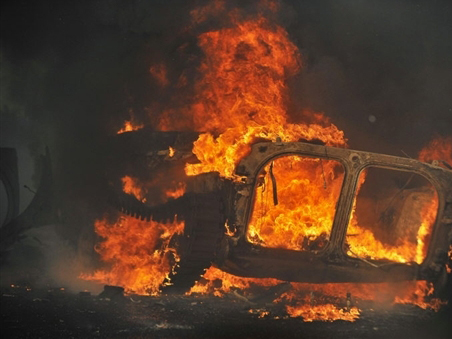 For RFE/RL's full coverage of the conflict that began in Georgia's breakway region of South Ossetia,
click here
.