WASHINGTON -- Calling it "one of the most important hearings the Helsinki Commission is conducting this year," U.S. Senator Ben Cardin led an inquiry into what Russia's invasion of Georgia means for U.S.-Russian relations and European security.
Cardin (Democrat-Maryland) is co-chairman of the Commission on Security and Cooperation in Europe, also known as the U.S. Helsinki Commission, an independent government agency that monitors compliance with the agreements of the Organization for Security and Cooperation in Europe (OSCE). The commission held a hearing in Washington on September 10 that looked at the Russian invasion of Georgia and "the return of power politics."
The commission is made up of nine members from the Senate, nine members from the House of Representatives, and one member each from the State, Defense, and Commerce departments. Among the questions legislators wanted to know were what leverage the United States has against Russia and whether Russia is sending a larger signal about its intentions toward other countries.
One of Cardin's first questions for Matt Bryza, deputy assistant secretary for European and Eurasian affairs, followed Bryza's testimony that Secretary of State Condoleezza Rice was told by her Russian counterpart, Sergei Lavrov, that by its military action, Russia had hoped to unseat the democratically elected government of Georgian President Mikheil Saakashvilli.
Cardin called that "deeply disturbing" and asked whether Georgia's domestic politics had been destabilized since the crisis began.
'That's Not Relevant'
Bryza said the Georgian people, including opposition leaders, have rallied behind their government. He said the United States "categorically rejects" the prospect that Russia might succeed in its goal of destabilizing the Georgian government, but added that the United States has no particular allegiance to Saakashvilli himself.
We may be personally fond of or dislike current leaders in Georgia -- that's not relevant. What matters is that the Georgian people elected this leadership, and it is the Georgian people that must determine the political future of the country.
"I want to make clear that what we support is any democratically elected government of Georgia. Anyone," Bryza said.
"We may be personally fond of or dislike current leaders in Georgia -- that's not relevant. What matters is that the Georgian people elected this leadership, and it is the Georgian people that must determine the political future of the country. There may be early elections. Who knows? There could be referendum. Whatever the Georgian people decide, in consultation with their elective leaders, is fine by the United States government, as long as it is the Georgian people deciding."
Cardin also wanted to know whether Russia's aggression toward Georgia signaled a change in its policy toward its other former republics, and he asked in particular about Ukraine.
Bryza said that in Ukraine, "all eyes are on Crimea," the Black Sea peninsula where ethnic Russians outnumber Ukrainians and where many residents have been receiving hastily issued Russian passports over the past month. In Moscow, there has been talk recently that former Soviet leader Nikita Khrushchev was wrong to cede the region to Ukraine.
Bryza said the United States "can only hope that those statements are no more than bluster."
'Serious Damage'
But on the question of what the United States could do if they prove to be more than that, Bryza echoed other White House officials who have said Russia is already paying a high cost for its actions. He said the country has lost $20 billion in investment since the Georgian invasion and suffered "serious reputational damage." Any additional leverage the United States might have, he said, remains to be seen.
"But for now, we don't want to be sounding like we're wagging our finger, raising threats. We don't want to burn bridges. We want to escalate, if need be, prudently, whatever leverage we might employ, but always with the hope and the anticipation that at some point Russia will recognize the costs are simply too high of continuing on this path."
Also appearing before the Helsinki Commission was Paul Goble, the director of research and publications at the Azerbaijan Diplomatic Academy. He told lawmakers "what has happened in Georgia was a disaster that was waiting to happen and that can be repeated elsewhere across the former Soviet space."
"The reality," Goble continued, "is that the border system that was created in Soviet times was intended to create tension and to justify authoritarianism. In 1991, the United States welcomed the end of authoritarianism but also said the borders could never change because we were concerned that that could tear things apart. The consequence of that was to delay this problem, but it is going to be a worse future, not a better one."
Goble said across Eurasia, groups of ethnic minorities are "trapped" in countries they don't feel a part of, and as a result, border tensions are rising in many places.
He advised U.S. lawmakers to consider adopting new foreign policies. One, to not recognize borders that are changed by force. Two, to expand U.S. ties to people of the post-Soviet region through the development of more experts. And three, to reaffirm the U.S. commitment to the right of nations to self-determination.
Inviolability Of Borders
A representative from Russia had been invited to testify at the hearing but declined. Representing Georgia was David Bakradze, the speaker of the Georgian parliament, who told the panel that what is happening in Georgia is bigger than the fate of one small country because it "challenges basic principles of international security."
How can Russia -- able to make a decision to send tanks and troops to a neighboring country -- be a reliable partner for the United States? Or for Europe? So this is a fundamental question.
By using military force in an attempt to change another country's government, he said, Russia has threatened the cornerstone of European security -- the inviolability of borders. Bakradze said the invasion had also strengthened Russia's monopoly over European energy supplies.
He asked the panel to consider what kind of an international partner Russia would make, given that it has broken its own agreement to withdraw its forces from Georgia.
"I mean, how can Russia -- able to make a decision to send tanks and troops to a neighboring country -- be a reliable partner for the United States? Or for Europe?" he asked.
"So this is a fundamental question. How can Russia, which signs an agreement to withdraw from Georgia -- and I refer to the six-point agreement -- and confirms that the presidential signature is there, and they will implement this, and it is still not implemented. It was signed 29 days ago and still it is not implemented. How can Russia, which does not respect the signature of its own president, which doesn't respect its own commitment, which does not respect international law, how can Russia be a reliable partner for the United States or for anybody else?"
Act Of War
Under questioning about why Saakashvilli had gone against "specific" U.S. advice not to engage Russia militarily, Bakradze confirmed that U.S. officials had warned Georgian leaders not to respond to Russian provocations. But he said that, to his knowledge, the United States never specifically advised against a Georgian move against Tskhinvalli, the capital of South Ossetia, because "there was never a plan to do so."
At a certain point, Bakradze said, the provocations became an act of war that Georgia had to respond to, and he offered evidence that he said proves Russian tanks and troops entered Georgian territory on August 7 through the Roki Tunnel, the only road connecting North Ossetia, in the Russian Federation, to South Ossetia.
"At this point, this is still not public, but we have radio interceptions confirming Russian troops entering Georgian territory in the evening of August 7," Bakradze said.
Bakradze called that "the turning point" where the Georgian government had to make the decision to defend its territory and respond.
Crisis In Georgia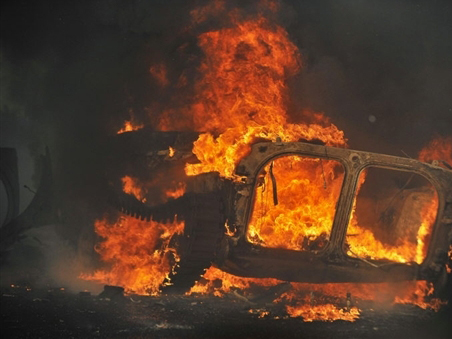 For RFE/RL's full coverage of the conflict that began in Georgia's breakway region of South Ossetia,
click here
.