"Obama's Wars," a new book by respected "Washington Post" journalist Bob Woodward, is not due to be released for another few days, but excerpts published in two U.S. newspapers are already fueling public debate in the United States with revelations about President Barack Obama's war effort in Afghanistan.
Published by "The Washington Post" and "The New York Times," the excerpts detail how Obama's initial attempts to take control of the war in Afghanistan resulted in a plan driven more by politics than U.S. national security.
The excerpts suggest that Obama became frustrated with the Pentagon last year as he sought to stop the Afghan war from consuming his young presidency and dictated his own six-page Afghanistan strategy -- including a 30,000 troop surge with a deadline of July 2011.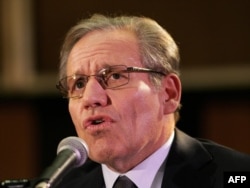 Bob Woodward
The U.S. politics news website Politico.com, which also obtained an advance copy of the book, reports that "the dominant portrait is one of a prudent president trying to negotiate a middle path between a military, led by [General David] Petraeus, who demanded a relatively open-ended 40,000-troop surge and Democrats, led by [Vice President Joe] Biden, who called for a much more time- and troop-limited response."

Granted Wide Access
Woodward is best known for his reporting on the Watergate scandal in the early 1970s, which led to the eventual resignation of former President Richard Nixon. Regarded as one of the foremost investigative journalists in the United States, he has written 11 books on U.S. presidents.
For this latest book, he was granted wide access to the White House, including exclusive interviews with Obama and senior officials in his administration.
The author quotes Obama as pointedly telling Defense Secretary Robert Gates and General David Petraeus: "In 2010, we will not be having a conversation about how to do more. I will not want to hear, 'We're doing fine, Mr. President, but we'd be better if we just do more.' We're not going to be having a conversation about how to change [the mission] . . . unless we're talking about how to draw down faster than anticipated in 2011."
Another revelation in the book is that the CIA has created a 3,000-member army of Afghan fighters -- a secret Afghan force that hunts down Taliban fighters and has crossed into Pakistan for covert operations.
U.S. National Public Radio says it has confirmed the existence of the secret Afghan force, with one U.S. official describing it as a paramilitary structure that operates in small units called Counterterrorism Pursuit Teams. That unidentified official is quoted as saying that it is one of the best Afghan fighting forces and had made major contributions to stability and security in the country.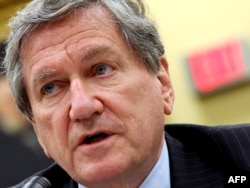 Richard Holbrooke
RFE/RL has
previously documented
how U.S. Special Forces work with specially trained Afghan fighters to hunt down the Taliban and destroy their logistical support. What is new in Woodward's book is his description of secret Afghan teams working within Pakistan -- a revelation that could complicate relations between Washington and Islamabad.
'Let's Wait And See'
Nusrallah Stanekzai, a political analyst at Kabul University, told RFE/RL's Radio Free Afghanistan today that the revelation also is likely to complicate diplomacy between Afghanistan and Pakistan.
"I don't think the Afghan government would have agreed to a force that would operate on Pakistani soil," Stanekzai says. "But let's wait and see what is the reality. If any such force exists, I am sure Pakistan will have a negative reaction to it."
U.S.-Afghan ties could also be tested by the book's citation of U.S. intelligence reports that allegedly say Afghan President Hamid Karzai was diagnosed as manic depressive.
Karl Eikenberry, the U.S. ambassador to Kabul, is quoted as saying of Karzai, "He's on his meds, he's off his meds."
Woodward also documents personality conflicts and rivalries between senior officials in Obama's administration.
The "New York Times" reported on September 22 that Woodward had quoted Biden criticizing the U.S. State Department's Pakistan and Afghanistan envoy Richard Holbrooke, calling him "the most egotistical bastard I ever met."
The "New York Times" today ran a correction on its website, noting that Biden is also quoted saying that Holbrooke "may be the right guy for the job."
Excerpts also describe Petraeus -- who was praised for his surge strategy in Iraq -- as feeling shut out by Obama's administration. Woodward also quotes Petraeus as telling an aide that he considers Obama's senior adviser David Axelrod as "a complete spin doctor."
Politico.com blogger Ben Smith says there is no consensus in Washington yet as to what the political ramifications of the book may be: "I think there's sort of a fierce fight under way right now over how it will or will not reverberate, with the White House basically saying [that] this book shows that Obama is engaging in this really intense, real policy process, and with critics saying [that] this is a sign that these guys are engaged in all this infighting and all this politics at the expense of national security policy."
Indeed, the White House says Woodward's book proves that Obama is a thoughtful and decisive leader.
White House spokesman Robert Gibbs said readers would understand Obama's insistence on an exit strategy for Afghanistan as an important U.S. national interest -- ensuring that "if we have a way in, we have a way out."
Opposition Republicans, gearing up for November's Congressional elections, have been more critical.
Liz Cheney, the daughter of former Vice President Dick Cheney, has blasted Obama for a quote from the book in which he said the United States could "absorb a terrorist attack."
Politico's Smith, however, thinks it won't be controversial for Obama.
"Republicans have jumped on it and interpreted it to mean that he sort of doesn't mind if the terrorists attack, which seems like a real stretch in interpreting it," he said. "This is something that the [George W.] Bush administration at times said as well, which is that the U.S. is robust and strong enough to survive [an attack], so I'm not really sure that means all that much."
Woodward's book goes on sale in the United States on September 27.
written by Ron Synovitz, with agency reports