(RFE/RL) -- A video clip has been posted on YouTube in which a young Chechen man describes how he was tasked by Chechnya's pro-Moscow president to assassinate a Chechen emigre.
In the clip, Ruslan Khalidov says Ramzan Kadyrov employed him to kill Magomed Ocherhadji, a leader of the large Chechen exile community in Norway.
Khalidov, who claims he did not carry out the killing, says he was tortured and threatened in an attempt to force him to comply. "They even did things that I'm ashamed to talk about," he says in the video.
Neither Khalidov's identity nor his allegations could be immediately verified.
The clip was posted on YouTube by kavkazcenter.com, a radical Chechen website that claims the video is part of a more extensive confession by Khalidov.
Where and when it was recorded is not clear.
"They blackmailed me with video footage of me," Khalidov says in the clip. "They told me if I didn't accomplish the mission, they would post that video on the Internet."
Chechen Killing Spree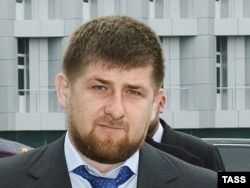 Ramzan Kadyrov has rejected the allegations.
The clip comes amid a surge in killings of Chechen emigres and former rebels.
Over the past five months, three Chechen former rebels have been killed in Turkey. Two months ago, Umar Israilov, a Chechen exile who had filed a complaint in an international court detailing Kadyrov's alleged use of murder and torture, was killed outside his home in the Austrian capital, Vienna.
Kadyrov denies any wrongdoing. Earlier this year, his spokesman criticized "a large-scale and purposeful campaign" to discredit the Chechen leader, calling it a "deeply conspiratorial initiative of some ideologists of terrorism and an armed criminal underground."
In the video, the bearded Khalidov says he is a nephew of Shaa Turlayev, who at one time was the bodyguard of separatist leader Aslan Maskhadov, who was killed in 2005. Turlayev later went over to Chechnya's pro-Moscow camp after being wounded and taken prisoner.
Turlayev is reported to have been in Vienna immediately prior to the murder of Israilov, who sought asylum in Austria in 2006.
Israilov, 27, once served as a bodyguard to Kadyrov. He had provided "The New York Times" with a detailed account of his past work, alleging that Kadyrov personally tortured detainees, at least one of whom was subsequently executed.
In a January 31 story about Israilov, the newspaper said it had notified the office of Russian Prime Minister Vladimir Putin on January 9 that it was seeking interviews with Russian officials about Israilov's allegations. The daily said Israilov was ready to go public with his story.
Four days later, Israilov was gunned down on his Vienna street, after Austrian police had rejected his request for protection. Polish police arrested a Chechen on February 22 on suspicion of the killing.
"The New York Times" reported that Kadyrov had dispatched an agent last summer to Vienna to threaten Israilov to return to Grozny, the Chechen capital. Later, under questioning by Austrian counterterrorism officials, the agent acknowledged he had sought to bring back Israilov. He also said that Kadyrov kept a list of 300 Chechen emigre enemies to be killed.
Video: Ruslan Khalidov claims that Ramzan Kadyrov hired him to assassinate a leader of the Chechen exile community in Norway. The video is in Chechen and does not have a translation.


According to Khalidov, Turlayev now presides over a personal prison in the town of Gudermes, where relatives of suspected armed militants are subjected to torture. "The fathers, mothers, sisters, and brothers of those fighters are also held there," he says. "They torture them, too."
He also says that Turlayev supervises a band of professional killers, set up by Kadyrov on orders from the Federal Security Service (FSB), Russia's domestic intelligence service. The band's task, he says, is to assassinate Chechens abroad.
Informed Of Plot
In an interview with RFE/RL's North Caucasus Service, Ocherhadji, the Norway-based Chechen exile, says Khalidov had personally informed him of the plot against him.
"I went to speak to him [Khalidov] after he sent me a message saying that Kadyrov wanted me to be killed," Ocherhadji says. "Naturally, I was somewhat taken aback. He told me Kadyrov and his people view me as a threat. Because of me, he said, they are afraid to travel to Norway."
Khalidov says his orders from Kadyrov also entailed establishing contacts with Norwegian authorities and providing them with disinformation incriminating Chechens living in Norway.
According to a recent report in the German publication "Focus," German officials are now assessing the possibility the FSB might target Chechens living in Germany.
RFE/RL North Caucasus Service director Aslan Doukaev and RFE/RL correspondent Liz Fuller contributed to this report