It's been a tough year for Gazprom, Russia's state-controlled gas giant.
Just a year ago, Russia's state-owned gas giant Gazprom was the third-most valuable company in the world, worth some $350 billion. Now, it has shrunk by two-thirds to about $120 billion, declining to the world's 40th-largest company, according to "The Moscow Times" on May 27.
And the company appears set to fall another notch or two, thanks to a ruling by Russian antimonopoly authorities on June 2 that Gazprom must share its export pipelines with independent gas producers.
Federico Bordonaro, a senior analyst at the Italian analytical group equilibri.net, says some of Gazprom's problems were easy to foresee.
He notes that Gazprom "benefitted enormously" from the steep rise in oil and natural-gas prices in recent years, and then suffered a "huge blow" when prices fell in the middle of 2008.
Bordonaro adds that Gazprom's investment strategy "wasn't probably the best suited for them," because instead of "investing in technology and innovation, maintenance, and instead of pursuing the policy of transference" during the boom years, "they did other things" such as buying other companies.
"They increased their size; and they proceeded to [do] a series of deals that were not always very transparent. They lost credibility, they threatened crisis, and they actually got involved in the Russo-Ukrainian crisis of the beginning of this year," Bordonaro says.
Bordonaro points out that among the consequences of these investment policies are debts of $4 billion that continue to grow. Gazprom's pipeline network, a large part of it in Russia, is also aging and in need of upgrading. As "The "Moscow Times" noted on May 27, "No other company has so many explosions on major pipelines."
Not So 'European'
Gazprom also appears to have suffered from deals it worked out last year with Kazakhstan, Turkmenistan, and Uzbekistan.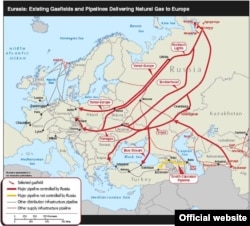 Natural gas fields and pipelines to Europe (EIA, click to enlarge)
Last year, as the price of gas was rising, Gazprom agreed to pay the three Central Asian states "European" prices for their gas. The deal was initially looked upon as a success, because it headed off moves by European Union countries to reach agreement on filling a rival pipeline project that would bring the gas by a route that avoided Russian territory.
But the "European" prices that were at one time approaching $400 per 1,000 cubic meters of gas, have since fallen to below $300 and are expected to be closer to $200 before year's end.
This means that exports to Europe are bringing in less income at a time when Russian pipelines are filled with gas imported from Central Asia under at times questionable terms.
Turkmenistan, for one, has read its end of the bargain as meaning that Gazprom must pay European prices that were in place at the time the agreement for Turkmen imports was reached.
Professor Jonathan Stern, director of gas research at the Oxford Institute for Energy Studies, says that Gazprom now "has to turn around, and it has turned around, and to Central Asian countries and particularly to Turkmenistan and said, 'Look, we don't need your gas and anyway we can't pay these prices that we said we were going to pay.' And the Central Asians, obviously, are not at all happy about this."

Gazprom's Fall From Grace?
Stern says the antitrust ruling that Gazprom must share its export pipelines has compounded the gas giant's problems, and he notes that the independent producers have strong allies within the government.
He describes it as a "long-running story" and one of the few areas where Prime Minister Vladimir Putin and Deputy Prime Minister Igor Sechin are "really at odds" with Gazprom's management.
"They believe that Gazprom is not allowing a large enough role for independent producers. Gazprom is arguing that it's allowing as big a role as it possibly can," Stern says.
"But Putin and Sechin believe that, in fact, independent production is being restricted -- as indeed, it certainly is because with this new situation we have with hugely falling Russian gas demand -- and in fact gas demand everywhere -- [and] Gazprom has far too much gas and is trying to cut back all sources of supply."
The situation has led some observers to wonder whether Gazprom has officially fallen from grace, and is now headed for a shake-up in management.
Stern says it is too early to tell, but notes that "this is one of the very few areas where the Putin-Medvedev administration -- particularly Putin even when he was president -- was not happy with the conduct of the Gazprom management."