Miklos Haraszti, the representative on freedom of the media for the Organization of Security and Cooperation in Europe (OSCE), completes his second term in office today. Haraszti, a former Hungarian dissident and member of parliament, last week filed a critical final report that condemned many problems of censorship and attacks on journalists -- particularly in Central Asia, but also in countries that have made the transition to democracy, including his own.
If there are no objections from any of the OSCE's 56 members -- and there are not likely to be -- the next person to be appointed to the position by consensus will be Dunja Mijatovic, director of broadcasting at the Communications Regulatory Agency in Bosnia-Herzegovina.
Mijatovic holds a master's degree in European studies after stints at the universities of Sarajevo, Sussex, and Bologna, and the London School of Economics. Her thesis was on the Internet and freedom of expression. She has served as chairperson of the European Platform of Regulatory Authorities and written numerous articles on topics such as the "digital divide," hate speech, and incitement to religious and national enmity.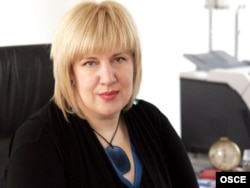 Bosnian media regulator Dunja Mijatovic is expected to take the OSCE post.
Haraszti's profile as a Hungarian opposition member and underground publisher in an earlier stage of the OSCE's history meant outspoken criticism of lingering postcommunist censorship. Mijatovic's background as a professional media regulator in postwar Bosnia-Herzegovina will likely bring more focus on the complex role of the media during elections and violent ethnic conflicts.
For many months, there has been intense speculation about who could replace Haraszti. As the media freedom envoy, he won a reputation for fairness by condemning press abuses, particularly in Kazakhstan, which currently holds the OSCE's chairmanship in office, yet also gained some mitigation of harsh policies from some of the OSCE's toughest customers. Haraszti indefatigably travelled throughout the OSCE countries to fulfill his mandate, facing denial of entry to Belarus, and persistently attempting to establish dialogue with Turkmenistan as it opened up Internet cafes yet blocked opposition sites.
Haraszti leaves behind an important body of work indicated in his final report to the Permanent Council last week, recounting numerous difficult issues. The report sounded an alarm in particular about Kyrgyzstan, citing the killings of independent journalists Gennady Pavluk, Alisher Saipov, and Almazbek Tashiev.
During his tenure, Haraszti also spoke out during the 2008 Georgia-Russia war, where press freedom was among the first casualties and incitement of hatred prevailed on both sides. He has repeatedly condemned the killings of Russian journalists, 52 of whom have been assassinated for their work since 1992.

Withdrawals And Rejections
Six candidates to replace Haraszti were known to have been considered, including citizens of Austria and Great Britain. During the confidential vetting process, two Russian candidates, one rejected by the Kremlin and one supported at least for a time, withdrew their candidacies themselves; only Mijatovic remains.
Oleg Panfilov, founder of the Center for Journalism in Extreme Situations (CJES) in Moscow, a prominent fighter for reporters' rights, was nominated by Georgia for the OSCE job, with some civic groups' support. Yet Moscow would not endorse his candidacy, evidently due to his sharp criticism of the crackdown on the press, particularly in the North Caucasus and during the war with Georgia. After failing to pass to the second round of candidacy, Panfilov announced that he was moving to Georgia, due to what he called inhospitable conditions for work in Russia.
Surprisingly, Russia's OSCE ambassador then nominated Mikhail Fedotov -- post-Soviet Russia's first press minister, author of Russia's first press law, and the secretary of the Russian Union of Journalists -- a fairly respected figure in the media-freedom community. Some OSCE watchers were startled, as it seemed like a man-bites-dog story with Russia approving the nomination of a known critic of its own press law amendments who was busy lobbying parliament to improve the legislation. Yet other observers felt Fedotov was not as outspoken as some, and some Western delegations did not back his nomination, fearing he would be under government pressure.
"The Moscow Times" speculated whether such liberals as can be found in the Kremlin were putting forward Fedotov to try to prevail in their own internal battles over incremental media freedom. In any event, Fedotov reportedly withdrew his candidacy on his own without explanation before Russia formerly withdrew it, commenting that he would take up the leadership of the CJES with Panfilov's departure.
Mijatovic's candidacy has reportedly obtained consensus both from Western delegations, who have been eager to see a figure who would maintain a critical dialogue with countries still facing many media-freedom challenges, and from Eastern diplomats looking for an acceptable professional to handle the more complex chores of the OSCE regarding reform of press laws and media regulation during elections.
OSCE Victories
Haraszti has been able to claim some modest success. Last October, he wrote to Russian Foreign Minister Sergei Lavrov to convey concerns about criminal proceedings brought against Memorial Human Rights Center Chairman Oleg Orlov, Moscow Helsinki Group Chairwoman Lyudmila Alekseyeva, and the "Novaya gazeta" newspaper. On February 9, Chechen President Ramzan Kadyrov announced his decision to call off his defamation lawsuits.
A restrictive new Internet law in Kazakhstan brought repeated expressions of concern from Haraszti, and he was pleased to see a judge in Kazakhstan at least issue a ruling on February 1 that reversed a ban preventing media outlets from carrying any reports that could "damage the honor and dignity of Timur Kulibayev," a controversial public figure accused of corruption.
"The greatest challenge has been upholding the very notion of universal standards," Haraszti says in his final report, noting that several participating states challenged the very concept of the rule of law that they had once negotiated. "Media freedom problems are not only omnipresent, they perpetually reemerge," he said.
The new representative takes office at a time when old forms of print and broadcast media are dying around the world, never having had a chance to grow in some OSCE states. The new social media are being used avidly by liberal democrats as much as by authoritarian governments and extremist movements.
Faced with these challenges, the temptation will be great for governments to regulate the Internet for political as well as commercial reasons, posing a serious threat to the pluralism of ideas. As Haraszti has illustrated, promoting media freedom in these conditions takes a wise mixture of public and private diplomacy adjusted to each situation -- most of all defending individual journalists under attack.

Catherine A. Fitzpatrick is a freelance writer specializing in human rights in Eurasia and the author of a
blog
on the OSCE. The views expressed in this commentary are the author's own and do not necessarily reflect those of RFE/RL.