OSCE Media Envoy Optimistic About Azeri Bloggers' Release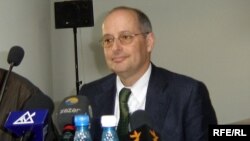 Miklos Haraszti, the Organization for Security and Cooperation in Europe's (OSCE) representative on media freedom, says he is optimistic about the release of jailed bloggers Emin Milli and Adnan Hajizada, RFE/RL's Azerbaijani Service reports.

Haraszti was speaking after a meeting in Baku with government official Ali Hasanov.

He said Hasanov told him the administration of President Ilham Aliyev shares Haraszti's concern about the handling of the case, and said he assumes the case will be "positively resolved at the end of the procedure."

Haraszti noted that Hasanov is a state official observing the case and is not a decision maker.

Milli and Hajizada were charged with disorderly conduct and inflicting bodily harm in an altercation at a Baku restaurant on July 8.

The bloggers' supporters say the real reason for the charges was their criticism of Azerbaijani authorities.

Haraszti has been in Baku since September 7 and has met with local media chiefs, imprisoned journalists, and government officials.
About This Blog
"Watchdog" is a blog with a singular mission -- to monitor the latest developments concerning human rights, civil society, and press freedom. We'll pay particular attention to reports concerning countries in RFE/RL's broadcast region.
Journalists In Trouble
RFE/RL journalists take risks, face threats, and make sacrifices every day in an effort to gather the news. Our "Journalists In Trouble" page recognizes their courage and conviction, and documents the high price that many have paid simply for doing their jobs. More