Russia signed an agreement today to help build and operate Turkey's first nuclear power plant.
The agreement is one of a series of energy deals the two sides were expected to sign during President Dmitry Medvedev's visit to Ankara.
Turkish Prime Minister Recep Tayyip Erdogan called the estimated $20 billion project "a very important step." He said construction would start once both countries' parliaments ratify the deal.
The plan envisages the construction -- by Russia's state nuclear giant Atomstroiexport -- of four nuclear reactors with a total capacity of 4,800 megawatts at Akkuyu, on the Mediterranean coast.
Earlier, at a joint press conference with his host, President Abdullah Gul, Medvedev praised bilateral ties, saying, "In recent years, our relations have changed radically, and today we can say that these relations are strategic, multidimensional, and reflect in practice all aspects of our life."
Besides the nuclear deal, Turkey and Russia signed accords in other areas -- on combating drug trafficking, and on cooperation in transport and education.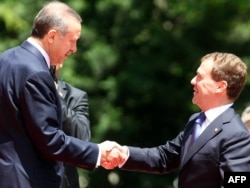 Prime Minister Recep Tayyip Erdogan (left) welcomes Medvedev upon his arrival at Erdogan's office in Ankara today.
The parties said they were also lifting visa requirements for travel between their two countries.
The Russian president called that move a "historic and breakthrough agreement." Turkey's Mediterranean coast is a popular destination for Russian tourists.
Triple Trade
Gul said the two countries were determined to triple bilateral trade in five years to $100 billion, a goal Medvedev said was ambitious but within reach.
A number of energy projects were on the agenda, with Russian gas giant Gazprom and state oil firm Rosneft expected to ink deals during the trip.
Medvedev said the two sides agreed to work on a planned Turkish oil pipeline from the Black Sea port of Samsun to Ceyhan on the Mediterranean.
Russia had agreed to supply oil for the planned pipeline, aimed at reducing tanker traffic through the congested Bosphorus Strait. Turkey, for its part, has agreed to allow Moscow to start surveys in its territorial waters for Russia's South Stream pipeline.
Another plan envisages the extension of the existing Blue Stream gas pipeline between Russia and Turkey southward to Lebanon, Syria, Israel, and Cyprus.
Also today, Medvedev co-chaired with Erdogan the first meeting of a new council for cooperation that has several ministers from each side.
Booming Trade
Economic exchange between the two countries has boomed since the fall of the Soviet Union and Russia's gas exports have made it Turkey's second-largest trading partner. Russia supplies some 60 percent of Turkey's gas imports.
Russia's military intervention in Georgia in 2008 briefly strained relations with Turkey, which has close economic and political ties with its northeastern neighbor.
At today's press conference, Medvedev pledged that Moscow will use "all opportunities" in its efforts to help reach a solution on another conflict -- the dispute between Azerbaijan and Armenia over the Nagorno-Karabakh region.
"Russia and Turkey are interested in strengthening the stability of the Caucasus region, including in reaching a solution on the Nagorno-Karabakh conflict," he said. "For our part, the Russian Federation will push this process forward using all opportunities, as well as the authority and influence of the Russian Federation."
On Turkey-Armenia relations, the Russian president expressed hope that the parties can "restore relations in full." That's a reference to historic accords the two sides signed last October aimed at normalizing relations. Armenia last month suspended the protocols' parliamentary ratification process, saying Turkey was dragging its feet.
Medvedev's visit to Turkey followed
two days of talks in Damascus
, the first by a Russian head of state. Discussions there included the Middle East peace process and Iran's disputed nuclear program, as well as economic and military ties.
written by Antoine Blua, with agency reports