CAIRO, Egypt -- Amid the clamor of Cairo's deafening streets and crowded cafes, the talk of the town is the speech that U.S. President Barack Obama plans to deliver this week.
Obama has made it clear that the United States wants to reach out to Muslims across the world with "the language of respect." But expectations ahead of his speech to the Islamic world are mixed.
According to Imad Jad, an analyst at the Cairo-based Al-Ahram Center for Strategic and Political Studies, it's widely expected that Obama's visit will "open a new page" in relations with the Arab and Islamic worlds.
"It is also expected that President Obama will offer a clear vision about reconciliation and stopping the use of terminologies such as the 'war on terror,'" Jad says. "It is also expected that he will offer a clear vision for a political solution to the Palestinian issue, which is considered the essence of conflict in Middle East."
Obama has said that U.S. relations with the Islamic world cannot be viewed through the prism of a single issue like the Israeli-Palestinian conflict. The reality, he says, is a more complicated mixture of issues that also involve Iran, Syria, Lebanon, Afghanistan, and Pakistan.
Still, Obama has raised expectations about Middle East peace with his call for Israel to stop all settlement activity in occupied Palestinian territory -- a position rejected so far by Israeli Prime Minister Binyamin Netanyahu.
Many Arab leaders say resolving the Israeli-Palestinian conflict is the key to improving relations between the Islamic world and the United States.
The 'Democracy Deficit'
Yet analysts in the Middle East warn that some Arab leaders are using the issue to distract attention from the "democracy deficit" and domestic political problems in their own countries.
Mustafa Akyol, a political commentator at the "Hurriyet Daily News" in Istanbul, says it will be a challenge for Obama to reverse negative views about the United States that stem from events during the Bush administration -- such as the U.S.-led invasion of Iraq, the virtual collapse of the Middle East peace process, and reports of torture at U.S. military detention centers where suspected Islamic militants are held.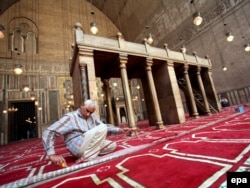 A worker prepares a huge carpet inside the Sultan Hassan Mosque prior to Obama's visit to Cairo.
But Akyol says that the Islamic world also needs to take a critical look at its own democratic shortcomings and poor record on individual human rights.
He says that when Muslims are asked about human rights and the democracy deficit they say, "'Yes. Maybe this is a problem, but what about this?' Then they start to question Western foreign policy."
Akyol says that this is why it's "very important for the West -- particularly the United States -- to be seen as a power which really stands for justice. Then maybe the U.S. will have more leverage to criticize the lack of freedom -- the democracy deficit -- in Muslim countries, which is a great problem."
As a Muslim, Akyol says he thinks there should not be a difference between the United Nation's Universal Declaration of Human Rights and Islamic views on human rights. But he admits there is greater emphasis in Islam on protecting community values than protecting the rights of individuals, and the Muslim world "needs a change of mind to value the individual more."
A New U.S. Approach...
"This is one of the more difficult speeches that Obama has had to give so far," says Blake Hounshell, managing editor of the Washington-based journal "Foreign Policy" and an Arabic speaker who spent years as a resident expert in the Middle East.
The Islamic World
There is no exact figure for the number of Muslims worldwide, but most estimates put it at about 1.5 billion.

Indonesia has the world's biggest Muslim population with around 195 million people. Other countries with large Muslim populations include Pakistan (160 million), India (140 million), Bangladesh (125 million), Turkey (72 million), Iran (69 million), Egypt (68 million), Nigeria (70 million) and China (20 million).

The worldwide Muslim community is known as the ummah. The Organization of the Islamic Conference, which represents 57 states, says it is the collective voice of the Muslim world.

Although Islam is often associated with the Arab world and the Middle East, by some estimates, fewer than 15 percent of Muslims are Arab.

Muslims predominate in 30 to 40 countries, according to Encyclopedia Britannica, from the Atlantic to the Pacific and along a belt that stretches across North Africa into Central Asia and south to the northern regions of the Indian subcontinent.

Countries with almost entirely Muslim populations (99.5 percent or more) include Bahrain, Comoros, Kuwait, Maldives, Mauritania, Morocco, Oman, Qatar, Saudi Arabia and Tunisia.

(Reuters)
"His challenge is going to be to keep expectations low on Middle East peace and the spread of democracy while showing that he is not just another [President George W.] Bush," Hounshell says.
"There is a lot of cynicism in the region -- columnists saying that he is just another Bush and he is doing the same things under a different facade. He is going to need to take regional leaders -- they are pretty much all dictators -- to task for leading the Middle East into what is a very dark place right now."
Hounshell says Obama also should address concerns raised by pro-democracy advocates who say Washington has been complicit in supporting some Middle East dictators during the past 50 years.
"The United States is complicit [in supporting despotic Middle East rulers] and there is no way to sugarcoat that," Hounshell says.
"But one thing [Obama] can say is that it is not the United States' fault that there are these dictators. There are plenty of dictators in places where the U.S. doesn't have good relations -- like Syria. Algeria is another good example. So it is not the United States' fault. But the United States certainly hasn't helped during the last 50 years or so in choosing stability over democracy."
Samir Khalil Samir, a Jesuit priest and Islamic scholar in Beirut, agrees that Muslims across the world want to see the United States implement policies that are just and fair -- whether on the Israeli-Palestinian conflict, the use of torture, or the deployment of U.S. troops to Islamic countries.
"The feeling is that the United States, the leader nation today in our world, is not really feeling the problem," Samir says. "Until now, they took decisions that were certainly unjust. The war in Iraq is unacceptable. The position of supporting Israel 100 percent -- even when Israel is an aggressor -- is unacceptable and unjust."
Samir, who directs a center on Christianity and Islam at St. Joseph University in Beirut, concludes that Obama's future policies will have more impact on U.S. relations with the Islamic world than his speech in Cairo.
"You cannot impose democracy. But you can stick to justice -- to the international laws -- as we request from the others. This would be a great change," Samir says.
"People in the Arab world are very much attracted by Europe and the United States. At the same time, they feel that they are no longer defending human rights and those values. This is the mixed feeling that we have in Arab countries and in the Muslim world."

...Or Just Business As Usual?
Egyptian writer Fahmi Huwaidi is among those who doubt that Obama's speech will bring about any real change. He doubts that Obama will offer anything different that he did in previous speeches, such as when he said the United States is not at war with Islam, or during his visit to Turkey, or through his Norouz message to Iran.
"He is coming to the region for something that is probably related to the Middle East situation," Huwaidi says. "Hence his speech will not be to the Islamic world but, primarily, to the Arab world."
Egypt's most powerful opposition group, the Muslim Brotherhood, says Obama's speech will be "useless" unless it is followed by a dramatic change in Washington's policies toward Arabs and the wider Islamic world.
But outside of political and intellectual circles, many Cairo residents appear to be enthusiastic about Obama's visit. Faten Mustafa, a mother of two children in Cairo, tells RFE/RL she is ready to welcome Obama:
"I hope the visit leads to an improvement in relations -- and a solution to the long-standing Israeli-Palestinian problem," she says. "And I also hope that the visit helps improve the image of the Arab world to outsiders and the image of America within the Arab world."
Security measures already have been tightened in Cairo. Police patrols have been increased. Heavily armed special forces have been stationed on the main bridges across the Nile River and around government buildings.
With U.S. and Egyptian flags raised along Cairo's roads and main squares days ahead of Obama's arrival, residents would be hard-pressed to ignore the fact that the U.S. president is making his long-awaited speech to the Islamic world from their city.