The pick of U.S. President Barack Obama to be the next U.S. ambassador to Azerbaijan quickly found himself on the defensive as he appeared before the Senate Committee on Foreign Relations on July 22.
Matthew Bryza was one of the most visible U.S. officials in the Caucasus region during the administration of former President George W. Bush, serving as deputy assistant secretary of state for European and Eurasian affairs. He was also the U.S. co-chair of the Minsk Group, which seeks to broker a settlement to the dispute between Armenia and Azerbaijan over Nagorno-Karabakh, which broke off from Azerbaijani rule after a war in the 1990s and is populated mainly by ethnic Armenians.
Announced in late May, Bryza's nomination to fill the vacant post of U.S. ambassador to Baku provoked an angry response from Armenian diaspora groups and a number of Armenian officials, who accuse Bryza of bias in the Azerbaijani-Armenian dispute.
Bryza told the Senate committee that criticism comes with his job description.
"Being criticized or being thought of as being closer to one side or the other is part of the game, and I have to just remain always objective and deliver the tough messages when necessary," he said.
Looking For Explanations
But a number of senators on the committee questioned Bryza's willingness to deliver those tough messages, especially when directed at Azerbaijan.
U.S. Senators Barbara Boxer (Democrat-California) and Robert Menendez (Democrat-New Jersey) pressed the nominee on why he waited three months to condemn the desecration of ancient Armenian gravesites in the town of Julfa in the Azerbaijani exclave of Naxcivan.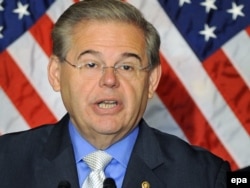 U.S. Senator Robert Menendez
Videos that emerged in late 2005, allegedly showing Azeri troops attacking the UNESCO-protected gravestones, elicited condemnation from the European Parliament and other bodies before Bryza, at the time overseeing the region as deputy assistant secretary of state, issued a public denunciation.
He said caution on his part led to the delay.
"[The] reason why I didn't more vigorously respond on the day when I learned of it, and in the immediate days thereafter, was because, again, reports were just coming in, the video footage is very foggy, it's grainy, it's difficult to see what happened," Bryza said. "So in a spirit of professionalism and fairness, it was important to gather information. I asked our embassy to investigate what had happened, and as that information came in and it became clear to me what had happened, then, absolutely, I publicly issued that condemnation."
Failure to "meaningfully respond" to the destruction of Julfa's cemetery was among the concerns issued in a statement by the Armenian National Committee Of America, an influential lobbying group for Armenian interests in the United States, ahead of Bryza's hearing.
Other allegations from ANCA against Bryza included "failure to fully implement U.S. congressional appropriations for Nagorno-Karabakh," "false prioritization of territorial integrity over self-determination" for the disputed territory, and playing a role in the dismissal of former U.S. Ambassador to Armenia John Evans. There have been allegations that Evans was fired for his use of the term "Armenian genocide" to describe the World War I-era mass killings of Armenians by Turkish forces.
Before the Senate committee, Bryza was asked to respond to each of these accusations.
He confirmed that only $2 million of the $8 million appropriated by the U.S. Congress last year for assistance to Nagorno-Karabakh had been spent. When asked for a reason by Senator Boxer, Bryza said his staff had assured him that humanitarian funds were being spent "in as efficient a way as possible." He consented to the request of Boxer to provide a "detailed accounting" of all U.S. assistance to the area before his confirmation moves forward.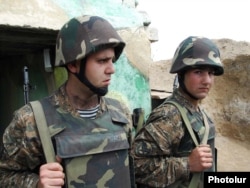 Armenian soldiers on a frontline position east of Karabakh on May 14.
Menendez expressed concern at comments made by Bryza to the BBC in October 2008, in which, according to the senator, Bryza said "Armenia must agree that Nagorno-Karabakh is legally part of Azerbaijan." Such statements, said Menendez, had indicated to some that Bryza prioritizes the concept of territorial integrity over that of self-determination. Both principles are accorded equal weight in the Nagorno-Karabakh negotiating process.
Bryza said his statement had been incorrectly translated from Russian, and pledged to respect the concept of self-determination for Nagorno-Karabakh's residents if he is confirmed as ambassador to Baku.
"My philosophy when it came to Nagorno-Karabakh was 'I'm not worth my weight in anything if I am not taking the hits publicly and trying to push the leaders out of their comfort zone and trying to encourage them to take the political risks required for a settlement,'" Bryza added. "To do that, it required me to say things that made one side or the other side a bit uncomfortable, in my estimation."
Bryza was responsible for the Caucasus as deputy assistant secretary of state when former U.S. Ambassador to Armenia John Evans was fired from his post, but insisted he had played "absolutely no role" in the dismissal, "as hard as it is to believe."
Bryza also pledged to not let his personal life affect his work. His wife, Zeyno Baran, is of Turkish origin, which some Armenian critics say leads to an anti-Armenian bias.
Baran, who was present at the hearing, has also been cited as a source of potential conflict of interest for Bryza in terms of energy politics. She works for the Hudson Institute, a Washington-based think-tank which receives funding from ExxonMobil and other energy companies.
Azerbaijan is a key "southern corridor" country for planned increases in gas shipment from the Caspian region to Europe.
While on the defensive for most of the hearing, Bryza did enjoy the support of Senator Richard Lugar (Republican-Indiana), who called for his prompt confirmation as ambassador.
"In my experience, Matt has skillfully advanced United States interests by taking a balanced approach to our relationships in this complex region, and he has not hesitated to point out the shortcomings of regional leaders in the areas of democratic development, human rights, and press freedom," said the senator.
The U.S. Azeris Network, an advocacy organization made up of U.S. citizens of Azerbaijani background, also commended the nomination of Bryza.
In a statement, the group said that after a nearly year-long vacancy of the post of U.S. ambassador to Azerbaijan, "There is now an expectation to see the relations between the two nations to expand and regain positive momentum."
Ambassadors must be confirmed by the full U.S. Senate. The vast majority of presidential nominations are approved.