WASHINGTON -- Leaders of 47 countries have gathered in Washington for the start of an unprecedented, two-day nuclear security summit convened by U.S. President Barack Obama and aimed at advancing his nonproliferation agenda.
On April 11, speaking alongside South African President Jacob Zuma after meetings with Indian Prime Minister Manmohan Singh and Kazakh President Nursultan Nazarbaev, Obama described the main aim of the gathering.
"The central focus of this nuclear summit is the fact that the single biggest threat to U.S. security, both short-term, medium-term, and long-term, would be the possibility of a terrorist organization obtaining a nuclear weapon," Obama said.
"Unfortunately, we have a situation in which there is a lot of loose nuclear material around the world," Obama added. "And so the central focus of this summit is getting the international community on a path in which we are locking down that nuclear material in a very specific time frame, with a specific work plan."
The extraordinary gathering is another step toward Obama's stated goal of a world free of nuclear weapons -- something he acknowledges probably can't be achieved in his lifetime.
Building Nuclear Momentum
At a press briefing on April 9, senior White House official Ben Rhodes said the fact that 47 world leaders have flown to Washington to attend the summit demonstrates the gravity of the threat posed by nuclear-armed terrorists.
Rhodes described it as "unprecedented given the fact that nuclear security has not been addressed by this many nations at this level before." He added the "largest gathering of countries" hosted by a U.S. president "dedicated to a specific issue like this" since the 1946 UN conference in San Francisco.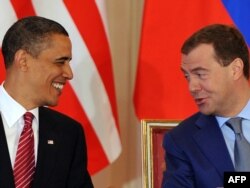 Obama and Russian President Dmitry Medvedev signed a landmark disarmament treaty in Prague last week.
The summit comes just days after Obama signed a major new nuclear-arms-reduction treaty with Russia, and a week after he unveiled a new national strategy that reduces the circumstances under which the United States would use a nuclear weapon.
The combination of the three has created undeniable momentum behind the U.S. president's nonproliferation agenda.
"All of these nuclear actions reinforce one another," Rhodes said. "We believe that they strengthen international cooperation in this critical area. We believe that they incentivize nations to cooperate and to live up to their obligations while isolating those who don't. And ultimately, they do a great deal to enhance the security not just of the United States, but of the world."
The White House says its goal for the summit is to forge agreement on how to keep nuclear material out of the hands of terrorists and nonstate actors. A final joint statement is expected to outline how participating nations will help prevent the transfer of nuclear materials and technology.
Administration officials say they want a plan of action, specific commitments from countries, and to build momentum for what they describe as "a very aggressive and international effort" to support Obama's focus on nuclear security.
Securing Nuclear Material
Discussions at the summit will focus on how to secure what are known as "vulnerable nuclear materials" -- the ingredients that can be used for nuclear weapons: separated plutonium and highly enriched uranium.
"Those are the two materials that can be used for nuclear explosives, and if we are able to lock those down and deny them to nonstate actors, then we have essentially solved the risk of nuclear terrorism," explained Obama's coordinator for WMD counterterrorism and arms control, Gary Samore.
The White House says terrorist groups, including Al-Qaeda, are pursuing those materials to try and build a nuclear weapon and their intention to use such a weapon is well established.
In an interview with ABC News broadcast on April 11, U.S. Secretary of State Hillary Clinton said that Obama organized the summit "to get the world's attention focused...[on] continuing efforts by Al-Qaeda and others to get just enough nuclear material to cause terrible havoc, destruction, and loss of life somewhere in the world."
Obama's drive to get the governments of the world to secure all their nuclear weapons material is a laudable but tricky goal, says Charles Ferguson, the head of the Federation of American Scientists, a group founded in 1945 by scientists who helped develop the first U.S. atomic bombs.
"We have to stop and ask, what does that really mean?" Ferguson asks. "And it sounds great -- you can put it on a bumper sticker -- but when you really try to analyze it, you say, 'Well, what do we mean by "all?"' What are we including there? Are we just including fissile material -- nuclear materials -- from nuclear weapons programs? Are we including weapons-useful material used in civilian programs? And if that's the case, then [that's] where we run into some serious disagreements, even among allies."
No-Shows
Iran will also feature prominently in summit discussions, as the United States tries to solidify international support for a new round of tough, targeted sanctions against the regime in Tehran for defying demands to prove that its nuclear program is not aimed at developing weapons.
Along with North Korea, Iran was not invited to the summit because it is considered in violation of the Nuclear Nonproliferation Treaty. Syria -- whom the U.S. has just renewed diplomatic ties with -- also didn't get an invitation, because Washington believes Damascus has nuclear ambitions.
Israel, which has never acknowledged that it has a nuclear arsenal, canceled plans to send Prime Minister Binyamin Netanyahu, who was reportedly worried that Turkey and Egypt would use the summit to challenge him over his government's lack of candor. Instead, Israeli Deputy Prime Minister Dan Meridor will attend.
Bilateral Sidelines
On April 11, before the summit opened, Obama held private one-on-one meetings with the leaders of Pakistan and India -- two neighboring nuclear states with a history of rocky relations.
Obama also met with Kazakhstan President Nazarbaev, who halted his country's nuclear weapons program and has his own aggressive agenda for helping rid the world of nuclear weapons.
Michael McFaul, Obama's senior adviser on Russian affairs, told reporters that Obama praised Nazarbaev "as really one of the model leaders in the world on nonproliferation and nuclear-safety issues."
Tonight, Obama hosts a working dinner for the group. During the day, he has bilateral meetings with Chinese President Hu Jintao and Armenian President Serzh Sarkisian, among others.
With Turkish Prime Minister Recep Tayyip Erdogan in town for the summit, observers are also watching to see if Obama briefly deviates from summit business to try and restart stalled talks on the Turkish-Armenian normalization agreements that were signed in October 2009.
RFE/RL correspondent Richard Solash contributed to this report