WATCH: Police break up an opposition rally and detain protesters in Bishkek.
(RFE/RL) -- Opposition activists have clashed with police in Kyrgyzstan, as the country prepares to mark the fifth anniversary of the Tulip Revolution that brought President Kurmanbek Bakiev to power.
In the capital, Bishkek, a group of protesters attempted to reach the building where Bakiev opened a Kurultai, or national assembly, meant to heal the rifts that have developed in the country over controversial government policies. The protesters wanted to hand over a letter with their demands to Bakiev and some 750 delegates attending the Kurultai.
Police intervened, telling protesters they had to disperse since they had not obtained official permission to hold a demonstration or march.
There was a brief clash between police and the protesters, with some reports claiming police used clubs to beat back demonstrators.
The police said 19 people were detained, though the opposition put the number at 30. Police said the head of the opposition party Ak-Shumkar (White Falcon), Temir Sariev, voluntarily went to the police station where the detained protesters were taken.
Police Moved In
In southern Kyrgyzstan, supporters of jailed former Defense Minister Ismail Isakov held an unsanctioned meeting in the country's second-largest city, Osh.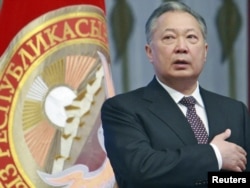 President Kurmanbek Bakiev during the opening of the Kurultai in Bishkek today.
RFE/RL's Kyrgyz Service reports that protesters had obtained permission for a meeting in a local movie theater. But people arrived from the southeastern Alai, Isakov's home region, and the theater, with a capacity of some 60 seats, could not accommodate everyone. Those who could not enter the theater tried to hold a demonstration outside the theater.
Police then moved in and clashed with that group, detaining some 40 people, reportedly all from the Alai region.
Reuters reported that some demonstrators shouted "Down with Bakiev" as they were loaded onto buses to be taken to the police station. They were later reportedly released.
At the Kurultai in Bishkek, Bakiev said opposition representatives had been invited but criticized them for only complaining and "slandering."
"It is my fervent opinion that opposition is an indivisible part of any normal political process. A country without opposition will not develop," Bakiev said. "Unfortunately, our opposition, instead of offering alternative programs to society, is busy with just criticizing and slandering."
Bakiev also said it's time for a review of Western-style democracy in his country. He said democracy based on elections and individual human rights may no longer be suitable for Kyrgyzstan.
He suggested that "consultative democracy" -- envisaging dialogues with influential social groups -- would be more in keeping with his country's traditions.
Wide-Ranging Grievances
Today's protests come amid growing opposition to Bakiev's rule, five years after protests toppled his predecessor, Askar Akaev.
Bakiev became president shortly after those protests broke out around Kyrgyzstan in the wake of parliamentary elections that many in the country felt were rigged.
Last week, several thousand opposition supporters rallied in Bishkek and the central town of Naryn, airing wide-ranging grievances -- from high energy prices to a government clampdown on independent media
Bakiev pledged on numerous occasions to fight corruption and nepotism and make the country's media entirely independent. Several independent newspapers recently have been suspended, two journalists were killed last year, and others have been beaten.
Bakiev appointed one of his brothers to be head of presidential security and his son to head a newly created agency in charge of developing the country's economy.
Bakiev changed the structure of the government late last year and is expecting the parliament, packed with his supporters from the ruling Ak-Jol People's Party, to approve necessary amendments to the constitution.
written by Bruce Pannier with contributions from RFE/RL's Kyrgyz Service