YENAKIEVO, Ukraine -- In this gritty town in eastern Ukraine, a small, derelict-looking brick cottage with a corrugated metal roof stands at the end of a snow-covered dirt track lined by bigger, wooden village houses. Barking dogs make the only sound here.
This is where Viktor Yanukovych lived a hardscrabble existence as a boy. Today, the 59-year-old politician is leading the polls ahead of Ukraine's presidential election on January 17 -- something former neighbor Alla Korotkaya says makes people here proud.
"He loved his teachers and parents," she says. "Those are good traits. He read books and respected the church. That's a good thing."
The future of Ukraine may hinge on the decision of voters like Korotkaya here in the industrial, largely Russian-speaking Donetsk region, where residents overwhelmingly support pro-Moscow Yanukovych. But in a country split between its east and west -- a division that brought thunderous change during the country's 2004 Orange Revolution -- issues are increasingly uniting both sides.
This is Ukraine's industrial heartland, in the Donbas coal basin. It's been walloped by the credit crunch and plummeting global metals prices brought on by the global financial crisis.
Although Korotkaya echoes general opinion here, after the microphone is turned off, some say Yanukovych's upbringing in a poor part of town, apart from the center, contributed to his troubled youth.
Jail Time
As a young man, Yanukovych served two jail terms for assault and robbery before becoming an electrician. He went on to climb the ranks of the Communist Party bureaucracy and twice served as regional governor before becoming Ukraine's prime minister in 2004.
That's when the Orange Revolution drove him from power after street demonstrations over his victory in a rigged presidential election. Heavyset and prone to gaffes -- he routinely confuses Austria and Australia, and famously misspelled the word "professor" on an election application -- Yanukovych briefly returned to power as prime minister in 2006.
Workers used to get 100 rubles a month, and they knew they could buy 100 kilograms of sugar with that. Now they get a thousand, which will buy you almost nothing
Now residents of Yenakievo hope if Yanukovych wins, he'll help their depressed town.
At a street market in the center of town, a loudspeaker announces advertisements as residents shuffle through slush and mud, avoiding the cars navigating potholed roads. Set amid fields and woods, central Yenakievo is a grim collection of old concrete-block apartment buildings, long stained dark grey. At one end hulks a massive Soviet-era metals factory belching smoke into the foggy air.
Oleksiy Kosach worked in Yenakievo's metals plant 48 years before being laid off last year. The weather-beaten 70-year-old says the Orange Revolution and the man it brought to power -- pro-Western President Viktor Yushchenko -- have done nothing for Ukraine.
"Just like the collapse of communism in 1991 did nothing for Ukraine," he says. "Workers used to get 100 rubles a month, and they knew they could buy 100 kilograms of sugar with that. Now they get a thousand, which will buy you almost nothing."
Like many here, Kosach says he's just able to survive on his pension and doing odd jobs. He supports Yanukovych's promise to improve ties with Russia and criticizes Yushchenko's drive to promote Ukrainian language. That's seen as a prerogative of western Ukraine, which became part of the Soviet Union only during World War II, and supports the leaders of the Orange Revolution.
But despite the cultural differences between east and west, there are growing signs Ukraine's two halves are increasingly united by common concerns.
The main issue for Kosach and the vast majority across Ukraine is jobs. Yanukovych's closest rival, Prime Minister and Orange Revolution heroine Yulia Tymoshenko, has been campaigning hard in eastern Ukraine, and is hoping she'll win enough votes here to beat Yanukovych in a second round of voting next month.
Alla Korotkaya, a former neighbor of frontrunner Yanukovyc
Still, Kosach speaks for many here saying he'll vote for Yanukovych because he's "our guy," even though he doesn't believe the election will do anything to improve his life.
"I'm not expecting anything good from the election," he says. "Whoever comes to power, they're all the same. They don't care about us, only themselves."
Many Ukrainians say politics are inseparable from business, and that both are corrupt. Yanukovych's most important backer, tycoon Rinat Akhmetov, is Ukraine's richest man. He owns the metals plant here, which he runs from his base nearby in the city of Donetsk.
Boom Town
Forty minutes away from Yenakievo by car, Donetsk is considered the capital of the Donbas region. If you parachuted here, you'd be forgiven for thinking you'd landed in a provincial Russian city. Almost completely destroyed during World War II, most of its buildings went up under the Soviet Union.
A scattering of shiny new office and hotel buildings are the products of Ukraine's short-lived post-Orange Revolution economic boom, brought to a screeching halt by the financial crisis. Akhmetov owns many of the new structures. He's made himself popular for one of them: a world-class football stadium that opened last year ahead of the Euro 2012 competition that Ukraine will co-host with Poland. It's the one landmark residents insist visitors must see.
Inside the headquarters of Yanukovych's Party of Regions, office workers are preparing for the election. The head of Yanukovych's campaign, Oleksandr Kasyanyuk, himself acknowledges the near impossibility of separating business and politics. He says that's because Ukraine is still in the process of developing both its democracy and its economy.
"The state is still set up in a way that if you don't protect yourself politically," he says, "you may not be able to protect your business."
Critics say that "protection" includes officials channeling state funds to their parties and running smear campaigns against rivals on media owned by their business backers, something they accuse all sides of committing.
Kasyanyuk shows a leaflet showing Yanukovych in an unflattering pose he says was printed by the Tymoshenko campaign. Tymoshenko on January 13 accused Yanukovych of preparing massive vote fraud in the Donetsk region. Yanukovych shrugged off the accusations.
Tymoshenko's campaign organizers in Donetsk praise the Orange Revolution for bringing democracy and free speech to all of Ukraine, including the east. During the Orange Revolution, a protest here mustered only 150 people, who were dispersed and beaten by police. Tymoshenko's campaigners say that can't happen now.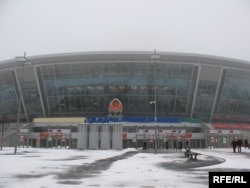 Donetsk's new soccer stadium
Newspaper editor Serhiy Furmanyuk was a key opposition voice in 2004. He says Akhmetov and other business leaders here relied on criminal groups to maintain control and suppress competition.
"They're all still there," he says. "The criminals may no longer act so openly; in the past five years, people may have stopped sensing that they're returning to power. But all their old habits remain."
Furmanyuk criticizes Tymoshenko and Yushchenko for failing to reform a corrupt justice system and support civil society while they had the chance, instead of bogging down in the political infighting that has characterized much of the past five years in Ukraine.
Furmanyuk, for one, believes Tymoshenko's accusations that Yanukovych will rely on his support here to carry out electoral fraud. If either Tymoshenko or Yanukovych fails to accept the election's results, a standoff may prompt another political crisis.
Furmanyuk says the election is crucial for Ukraine's future. He predicts more mass street protests, only much uglier than in 2004.
"The first Orange Revolution was optimistic," he says. "Those who witnessed it were lucky; they saw how wonderful humanity can be. But as they say, a tragedy repeated twice is a farce. The second time won't be a protest of belief, but a show of force."
This time, Furmanyuk says, Tymoshenko and Yanukovych will fight each other "to the end."