In ethnic-Georgian villages across South Ossetia, the stories are disturbingly similar. Paramilitary irregulars roll into town, pack their cars and trucks with anything and everything of value, burn all the houses to the ground, and move on.
Nadia Terashvili, a resident of the Georgian enclave of Beloti, had heard what happened to nearby villages, and knew what to expect when South Ossetian militias showed up. After a harrowing escape from the smoldering ruins of what was once her hometown, Terashvili ended up with other internally displaced persons in the city of Gori.
"Eredvi is burned down. Vanati is burned down. Satskheneti is burned down. And then they came to our village and burned it down as well. They destroyed everything and after taking whatever they could take, they burned each and every house down," Terashvili tells RFE/RL's Georgian Service. "We fled with just the clothes on our backs, lost our way, and spent three nights in the forest."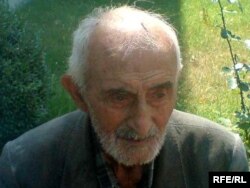 A 93-year-old ethnic-Georgian man who was handed over to Georgian authorities as part of a captives exchange near Gori in August
Human rights advocates who have been monitoring the situation in the pro-Moscow separatist region since the conflict ended say stories like Terashvili's, combined with satellite images, show that the destruction of Georgian villages in South Ossetia is methodical and organized.
"For a month we have observed the systematic destruction of houses in Georgian enclaves and villages in South Ossetia," says Tatyana Lokshina, a Russia researcher with Human Rights Watch (HRW).
HRW has also released satellite images that show "widespread torching of ethnic Georgian villages" in the breakaway region.
According to an release on HRW's website, the images, which were provided and analyzed by the UN program UNOSAT, show that "the damage depicted in five ethnic-Georgian villages shows the destruction of these villages around the South Ossetian capital, Tskhinvali, was caused by intentional burning and not armed combat."
Classic Case Of Ethnic Cleansing?
Prior to the outbreak of armed conflict on August 7-8, ethnic Georgians made up just less than one-third of the population of South Ossetia. The region was a patchwork of Georgian and Ossetian villages that existed side-by-side in an uneasy peace.
Aleksandre Lomaia, the secretary of Georgia's National Security Council, tells RFE/RL's Georgian Service that South Ossetian separatist authorities and their patrons in Moscow are now trying to permanently alter the ethnic makeup of the region.
"We are dealing with classic case of ethnic cleansing. Not only is a specific ethnic group, in this case Georgians, being driven out from a specific territory, but their homes are being destroyed afterward in order to make it difficult, or even impossible, for them to return," Lomaia says.
The South Ossetian authorities are not denying that ethnic Georgians homes are being burned down. News agencies have quoted de facto South Ossetian President Eduard Kokoity as saying that Georgians would not be able to return to the region because their homes had been destroyed. He added that Ossetians were not allowed to return to Georgia proper following the separatist war in the early 1990s.
Supported by Russia, South Ossetia fought a brutal war to secede from Georgia in the early 1990s after the breakup of the Soviet Union. A 1992 cease-fire ended the fighting and established a peacekeeping contingent comprised of Russian, Georgian, and Ossetian forces. The agreement did not resolve the question of South Ossetia's final status, and it remained formally part of Georgia but enjoyed de facto autonomy.
On August 26, Russia formally recognized the independence of South Ossetia and another pro-Moscow breakaway Georgian region, Abkhazia. The only other country in the world to have followed Russia's lead, however, is Nicaragua.
Detainee Abuse
In addition to the burning of Georgian villages, HRW has documented cases of arbitrary detention, forced labor, torture, and extrajudicial executions of Georgian civilians and military at the hands of South Ossetian forces during the conflict.
"We have learned that hundreds of civilians from Georgia were detained in holding cells in South Ossetia. These included women and the elderly," HRW's Lokshina says. "We know that these people were held in inhuman conditions, crammed together in one space. They were practically not fed. They were forced to work. They cleaned streets. The men were forced to bury the corpses of Georgian soldiers."
According to a September 21 report posted on HRW's website, detained Georgian soldiers were punched, kicked, beaten with hammers, machine-gun butts, and metal rods, and were burned with cigarette lighters, starved, and threatened with execution. At least one soldier was executed with a shot in the back of the head and other detainees were forced to carry and bury his body.
"After fleeing our village, we spent a week hiding in the forest," Jemal Khetagashvili, a former civilian detainee, tells RFE/RL's Georgian Service. "But then the Ossetians found us and arrested us. We spent 10-12 days imprisoned in Tskhinvali. They forced us to work, to clean the streets and sidewalks."
At least one Georgian civilian was also executed after being pulled from a car while trying to flee the Russian-occupied Gori district.
Human rights activists also say the situation is increasingly dire for Georgians in the "buffer zones" that Russian forces have set up in Georgia proper around Abkhazia and South Ossetia. Lokshina says they have become lawless areas where militias regularly terrorize local residents.
"We are extremely worried about the situation in the so-called buffer zones, where the Georgian police do not have access and cannot bring order and where South Ossetian militias regularly harass local residents and burn down their houses," Lokshina says. "The Russian armed forces are not trying in any way to provide security for the civilian population and their property in the buffer zones. It is an absolute vacuum as far as security and law and order goes."
In its September 21 report, HRW also called on Tbilisi to investigate allegations of ill-treatment of South Ossetians detained by Georgian forces.
Goga Aptsiauri of RFE/RL's Georgian Service contributed to this report from Gori
Crisis In Georgia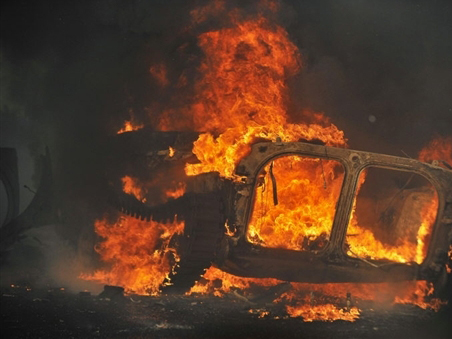 For RFE/RL's full coverage of the conflict that began in Georgia's breakway region of South Ossetia,
click here
.