will be in Moscow
on September 8 to meet with President Dmitry Medvedev about the Georgia crisis, before flying to Tbilisi. Ahead of the trip, EU foreign ministers, meeting in Avignon, France, appealed to Russia to make good on its commitments to withdraw its forces from Georgia under a cease-fire plan brokered by Sarkozy last month.
In an exclusive interview, RFE/RL Georgian Service Director David Kakabadze spoke with the EU's special envoy to the South Caucasus, Peter Semneby, about the situation in Georgia, options for influencing Russian actions there, and the silver lining in the bloc's failure to prevent the conflict.


RFE/RL:
Mr. Ambassador, on September 3 President George W. Bush announced that the United States will provide $1 billion to Georgia to help this country in the wake of Russia's invasion. On September 4, U.S. Vice President Dick Cheney visited Georgia to signal support for its government. These moves -- along with very bold statements by U.S. administration officials -- represent quite a contrast to what the EU has done so far. Why is that?
Peter Semneby:
Well, I would not say that there is any contrast at all. The European Union has undertaken -- and is undertaking -- a lot of effort in terms of relief efforts, reconstruction assistance. It was clear also that there will be further effort from the meeting from the EU heads of states and governments on [September 8].
The French President [Sarkozy] is traveling together with the president of the European Commission [Jose Manuel Barroso] and the foreign-policy chief of the EU, Javier Solana, early next week [to Georgia], and I expect further announcements in terms of assistance of various kinds, which may also -- in addition to what has already been given -- include also some kind of macroeconomic assistance.
'Position Is Clear'

RFE/RL:
But how far can the European Union go in supporting Georgia's territorial integrity. What do you think?
Semneby:
The position of the European Union on Georgia's territorial integrity is clear. The EU and its individual member states recognize Georgia's territorial integrity within the internationally recognized borders. That is the basic parameter within which the further measures have to be taken.
At the same time, it's clear that after the latest war the conflicts have not come closer to resolution. We have to take a step back and look first and foremost at the most immediate concerns. The most immediate concerns are, as I mentioned, the humanitarian issues, reconstruction, fulfillment of the provisions of the six-point plan, which initially includes withdrawal of military forces -- both Russian and Georgian -- in order to create the conditions for a political process further down the line.
RFE/RL:
Does this mean removal of Russian military forces from the territories of the breakaway regions, as well?
Semneby:
Well, the six-point plan provides for withdrawal of the Russian forces to the positions that were held before August 7; that is, before the war started.
I think that everybody -- all actors, all stakeholders -- should take a step back and reflect on what happened and try to draw conclusions and lessons for the future.
RFE/RL:
In the past few years the Georgian government has repeatedly urged the EU to engage more actively in the conflict resolution process. After the Russian invasion of Georgia, the EU -- in this regard -- seems more unified than it used to be. Do you think this unity comes a bit too late?
Semneby:
It's a question that is almost impossible to answer. I think that everybody -- all actors, all stakeholders -- should take a step back and reflect on what happened and try to draw conclusions and lessons for the future. It's clear that we have all failed. One of our main immediate objectives was to prevent the tensions that existed in Georgia and in the conflict regions from running out of control and from developing into a war. In this sense, we did fail.
On the other hand, as you say, I do believe that we are more unified as a result. There is increasing realization of the importance of Georgia, of the dangers that the tensions and the conflicts in Georgia pose, and about the importance of engaging comprehensively in order to stabilize the situation. That concerns economic stabilization, but it concerns also stabilization of the situation on the ground. And this is the background why the heads of states and governments of the European Union have declared at their last meeting that the European Union will also consider sending a mission to Georgia in order to help stabilize the situation.
'Multifaceted Relationship'

RFE/RL:
On a more general note, would you agree with the widespread notion that the West appears to have few options for influencing Russia?
Semneby:
It's difficult for me to answer this question at the moment because we are in the middle of a discussion with Russia on these issues. These are issues that will be not least at the meetings that will be held next week when President Sarkozy -- together with Barroso and Solana -- will travel to Moscow. But we have a multifaceted relationship with Russia both in political and in economic terms, where there are many levers and instruments.
Fundamentally, we have to make sure that we move beyond the tense situation that we are facing now -- a very difficult situation that we are facing with Russia -- in order to be able to engage in a political and constructive dialogue with Russia on how we should build the long-term relationship. We are, by history and geography, bound to live next to each other and that means also that for our mutual security and prosperity we need a functioning relationship. And I hope that this realization will be made on both sides after we move out of the crisis stage that we are in now.
RFE/RL:
How important is the energy component in EU's talks with Russia? Everyone talks about energy dependence of Europe on Russia. But this is not a one-way street -- Russia is as dependent on Europe for its exports as Europe is dependant on Russia. Are the EU leaders making this point in their discussions with Moscow?
Semneby:
Well, Europe is trying to convey this message, and I believe also that fundamentally this is understood in Moscow. Energy is, of course, a crucial part of this relationship, absolutely. But it cannot be reduced just to energy. We need also functioning political channels of communication and functioning political dialogue with our neighbor Russia.
Energy is, of course, a crucial part of this relationship, absolutely. But it cannot be reduced just to energy.
RFE/RL:
The EU emergency summit on September 1 has decided to commit itself -- including through a presence on the ground -- to support every effort to secure a peaceful and lasting solution to the conflict in Georgia. In Paragraph 5 of the final conclusions of the presidency there is mention of strengthening the OSCE observer mission to South Ossetia, dispatching a fact-finding mission, etc. But there is no mention of any military or at least police presence on the ground. Do you see any chance for this kind of engagement of the EU in the near future?
Semneby:
At this moment, the European Union is looking at the possibility of dispatching a civilian observer mission which will engage primarily in the flashpoints where the military action took place, the buffer zones, and so on. I expect that the mission will contain some military expertise and some police, law enforcement expertise as well. But this will probably not be executive functions in any way.
As far as military observation is concerned, this is something that the OSCE and the United Nations are already doing. Any efforts undertaken by the European Union here will, of course, be closely coordinated with those organizations in order to take advantage of the complementarity between the different mandates and different focuses of the operation. But this is something that is still in the making, and I don't want to prejudge the decisions that will be taken within the next couple of weeks, most likely at the next meeting of the EU foreign ministers on September 15.
'Point Of Departure'

RFE/RL:
Nicaragua became the first country to join Russia in recognizing South Ossetia and Abkhazia as independent states. Venezuela, Cuba, and Belarus have sided with Moscow as well but stopped short of formally recognizing the independence of Georgia's breakaway regions. What is your assessment of the prospects for those two regions to become with the time full-fledged independent states?
Semneby:
First of all, almost all countries in the world recognize the territorial integrity of Georgia. And I think this is a fairly powerful point of departure in giving an answer to your question.
RFE/RL:
The extraordinary European Council decided recently to appoint an EU special representative for the crisis in Georgia. Can you tell us who it will be? If you cannot, let me ask how you and a new special representative will be sharing responsibilities and functions?
Semneby:
I cannot comment on any name. And as far as the distribution of responsibilities is concerned, that is also something that is still under discussion, and I would not be in a position to comment on that at this stage.
RFE/RL:
When should we expect the announcement?
Semneby:
I am not able to comment on that.
Crisis In Georgia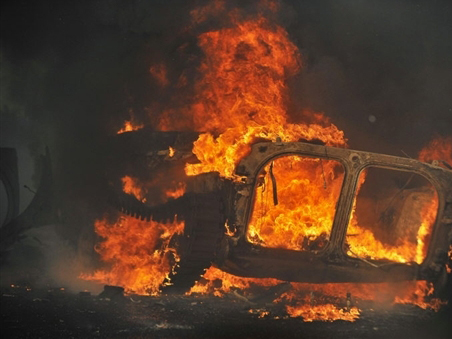 For RFE/RL's full coverage of the conflict that began in Georgia's breakway region of South Ossetia,
click here
.