CERNOBBIO, Italy (Reuters) -- Vice President Dick Cheney, in the sharpest U.S. criticism of Russia since its brief war with Georgia, has accused Moscow of reverting to old tactics of intimidation and using "brute force."
In remarks at an economic conference in northern Italy on September 6, Cheney bluntly rebuked Russia, after visiting Azerbaijan, Georgia, and Ukraine, where he pledged U.S. backing for the former Soviet states.
The conflict erupted early last month when Georgia tried to retake the breakaway region of South Ossetia, and Russia responded with overwhelming force sending tanks and troops into Georgian territory.
The United States and Europe have demanded that Russia pull forces out of Georgia as set out in a French-brokered peace agreement, but Moscow has not yet fully complied.
"This chain of aggressive moves and diplomatic reversals has only intensified the concern that many have about Russia's larger objectives," Cheney said. "For brutality against a neighbor is simply the latest in a succession of troublesome and unhelpful actions by the Russian government."
U.S.-Russian relations have soured in recent years with the United States accusing Russia of backsliding on democracy and Moscow angered by plans for a U.S. missile-defense system in Poland and the Czech Republic.
Tensions escalated since the Georgian conflict as Russia and the United States engage in Cold War style rhetoric. Earlier on September 6, Russian President Dmitry Medvedev accused the United States of provoking Moscow by using warships to deliver relief aid to ally Georgia.
Cheney accused Russia, the world's second-largest oil producer, of using energy as "a tool of force and manipulation" in Central Asia, the Caucasus, and elsewhere by threatening to interrupt the flow of oil or natural gas.
Russia has tried to "intimidate by threats and severe economic pressure" Ukraine, which along with Georgia is seeking to join NATO, he said.
"At times it appears Russian policy is based upon the desire to impose its will on countries it once dominated, instead of any balanced assessment of security interests," Cheney said.
'Old Ways'
He noted that senior Russian military officials threatened Poland with attack over its involvement in the missile-defense system.
"That is no way for a responsible power to conduct itself," Cheney said. "And it reflects the discredited notion that any country can claim an exclusive zone of authority, to be held together by muscle and threats.
"That is the old thinking," Cheney continued. "The old ways are gone, the Cold War is over."
Russia should consider whether "bullying others will turn out well for their country's future" and whether Moscow wants to "operate in the modern world as an outsider," he said.
"Russia's leaders cannot have things both ways," Cheney said. "They cannot presume to gather up all the benefits of commerce, consultation, and global prestige, while engaging in brute force, threats, or other forms of intimidation against sovereign democratic countries."
Cheney said Russian arms dealing in the Middle East had endangered the prospects for peace and freedom in the region.
Russia has sold advanced weapons to Syria and Iran, he said. "Some of the Russian weapons sold to Damascus have been channeled to terrorist fighters in Lebanon and Iraq."
Crisis In Georgia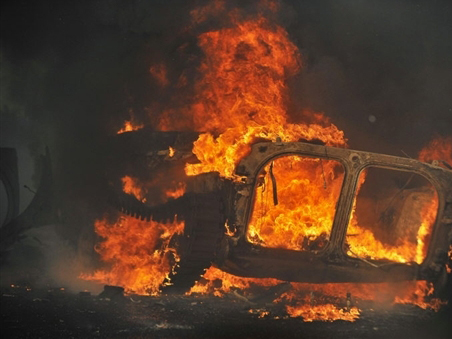 For RFE/RL's full coverage of the conflict that began in Georgia's breakway region of South Ossetia,
click here
.