WATCH: Scenes from Roza Otunbaeva's inauguration (in Kyrgyz)By RFE/RL
Roza Otunbaeva has been sworn in as Kyrgyzstan's caretaker president at an inauguration ceremony that her government hopes marks the start of an era of stability in the volatile country.
She took her oath of office at a Bishkek concert hall before a packed audience of government officials, diplomats, and politicians.
"Taking upon myself the duties of president of the Kyrgyz Republic, I swear to the people and to my motherland to respect and preserve the constitution and the laws of the Kyrgyz Republic," she said, "to protect the independence and freedom of the Kyrgyz state, to respect and ensure rights and freedoms of all citizens of Kyrgyzstan, and to fulfill the presidential duties with which I was entrusted by the Kyrgyz people."
She called on all political forces to unite in building a new, modern Kyrgyzstan.
"The new government is ready for constructive cooperation with all political forces, pluralism, freedom of speech, to protect human rights, competition of ideas, and honest dialogue," she said. "We call on all progressive forces to work together to develop and modernize the country."
Vital Step
Otunbayeva's inauguration is a vital step for the interim government, which has been weakened by what many view as a lack of political legitimacy.
It follows a national referendum last week that overwhelmingly approved her as caretaker president until 2011.
Voters also gave their support to a new constitution that curbs presidential powers in favor of a European-style parliamentary democracy and sets the stage for parliamentary elections that authorities have scheduled for early October.
In the meantime, the interim government will have to deal with the aftermath of clashes between ethnic Kyrgyz and Uzbeks in the country's south. At least 300 people were killed, by the government's official tally, although Otunbaeva herself has said the death toll may be as high as 2,000. The violence displaced another 400,000 people and left Osh, Kyrgyzstan's second-largest city, in ruins.
In her inauguration address, Otunbaeva promised to provide housing to all those who had lost their homes in the violence.
A career diplomat, Otunbaeva is the first female leader in Central Asia's post-Soviet history.
written by Claire Bigg, with contributions from RFE/RL's Kyrgyz Service
Kyrgyz Crisis Coverage
Clashes In Kyrgyzstan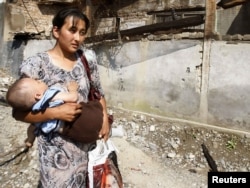 Full RFE/RL coverage of the ethnically charged violence that has shaken southern Kyrgyzstan since June 10. More