Fourteen-year-old Rabia doesn't feel safe on the streets of Kabul as she goes about her daily routine.
Every school-day morning, Rabia's father walks her to a street corner near their home and stays with her until a private bus arrives to take her and other girls to school. Once on the bus, Rabia says, they are treated with contempt and hostility by the driver -- a former mujahedin fighter who resents his life as a bus driver for schoolgirls.
Rabia says she worries each day about the possibility of roadside bomb attacks against the bus. Once she arrives at the school, she fears Taliban militants will target the building -- as they have with hundreds of other girls' schools across the country. She also worries about militants who have singled out young Afghan schoolgirls in acid attacks -- blinding them and disfiguring their faces for life because they tried to get an education.
"Every minute there is a possibility of an explosion. At any time, there is a possibility of being attacked," Rabia says. "If you have ever seen the aftermath of a [suicide] bombing [in Kabul], you would know there often are many school students who are killed -- innocent boys and girls."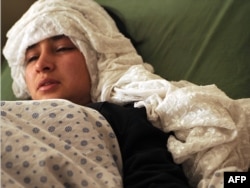 An Afghan schoolgirl lies in a hospital with symptons of poisoning in Charikar, near Kabul (file photo)
Rabia was outraged by remarks made to the BBC this week by Mark Sedwill, NATO's top civilian representative in Afghanistan. Sedwill told the BBC that children in Kabul "are probably safer here than they would be in London, New York, or Glasgow and many other cities." Sedwill also said "most children" in Kabul can "go about their lives in safety."
Under pressure for dismissing the fears of ordinary Kabul residents, Sedwill's office quickly issued a statement to clarify his remarks. The statement noted that there have been few bombings in the Afghan capital in recent months. It also stressed that Kabul's children face greater risks from poverty, "absence of clean water, open sewers, malnutrition, [and] disease" than from Taliban militants.
'You Are Never Sure'
Rabia heard Sedwill's clarification in news reports but says the former British ambassador to Afghanistan does not seem to understand the broad range of threats that Kabul residents face every day.
"There are powerful human traffickers who are kidnapping children for evil purposes," Rabia says.
She cites the mysterious fate of a very young girl in her neighborhood who was playing outside when she simply disappeared.
"Nobody knows what happened to her, but many in our neighborhood fear she was taken by traffickers who will kill her to harvest her organs or smuggle her to another country for evil purposes," Rabia says. "I also know an 11-year-old missing boy with the same story. Nobody knows what happened to him."
Youths on Nader Khan Hill, overlooking Kabul
Rabia's mother, Palwasha, says she also was angry when she heard reports about Sedwill's comments.
"Where is the security? Every morning when my children leave home until they return, I imagine a hundred horrible things that could happen to them," Palwasha says. "There is no safety. We are involved in hundreds of miseries. Even if the school bus driver comes right to the door, you are never sure your children will be safe."
Indeed, the week before Sedwill's comments, gunmen in a car grabbed a young girl in Rabia's neighborhood and tried to take her away. Neighborhood residents responded to the girl's shouting, teaming together to stop the would-be abductors. But the girl was so traumatized that she fainted and was hospitalized for a week.
From Bad To Worse
Aid workers and children's rights advocates who deal with harrowing tales from Kabul's children on a daily basis say Sedwill's remarks -- even with the later clarification -- were inappropriate.
Hamida Barmaki, the head of children's affairs for the Afghan Independent Human Rights Commission, convened a press conference on November 22 to announce new research showing the situation for Afghanistan's children is worsening.
Barmaki says increasing violence and other dangers faced by Afghan children include kidnappings, sexual assaults, the threat of opium addiction, and poverty that robs many children of the chance to go to school.
He says the interviews -- with more than 2,800 children during the first half of this year -- suggest that about 12.5 percent of Afghan kids are prevented from attending classes because of economic constraints or security concerns. Meanwhile, about 7 percent of children in urban areas and 30 percent in rural areas lack access to health services, and 80 percent of the health clinics throughout the country "lack the ability to provide essential health services," he says. He adds that an estimated 60,000 children are addicted to drugs and the number of sexual assaults against children has increased by 20 percent this year.
UN research supports the Afghan commission's findings. UNICEF says 1,271 Afghan civilians died in insurgent attacks during the first six months of this year -- up one-third compared to a year earlier. There also was a 55-percent increase in child casualties.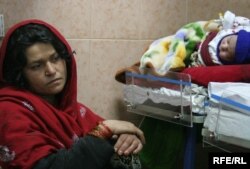 An Afghan mother awaits news of her sick child at a hospital in Kabul. (file photo)
Barmaki says deteriorating security is increasingly harmful to Afghan children because of militant attacks that target schools and prevent access to vital care.
"The Afghan Independent Human Rights Commission is calling on the [Afghan] government, nongovernmental organizations, and other civil-society foundations in Afghanistan to do their best to improve the situation for children in the country," Barmaki says. "We want Afghan and international troops -- and also the armed opposition forces -- not to target residential areas, health facilities, or schools so that children and other civilians remain safe."
Barmaki says some dangers faced by Afghan girls are the result of pressure from their own relatives -- such as forced marriages. Out of 2,800 children interviewed for the commission's latest study, 129 were underage girls who had been forced into a marriage -- usually when male relatives sold them for money or traded them like property to settle a feud. The commission said many cases involved teenage girls who were sold to become wives of elderly men for as little as a few hundred dollars.
The United Nations says more than 60,000 school-aged children work on the streets of Kabul to survive. Some beg while other polish and mend shoes. Still others sell plastic bottles of water, chewing gum, or newspapers. Many of them are not orphans, but are working to help support their entire family.
The Afghanistan Evaluation and Research Unit (AERU), an independent research group, concludes that most Afghan parents want an education for their sons and daughters. But it says Afghan families often are constrained by poverty and must send their children onto the streets.
contributors to this story include Radio Free Afghanistan's Faizullah Qardash in Kabul, with Mustafa Sarwar in Prague