PACE Urges 'Restraint, Calm' From Georgian Authorities, Opposition
Two co-rapporteurs from the Council of Europe's Parliamentary Assembly (PACE) are calling on Georgian authorities and opposition protesters to exercise restraint during major antigovernment protests scheduled for April 9.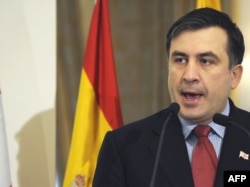 Mikheil Saakashvili
"It is essential for Georgia that the planned protest rallies...take place in a calm and peaceful manner without violence or provocations," Mátyás Eörsi of Hungary and Kastriot Islami of Albania said at the end of a fact-finding visit to the country
Citing the "tense environment and ongoing political polarization" in the country, Eorsi and Islami are recommending that law-enforcement agencies and protest organizers "urgently engage" in talks on the security arrangements for the rallies.
"Such dialogue can contribute to an increased mutual confidence which will minimize the possibility of violence or provocations," the statement says.
The April 9 protest -- organized by 13 opposition parties -- coincides with the 20th anniversary of a brutal crackdown by Soviet troops against independence demonstrators in Tbilisi.
Oppositioin parties say the protest will be peaceful and is aimed at forcing Georgian President Mikheil Saakashvili to resign.
About This Blog
"Watchdog" is a blog with a singular mission -- to monitor the latest developments concerning human rights, civil society, and press freedom. We'll pay particular attention to reports concerning countries in RFE/RL's broadcast region.
Journalists In Trouble
RFE/RL journalists take risks, face threats, and make sacrifices every day in an effort to gather the news. Our "Journalists In Trouble" page recognizes their courage and conviction, and documents the high price that many have paid simply for doing their jobs. More