As Pakistan reels from the March 2 attack on the Sri Lankan national cricket team in Lahore, its government has already begun trading thinly veiled accusations of complicity with India.
Seven Sri Lankan cricketers were wounded and six Pakistani policeman and a driver were killed when about a dozen gunmen opened fire on the van carrying the team.
Analysts and even some Pakistani officials were quick to compare the 20-minute attack to the highly coordinated commando-style attacks that rocked India's financial capital Mumbai in November.
Rumors circulated that Pakistan could only benefit from such comparisons, by portraying itself as a victim of terrorism, leading to theories of Islamabad's involvement.
Likewise, in Pakistan, elements of the country's conservative press saw an Indian hand in the attack.
Indian Foreign Minister Pranab Mukherjee, in a March 3 statement, placed the blame on terrorist groups within Pakistan. "Unless the infrastructure facilities available to terrorist organizations within the territory of Pakistan or under its control are completely dismantled and the perpetrators of the terror attack are brought to justice, repetitions of these type of incidents may take place," he said.
The Indian statement provoked strong reactions in Pakistan, including from the head of the Foreign Relations Committee of the Pakistani parliament's upper house.
In an interview with RFE/RL, Senator Mushahid Hussain Sayed characterized Mukherjee's comments as "cold and callous," saying it showed a lack of sympathy for Pakistani victims of terrorism.
"The least he could have done is to come out with some sympathy and solidarity that what has happened is wrong. He did not do that," Sayed said. "He used this opportunity to try to put more pressure on Pakistan. And I think that shows that the Indian approach is neither sincere nor serious on this issue of terrorism, which is a common threat to everybody."
'Monumental Lapse'
Pakistani police have issued sketches of four of the attackers, and have offered monetary awards for information on them. Dozens of suspects have already been rounded up, although no major breakthroughs have been made in determining exactly who is responsible.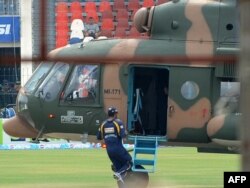 A Pakistani military helicopter evacuates members of the Sri Lankan team
Pakistani Senator Sayed said the attack resulted from a "huge and monumental security lapse" that occurred despite the government being forewarned of the possibility of such an attack in Lahore. He suggests that "the government of the day is too busy trying to seize absolute power" and is "distracted from its essential responsibility of security and governance."
Meanwhile, Farzana Shaikh, a Pakistan specialist at the Chatham House think tank in London, suggests that the fallout from the Lahore attack could work to India's advantage.
"There is likely to be a regional fallout in the sense that it will only succeed in strengthening India's call for Pakistan to be reined in," Shaikh said. "I think India is now concerned to show that Pakistan really is a very serious destabilizing factor in the region."
Shaikh ruled out the possibility of the attacks being part of the regional rivalry between India and Pakistan, but did note the similarity to the coordinated attacks in Mumbai on November 26-29 that left more than 170 people dead.
India blamed the Mumbai attacks on Lashkar-e-Taiba, a banned Pakistani extremist organization. Following an investigation, Pakistan eventually conceded that the attacks had been planned at least in part on its territory. The arrest of Lashkar-e-Taiba suspects was also announced, and other suspects who remain at large were identified.
Shaikh suggested that suspicion is again falling on Lashkar-e-Taiba in connection to the Lahore attack -- the theory being that the group may be reacting to the unfamiliar crackdown it is experiencing in Pakistan.
"There has been a great level of anger within sections inside Lashkar, who feel that they need to retaliate against the government's heavy-handed treatment of their followers," she said.
Internal Disputes
Regardless of who is ultimately found responsible, the attacks contribute to the destabilization of Pakistan, as its civilian government is forced to deal with an increasingly vocal opposition rather than focusing on countering extremism.
Political wrangling between the governing Pakistan Peoples Party (PPP) and the opposition Pakistan Muslim League Nawaz Group (PML-N) has intensified as a result of last week's Supreme Court ruling banning two prominent PML-N leaders, Nawaz Sharif and his brother Shahbaz, from holding public office.
The PML-N-led opposition has already announced plans for countrywide protests next week that will culminate in a long march from Lahore to the capital, Islamabad. This is to be followed by an indefinite sit-in in front of the national parliament and president's office.
Although the protests are ostensibly aimed at calling for the reinstatement of a former supreme court chief justice, they are now being seen as an effort to topple the civilian government led by President Asif Ali Zardari.
This, in turn, threatens to reduce the Obama administration's policy options just as it looks to develop a new strategy for Afghanistan and neighboring Pakistan, according to Shaikh.
"There is no question that the Obama administration is looking on with alarm at what is happening in Pakistan," she said. "Because not only does the military strategy seem to be faltering, but its political plans have unraveled."
Shaikh suggests that the domestic stand-off also signals the failure of a two-year-old U.S. policy to support a civilian government in Pakistan, which in theory would allow the Pakistani military to concentrate on countering Islamist militancy.
She added that such a policy envisioned charismatic PPP leader and former Prime Minster Benazir Bhutto at the helm. The December 2007 assassination of Bhutto unleashed a chain of events that eventually resulted in her husband, Zardari, being elected president.
Despite his strong stance against militancy, Zardari is now increasingly seen as a divisive figure incapable of delivering a victory over the extremists.
"He is now seen to have reneged on his agreement to restore the illegally deposed chief justice," Shaikh said. "He is seen to have also mocked basic democratic rules by dismissing an elected government in Punjab [Province]. And arbitrarily choosing to impose governor's rule."
Shaikh continued: "These sorts of things have created a great deal of ill will and bitterness which simply weakens the struggle [against extremists]. And Mr. Zardari is the first one to say that this struggle is an existential struggle for Pakistan -- the struggle against militancy."
Pakistani Senator Sayed advises that the soon-to-be issued U.S. policy review for the region focus on the transnational nature of the terrorist threat.
Terrorists, he said, "are sophisticated, [and] the enemy is nameless, faceless [and] stateless. And the enemy can only be combated together by different countries -- whether it's the U.S., NATO, Pakistan, India, Sri Lanka, [or] Bangladesh. And we should not try to blame each other and we should avoid propaganda."
Ending the blame game and conspiracy theories that emerge from India and Pakistan could do well to foster a better environment for dealing with extremism in the region.
But the success of a comprehensive regional antiterrorism strategy is contingent on Pakistan being the lynchpin, at a time when the country is finding stability to be increasingly elusive.