SWAT VALLEY, Pakistan -- As his neighbors work to salvage what possessions they can from their ruined homes, Gul Shirin sits in silence amid 13 freshly dug graves.
At age 80, this resident of the remote village of Choor Qazi Abad has lost nearly his entire family to the floods that continue to ravage Pakistan.
"Three were my sons, one wife, five grandchildren, one daughter, two daughters-in-law, and one was the mother-in-law of my daughter," he says, adding that six cows are gone, too.
"Everything is lost. I'm left with nothing," the frail, gray-bearded man says over and over. "This was the will of God."
The flooding from devastating monsoon rains reached his tiny village in Swat Valley on July 29. Shirin was helpless against the elements, and two children -- both younger than three -- were the only other family members whose lives were spared.
Life in Swat Valley, where government troops launched a much-publicized operation to root out Taliban insurgents in the spring of 2009, was already difficult enough.
Now, Swat and neighboring districts are among the hardest-hit by the worst floods that Pakistan has seen in 80 years. Floodwaters have destroyed 1.2 million homes and affected some 20 million people.
Roads, bridges, hotels, and homes have been washed away near Shirin's hometown, located 13 kilometers from Kabal Khas, the main town in the area. Social workers and locals say hundreds remain stranded in mountain villages overlooking the valley, and many face shortages of food and medicine.
Shah Nawaz Khan, a correspondent for RFE/RL's Radio Mashaal, managed to visit several remote villages in Swat and the neighboring Khyber-Pakhtunkhwa Province districts of Shangla and Kohistan.
Khan reports that ruins are all that remain in many places. People are traveling by foot or by donkey for hours -- sometimes a full day and night -- just to get 20-kilogram rations of wheat flour. Locals say floodwaters swept away hundreds, and the bodies of many have yet to be recovered.
Simply 'Washed Away'
Abdul Rashid, 48, who is in charge of security for a dam project in the Pattan area of Kohistan district, says 59 people were drowned before his eyes.
"Initially, the flow of water was very high and the floods crossed two square kilometers within two minutes, washing away our camp," Rashid says. "The water drowned three Chinese engineers, three security officers, one local employee of the project, and 52 local residents."
Dost Muhammad, a resident of the tiny Kashir village in Kohistan district, lost 44 of his relatives, including immediate family members.
The 40-year-old laborer says Kashir village used to have about 75 houses, before they were all washed away. "I never saw such floods in my life before," he adds.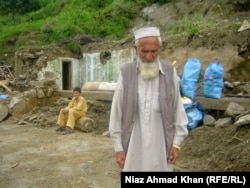 Shirin and a neighbor amid the rubble of his village of Choor Qazi Abad and international relief supplies.
"I lost 44 relatives in the floods, their bodies have still not been found," Muhammad says. "They included women, children, young men, and one was an aged man. They were my cousins, nephews, and other close relatives."
Muhammad says no relief items are arriving from the government or from aid organizations because the area is virtually inaccessible.
"We are living in tents because our homes have been destroyed," Muhammad says. "There is no medicine, no food. The only food is that provided by the people of nearby villages."
Another resident of Kohistan district, 40-year-old Sohair, echoes Muhammad's complains about aid delivery, saying he too is dependent on neighboring villages for food. But Sohair, who only provided his first name, also blames a power project in the district's Dubair area for the scale of the disaster.
"This calamity is from God and the WAPDA (Water and Power Development Authority) people who constructed the dam there," Sohair says. "They suddenly released the water from the dam as the level increased there. Eight of my family members were drowned; bodies of four have been found, while four others are still missing."
Urgent Needs
To the north, floods and landslides have closed the Karakuram Highway, the world's highest-altitude road, connecting Pakistan with China and also known as the eighth wonder of the world.
For three weeks, hundreds of trucks have been stranded on both ends of the highway.
"Floods washed away the bridge and the road in Dubair," says one driver, Khan Shahzada. "Fifty to 60 vehicles are stranded near Dubair; 200 to 250 vehicles are stranded in Broz Banda; the same number are stranded in Kamila. In total, 1,000 to 1,500 vehicles have been stranded here for almost one month."
The government of Khyber-Pakhtunkhwa Province says it is in dire need of financial assistance and accuses Pakistan's central government of focusing its aid efforts on the provinces of Punjab and Sindh, where Khyber-Pakhtunkhwa locals claim the level of destruction is far less severe.
Locals and social workers working in the area say the destruction is significantly greater than the government of Pakistan or the international community is estimating. And as the cash-starved local governments of Pakistan quarrel among themselves for the financial aid trickling down from international donors, thousands of victims await a few loaves of bread and a few kilograms of rice, beans, and sugar.
Shirin is among them.
"Many people are coming to condole my loss, but there has been no assistance so far," he says. "Now that my family is lost, it is of no use to me."
Radio Mashaal correspondent Shah Nawaz Khan contributed to this report from Swat Valley