A widely publicized video clip showing the public flogging of a 17-year-old girl in western Pakistan's restive Swat Valley has generated intense controversy in the South Asian Muslim nation.
The video
, widely circulated on the Internet and shown by Pakistani TV news stations, shows a young girl dressed in a burqa being flogged while pinned down by unidentified men. Her cries of pain can be plainly heard.
Vocal protests against the incident have highlighted growing public anger against the Taliban, who have claimed responsibility for many recent high-profile attacks against security forces and whose reach is now spreading to the Pakistani heartland from the remote tribal regions on the Afghan border.
Pakistani President Asif Ali Zardari has ordered an inquiry into the incident. On April 6, the country's Supreme Court held its first hearing about the incident, which Chief Justice Iftikhar Muhammad Chaudhry called a "cruel violation of fundamental rights."
The Taliban and local officials in Swat have questioned the authenticity of the video. Some Pakistani media reports suggest that the incident took place before the February 16 deal between the government of Pakistan's Northwest Frontier Province (NWFP) and 70-year-old Maulana Sufi Muhammad, a publicity-shy cleric who leads Islamist Movement for the Implementation of Shari'a (TNSM), and had campaigned for Shari'a courts since 1995.
Officials hoped that in exchange for Shari'a courts in the region, Muhammad could win his radical son-in-law, Maulana Fazlullah, who has led the Taliban insurrection in Swat, over to peace.
Peace Deal Threatened
But the controversy over the flogging incident now threatens that peace deal as political parties and human right activists organized protests across Pakistan this past weekend to condemn the incident.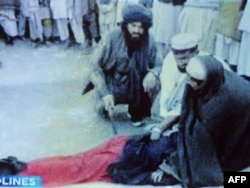 A screen grab from the flogging video
Iqbal Haider heads the Human Rights Commission of Pakistan, a Pakistani NGO that has won global recognition and praise for its outspoken criticism of human rights violations in the country.
Haider tells RFE/RL that such incidents and the rising violence in his country are the consequences of the policies of successive Pakistani governments, which either encouraged or tolerated the growth of the Taliban and other Islamist militant organizations, hoping that they would be useful proxy allies in Pakistan's quest for influencing events in the region.
"It is an unavoidable consequence of the repeated agreements that [former President] Pervez Musharraf had with the Taliban throughout his tenure [in office]," Haider says. "[There were] at least six agreements that General Pervez Musharraf signed with [the] Taliban to appease them. And then the elected government was made bound to continue to follow the same policies and practices. And they signed two agreements [with the Taliban in Swat]."

Restoring Peace
But politicians in the insurgency-plagued Northwest Frontier Province (NWFP) see such explanations as too simplistic.
Jamila Gilani, who represents the Awami National Party in Pakistan's central legislature, insists that the peace agreement her party's provincial government concluded with Muhammad in February was aimed at restoring peace to Swat -- but not at the cost of the fundamental human rights of women.
"Our party is a firm believer in women rights," Gilani says. "We felt that after girls schools were burned [in Swat], we needed peace and change in Swat. If our party's had not concluded the agreement, fighting and everything that went with it would have continued. That had prompted locals [in Swat] to clamor for peace at any cost. We are adamant that peace will not come at the cost of sacrificing the [rights] of women and girls. We will not allow it."
Punishing a women in such a way by flogging is a national insult to all Pashtuns.
But locals in Swat are not convinced.
In an interview with RFE/RL's Radio Free Afghanistan, Pashtun tribal leader Mukhtar Khan Yousafzai, who heads the nationalist Pashtunkhwa Milli Awami Party in NWFP, termed the Swat agreement a complete capitulation to the militants.
"Basically they have handed over the people of Swat to terrorists, Al-Qaeda, and people who do not recognize any law in the world -- in the name of the so-called Swat peace agreement," Yousafzai says. "Punishing a women in such a way by flogging is a national insult to all Pashtuns. Our government is responsible for all of this because they have negotiated and then handed over Swat to the terrorists."
Catalyst For Change
Media reports from Swat indicate that some locals, however, may prefer even a tenuous peace to the uncertainty of the days when civilians were frequently caught in the cross fire between Taliban and the military.
Gilani, a longtime human rights campaigner, hopes that the Swat incident might prove a catalyst for change and turn majority public opinion decisively against extremists.
Recent high-profile attacks in the Pakistani capital, Islamabad, and in the relatively stable eastern province of Punjab have forced many Pakistanis to face the specter of living under extremist control as authorities scramble to contain the rising violence.
But Haider says fundamental rights cannot be negotiable.
"We have to rise. We have to impress upon the government that you cannot establish peace at the cost of surrendering our constitutional human rights," Haider says. "We cannot allow surrender of our values. We cannot allow surrender and denial of education to our women."