BISHKEK -- People in Kyrgyzstan
are voting
a referendum the government says represents the only way to end ethnic clashes many believe to have killed thousands this month. But with hundreds of thousands of ethnic Uzbeks and others displaced in the south of the country, there's serious doubt the vote will be seen as legitimate.
Speaking to reporters on June 25, President Roza Otunbaeva promised the government would provide the security necessary to carry out the referendum, even amid reports of ongoing violence against minority Uzbeks in southern Kyrgyzstan.
"People want to come and vote," she said. "They believe the referendum will give stability, legitimized power, and Kyrgyzstan will at last get into the legal field, that's the main feeling people are living with."
Otunbaeva spoke after meeting the head of the regional, Russia-led Collective Security Treaty Organization (CSTO). That group has been criticized for not offering aid sooner, and some question whether the promised assistance will do much to help provide any real security. CSTO chief Nikolai Bordyuzha said the organization had agreed to supply helicopters and other nonlethal military aid.
"We will cooperate in exposing the organizers of the mass disturbances, who are provocateurs that even today are trying to destabilize the situation," he said, "and in bringing them to justice."
Change 'By Any Means'?
In today's referendum, voters are being asked whether they support the current leadership along with changes to the constitution that would weaken the president's power and move Kyrgyzstan toward a parliamentary political system. In a televised national address on June 24, Otunbaeva appealed for people to vote, saying those who provoked the recent violence aimed to disrupt the referendum.
"Such unrest may continue without end unless the people of Kyrgyzstan draw a line under it," she said. "The country cannot remain in a state of uncertainty for long. We need to bring order, but that's impossible without adopting a new constitution and establishing state institutions."
The government took power in April after protests and bloody clashes ousted President Kurmanbek Bakiev. Since then, a growing opposition led mostly by former security officials has been campaigning against the new leaders, and now the referendum. Ata-Jurt Party leader Omurbek Suvanaliev is among the most prominent. The former interior minister volunteered this month to be acting police chief in the Osh region, worst hit by the recent violence. But he quit after the government decided it would go ahead with the referendum.
"Why did the interim government decide to proceed with such a plan?" he says. "Because they know the majority of the population doesn't support them. They want to usurp power by any means."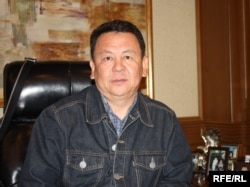 Former Kyrgyz Interior Minister Omurbek Suvanaliev (photo by Gregory Feifer)
Suvanaliev says the ongoing violence in the south -- Bakiev's stronghold where many Kyrgyz oppose the interim leadership -- will force the government to falsify the vote. He says he may organize street protests if he deems the voting unfair.
In southern Kyrgyzstan, witnesses have told of widespread mutilations, beheadings and other brutal violence, mostly carried out by Kyrgyz against the ethnic Uzbek minority, which has traditionally owned most of the region's businesses.
On June 24, officials charged that relatives of Bakiev worked with the Taliban and other Islamist groups to provoke the recent violence by organizing mercenaries to shoot at both sides.
So Many Questions
But opposition leader Suvanaliev says the violence broke out spontaneously after a casino fight between Kyrgyz and Uzbek youths. He also denies the overwhelming opinion among ethnic Kyrgyz that the violence was orchestrated by Uzbeks, saying there's been no evidence of mercenaries or rapes of Kyrgyz women many attackers say prompted them to take revenge against Uzbeks.
Most of the burned and looted houses in the city of Osh are Uzbek. Kyrgyz houses among them have been largely left unscathed. Doctors in the region have also said many of the victims bore knife wounds and burns, contradicting the widespread belief the violence was mostly orchestrated and relied on weapons stockpiled in advance.
Thousands of refugees are returning from camps across the border in Uzbekistan, where reports say the government is forcing people to leave. But witnesses in southern Kyrgyzstan say ethnic Uzbeks are still terrified by sporadic violence, looting, and threats, some carried out by rogue security forces.
In Bishkek on June 25, human rights groups called for the release of an activist they say was arrested in the south earlier this month while filming local police shooting at ethnic Uzbek civilians.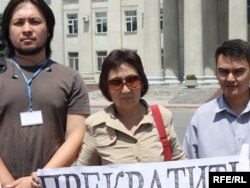 Aziz Abdurasulova (center) protests in front of the Kyrgyz parliament in Bishkek on June 25 (photo by Gregory Feifer)
Aziz Abdurasulova, director of the Kylym Shamy human rights group, worked with Azimjan Askarov and says she was in phone contact with him before he was detained.
"At first I told him that if he saw soldiers, he didn't have to worry," she says. "But when he said they were shooting at peaceful civilians, and I became frightened and told him to flee."
Abdurasulova says that although ethnic Uzbeks have suffered most of the atrocities, she doesn't want to say who's to blame for fear of provoking more killings. She and other rights activists appear unwilling to criticize the government too loudly for not doing more to provide security.
That may be an acknowledgment that the hard-pressed government has few choices in a region it now barely controls. Many in this relatively free and open society see the current leadership as the only hope for Kyrgyzstan to emerge from the kind of strict authoritarianism that has enveloped its Central Asian neighbors.
No Miracles
The government is banking on the referendum to legitimize its rule, in a country that appears to be falling apart. However, government chief of staff Emilbek Kaptagaev denies talk of the leadership's imminent collapse, saying he and his fellow ministers never envisioned staying in power more than six months after inheriting an isolated country whose treasury had been plundered.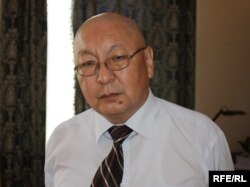 Interim government chief of staff Emilbek Kaptagaev (photo by Gregory Feifer)
"The interim government never promised economic progress or any other miracle," he says. "When the opposition joined together two years ago to battle Bakiev, we gave ourselves two main tasks: ending rule by a single family and returning stolen state assets."
Kaptagaev says the government now wants only to carry out constitutional reform and conduct free and fair parliamentary elections that will be announced after the referendum.
Whether it succeeds is important far beyond Kyrgyzstan's borders, not only because of fears the ethnic clashes could spread to other Central Asian countries, all of which have large groups of various ethnic minorities. Kyrgyzstan is also home to a U.S. air base at the Manas airport, outside Bishkek, that is vital for supplying troops in Afghanistan.
A Kyrgyz soldier takes part in the constitutional referendum during early voting in Osh on June 25.
On June 25, U.S. State Department spokesman Philip Crowley told reporters Washington is closely observing preparations for the referendum.
"We hope for a fair and transparent referendum that can be an effective step in the path towards democratic governance in Kyrgyzstan," he said.
But while Bishkek may welcome the support, its relations with the United States -- along with the base's future -- are far from clear. The country's leaders blame Washington for helping prop up Bakiev by paying hundreds of millions of dollars to keep the Manas base open. They say the Obama administration shut its eyes to Bakiev's authoritarianism, encouraging him to act with impunity in cracking down against opponents.
The legacy of Bakiev's rule, his critics say, is now helping make real hope for stability in this impoverished former Soviet republic very slim.
Kyrgyz Crisis Coverage
Clashes In Kyrgyzstan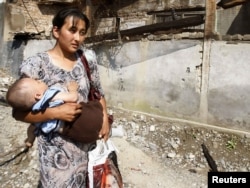 Full RFE/RL coverage of the ethnically charged violence that has shaken southern Kyrgyzstan since June 10. More