Poles voted for a new president on July 4 in a tight runoff election set to determine the future direction of Poland.
The election was called after President Lech Kaczynski and 95 others, many of them top officials, died in a plane crash in Russia on April 10.
The election pits Kaczynski's twin brother Jaroslaw, a staunch euroskeptic and leader of the main right-wing opposition party, against acting President Bronislaw Komorowski, from the ruling pro-business Civic Platform party.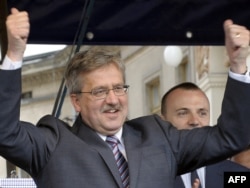 Acting President Bronislaw Komorowski
Polls have predicted a razor-thin victory for Komorowski.
But Kaczynski, who was very close to his twin, has benefited from public sympathy since the crash, despite the chaotic government he led from 2006 to 2007. He has been narrowing the gap with Komorowski in recent weeks and lagged by just 5 percentage points in a first round of voting on June 20.
He addressed voters after casting his ballot at a voting station in Warsaw, saying, "Once again, I call on everyone to take part in the election. These elections are very important for Polish democracy."
The outcome is expected to decide whether the country pushes through more market reforms. It could also set the tone for Warsaw's ties with the European Union and Russia.
"What we are facing now is a choice between two concepts of Poland," Iwona Jakubowska-Branicka, a professor of sociology at Warsaw University, tells Reuters. "It is, in fact, the choice between the fourth republic, the one that we experienced in the years 2006 to 2007, and a Poland which is more liberal and democratic, in the full sense of the word."
Jaroslaw Kaczynski
Komorowski, a moustachioed father of five, has pledged to adopt the euro in about five years, end the military mission in Afghanistan in 2012, and promote pro-market reforms.
He is expected to work smoothly with Prime Minister Donald Tusk's market-oriented government as it tries to keep Poland's economic recovery on track.
Poland is the only European Union country to have averted recession during the global economic crisis.
Komorowski supporters fear that the fiercely conservative Kaczynski, who opposes cuts in public spending, would use his presidential veto to block reforms, just as his brother Lech did before his death.
Kaczynski has been reluctant to set a timetable for the adoption of the euro.
More than 30 million of Poland's 38 million citizens are registered to vote. Official results are not expected until July 5.
written by Claire Bigg, with agency reports