NEW YORK -- The U.S. music scene is rich with talent from the former Soviet space -- but you have to look hard to find it.
That's because many musicians born in Russia, Ukraine, or elsewhere often play down their ethnic heritage in search of wider appeal on the U.S. pop market.
A case in point is Regina Spektor, whose third major album, "Far," was released to critical acclaim last month.
The Moscow-born pianist and singer, who left Russia with her family for New York at the age of 9, has a light, melodic voice, and a wide-eyed, girlish face that has prompted comparisons to American singer-songwriters like Tori Amos and Fiona Apple.
But apart from occasional references to poet Boris Pasternak and sporadic elements of Russian and Jewish folk music, there is little that reveals Spektor's Moscow roots.
Michael Idov, a Russian-American musician based in New York, says post-Soviet musical performers in the United States tend to go one of two ways.
"One way is to forget entirely that they're Russian -- to discount their Russian experience altogether," Idov says.
'Immigrant Punk'
"The other way is to do everything possible to remind audiences that they're Russian. This is the ethnic vaudeville you see in musical acts like Gogol Bordello. These are performers who are building a career on their own exotic, Slavic nature."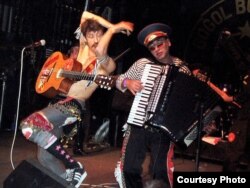 Eugene Hutz (left) and Yury Lemeshev of Gogol Bordello
The New York-based band Gogol Bordello is among the more successful U.S. acts that can trace their roots back to the former Soviet Union.
Founded a decade ago, the nine-member band features musicians from Ukraine, Russia, Ethiopia, Israel, the United States, and even a Japanese-Romanian mix.
The band's rowdy, unique sound -- rich in accordion and fiddle music -- has won it fans the world over, and the band frequently tours not only in the States, but in Russia, Japan, and Eastern and Western Europe.
The band's leader, Ukrainian-born Eugene Hutz, describes Gogol Bordello's style as "Gypsy punk." The band is eager to emphasize its multicultural makeup in its material, with songs like "Immigrant Punk."

Revealing Their Roots
Spektor and Gogol Bordello are perhaps the best-known post-Soviet musicians on the current U.S. music scene. But there are dozens of other acts who spring from the same soil. One is Tonearm, the stage name of Moscow-born Ilia Bis.
Bis, who has a background in mathematics and computer sound analysis, produces delicate, ethereal, electronic music that has earned Tonearm a faithful following on both the New York and Moscow club scenes:
Bis's music seems to bear no traces of his Russian heritage. But he says no artist born in the former Soviet space can entirely shed their links to the past. Even performers who sing entirely in English, he says, remain influenced by their childhood experiences -- something that is reflected years later in their songs.
Ilia Bis
"I think the influence of the Russian experience may be traced in details that are not clearly visible, such as how people rhyme their lyrics or their approach to the lyrics, their approach to the melody," Bis says.
Idov, who heads the New York-based art-rock band Spielerfrau, is also a contributing editor at "New York" magazine and the editor in chief of a quarterly English-language magazine called "Russia!"
A Russian born in Latvia, Idov occasionally reveals his roots in Spielerfrau's darkly elegant songs, as with the song "Stalinistka," the video for which was filmed in Moscow, St. Petersburg, and New York.
Joining The Mainstream
But despite such songs and occasional references to the works of Russian poet Joseph Brodsky, Idov says he and other musicians like Spektor -- who were part of the last big wave of Russian immigration to the United States in the 1980s and '90s -- are increasingly looking beyond their roots toward mainstream U.S. audiences.
"People like Regina Spektor -- their link to Russia is not that strong by default. Besides, [mass] immigration from Russia to the U.S. has already ended. There's no inflow of fresh blood," Idov says.
"The future tendency will be less for musical acts aiming at Russian-emigre audiences in New York and more toward acts like Regina Spektor -- that is, [American] performers who coincidentally just happen to have been born in Russia."
One exception is Ukrainian-born Alina Simone, who is gaining popularity on the club-music scene in Brooklyn.
Her latest album, "Everyone Is Crying Out To Me, Beware," includes cover versions of songs by Russian folk-punk legend Yanka Dyagileva, who died in 1991 at the age of 24. Much of the album is sung in deliberately awkward, heavily accented Russian.
Boris Barabanov, a Russian journalist who has written on post-Soviet rock musicians trying to break onto the U.S. music scene, says many of the performers have proven adept at straddling two cultures while finding success in the U.S. music industry.
"The main thing is to not let yourself get sucked into the emigre quagmire," Barabanov says, "where you can make a living playing in restaurants and fool yourself into thinking that it's OK."