World powers have been increasing pressure on Tehran to fully disclose its nuclear program, and to halt all of its uranium-enrichment activity, ahead of international talks
now under way
with Iran's top nuclear negotiator, Said Jalili.
The talks outside Geneva come amid growing international concern about the build-up of a covert Iranian nuclear program and suspicions that Tehran is secretly trying to build nuclear weapons.
Jalili is meeting with officials from the five permanent members of the UN Security Council -- the United States, Britain, France, China, and Russia -- along with Germany, known as the P5+1 grouping. Javier Solana, the European Union's foreign policy chief, was expected to lead the talks.
"My expectation, or my hope, is that we will be able to get engaged in order to get the guarantees from Tehran, that the [nuclear] program in which they are engaged...is a peaceful program," Solana said on the eve of the meeting.
Delegates at the Geneva talks planned to confront the Iranian negotiator about the revelation that Iran has been secretly constructing a second uranium enrichment facility that produces material that could be diverted for nuclear weapons.
Tehran notified the International Atomic Energy Agency (IAEA) about the facility last week -- drawing international condemnation and threats from the United States, Britain, and France of possible further UN sanctions.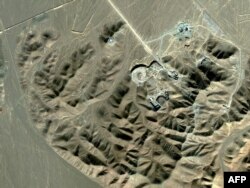 The alleged enrichment facility at Qom (satellite image available to AFP by Digitalglobe)
U.S. President Barack Obama has said the "size and configuration" of the uranium-enrichment facility contribute to suspicions that Iran is masking a secret nuclear-weapons program behind its efforts to develop nuclear energy.
"Iran has a right to peaceful nuclear power that meets the energy needs of its people," Obama told the G-20 summit in Pittsburgh last week. "But the size and configuration of this facility is inconsistent with a peaceful program. Iran is breaking rules that all nations must follow, endangering the global nonproliferation regime, denying its own people access to the opportunity they deserve, and threatening the stability and security of the region and the world."
'Intense Interest'
Iran in the past week has also tested a new missile system that is capable of carrying a nuclear warhead some 2,000 kilometers.
Meanwhile, the "Financial Times" newspaper on September 30 quoted British intelligence officials as saying that Iran has been secretly designing a nuclear warhead since late 2004 or early 2006. That assessment is at odds with a 2007 U.S. intelligence report that maintains Iran halted work on nuclear weapons design in 2003.
"There is intense interest on whether Iran had continued nuclear-weapons development and design work that the U.S. intelligence agencies concluded was suspended in 2003 -- whether it really was suspended, or whether it has continued in some form," said Mark Fitzpatrick, a nuclear nonproliferation expert with the London-based International Institute for Strategic Studies.
"And then there is intense interest in the state of play of Iran's program," Fitzpatrick said. "Transparency is vital. But also vital is Iran suspending its enrichment and other related activity in accordance with UN Security Council mandates."
Fitzpatrick said Iran's newly disclosed enrichment facility has caused such a stir because Tehran should have informed the IAEA long ago about its plans to build any sort of facility.
"Iran is obliged under its safeguards agreement to report to the IAEA the planning of any such nuclear facility," Fitzpatrick said. "But Iran a few years ago unilaterally withdrew its obligation to make such initial reporting. It is the only country that has ever withdrawn such an obligation. And the IAEA says it has no legal basis for unilaterally doing so."
Despite evidence suggesting otherwise, Tehran continues to claim it is only trying to develop nuclear power for peaceful purposes. Iran's chief nuclear official, Ali-Akbar Salehi, says Iran will never bargain away its "sovereign rights" on the issue.
"Speaking in general terms about disarmament -- about nonproliferation, which concerns everyone...about peaceful nuclear technology, about technical cooperation, about all these things -- we are open to discussion," Salehi said. "We will not discuss our sovereign rights. This is what we want to emphasize" at the Geneva talks, he said.
Test For The Security Council
Iranian President Mahmud Ahmadinejad said in Tehran on September 30 that the Geneva talks would be a measure of the respect that world powers have for Iran's sovereign rights.
But analysts said the real test was whether China and Russia would support a fourth round of sanctions against Iran if it refuses to halt enrichment activities or to allow inspectors into the new enrichment facility.
As relations between Moscow and Washington have improved this year, there have been signs of Russia hardening its stance on Iran. Russian President Dmitry Medvedev signaled last week that he may endorse sanctions if there is no progress in Geneva. Still, it is unclear exactly how far Russia might go.
Russian Foreign Minister Sergei Lavrov told RFE/RL on September 25 that restraint should be exercised until all relevant facts about Iran's new facility are disclosed.
"As far as I understand, there is no clarity regarding the legal aspects of this situation," Lavrov told RFE/RL. "I don't want to go into legalistic analysis. It has to be provided by IAEA. But don't forget that Iran did notify the agency about its intentions, about its plans to construct a new facility, and we are convinced that whatever is being constructed under the Iranian nuclear program must be brought under the monitoring of IAEA."
China also wields veto power as a permanent member of the UN Security Council and could, on its own, prevent the tightening of sanctions against Iran. China's Foreign Ministry has said that "sanctions and exerting pressure" are not the way to resolve the issue and will not help diplomatic efforts on the Iran nuclear issue.
Michael Rubin, a foreign-affairs specialist at the American Enterprise Institute in Washington who is generally regarded as being hawkish on Iran, said the United States could not rely on support from Russia and China. And without that support, he said, the United States had nothing to back up its diplomatic efforts.
"Sometimes a strategy goes down a dead end, and the biggest mistake is not to recognize that you've driven into a dead end," Rubin told RFE/RL. "I'm not saying that talks will necessarily fail. But what I'd argue is that talks are most effective when counterbalanced with coercion."
Others noted that China's investments in the Iranian oil and gas industries would likely be affected by further sanctions against Iran. Energy costs within China also would probably rise, affecting China's overall economic growth. Opponents have suggested those considerations help to explain Beijing's apparent reluctance to support further sanctions against Iran.
RFE/RL correspondents Andy Tully in Washington and Nikola Krastev in New York contributed to this story