Issa Saharkhiz, a prominent journalist and former senior Culture Ministry official, has told his family in a short phone call from prison that several of his ribs were broken during his arrest in northern Iran on July 4 in the postelection crackdown.
The 56-year-old Saharkhiz has told his family the authorities traced him through his Nokia cellular phone. Saharkhiz, who had campaigned for reformist candidate Mehdi Karrubi, has been highly critical of Iran's supreme leader and of President Mahmud Ahmadinejad.
RFE/RL correspondent Golnaz Esfandiari spoke to Saharkhiz's son, Mehdi Saharkhiz, who is in New York conducting a hunger strike with other activists and intellectuals to call for the release of political prisoners in Iran and express solidarity with the Iranian people.


RFE/RL: Your father managed to make a phone call to your family in Tehran on July 23. What did he say about his situation and the conditions he's facing in prison?Mehdi Saharkhiz:
He made a short call and said that unfortunately when he was being detained several of his ribs were broken, and currently he's held in solitary confinement where he has received [medical treatment].
RFE/RL: Does that mean he was beaten up while he was arrested?Saharkhiz:
Well, if they had treated him well, he wouldn't have broken ribs. I don't know how they arrested him that his ribs were broken.
RFE/RL: What else did he say? You said he's being held in solitary confinement. Is it clear where he's being held? Is it at Evin prison?
Saharkhiz:
It's not clear where he is being held. He also said: "Don't expect to see me anytime soon. I will stay here for a long time." He also said that all the tracking was done through Nokia and, if possible, lawyers should file a complaint against the Nokia company and take it to an international court and argue that Nokia should pay for all the damages and things that have happened in Iran.
RFE/RL: You mean your father's Nokia cell phone was being tapped, and did he say or mean that he was being interrogated based on his telephone conversations?

Saharkhiz:
No. He didn't say anything about the interrogations, but that's how he was arrested. We don't know what the charge against him is. He is not even allowed to have a lawyer, so that we can found out about his charge. But what was said is that he was traced through Nokia.
RFE/RL: Do you know whether your family will be allowed to meet your father or whether he will be able to have access to a lawyer?

Saharkhiz:
They haven't said anything.
RFE/RL: You and a number of other rights activists, intellectuals, and academics and artists have been on a hunger strike in front of the UN in New York since July 22 to express solidarity with the people of Iran and call for the release of your father and all the others arrested after the election. How hopeful are you that these kinds of actions will really have an impact?

Saharkhiz:
These events help people inside and outside Iran, citizens of other countries, become aware of what is happening, and it also helps us get more news and give more coverage. This creates hope for the people of Iran. They see that Iranians outside the country are also with them. I think it has a very positive effect. I've received e-mails from several groups inside Iran who have said that they have launched hunger strikes to coincide with the hunger strike here. It shows that they all know about this and are supporting it.
RFE/RL: Do you think the prisoners are informed of these events and know about the international solidarity? We know that some of them have almost no contact with the outside world.

Saharkhiz:
I think the "Allah Akbar" chanting they hear at night is the biggest news for them. They become informed more or less through the telephone calls they have. I don't know if all of them do, because none of them have access to lawyers.
Iran Election Diary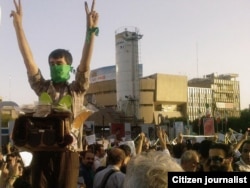 Disputed Presidential Vote
There have been protests and clashes with police on the streets of Tehran following the disputed reelection of Mahmud Ahmadinejad. RFE/RL collects videos, photos, and messages on social-networking sites coming out of Iran to attempt to get a picture of what is happening inside the country.
Click here
The Battle For Iran's Future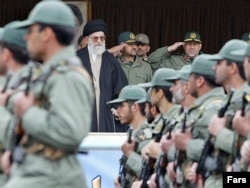 The Battle For Iran's Future
With much more than a disputed presidency at stake for Iranians, RFE/RL's Charles Recknagel and Mazyar Mokfi explore the power plays that could reshape Iran's political establishment.
Click here
for news, blogs, and analysis of the presidential election and aftermath.