(RFE/RL) -- Russian activist Lev Ponomaryov, leader of the For Human Rights movement, has been released from the hospital following an attack by unknown assailants outside his Moscow home overnight.
Ponomaryov, 67, suffered bruises and contusions to his face and upper body as a result of the incident.
He told RFE/RL's Russian Service that he was approached by a stranger as he arrived home late last night.
"I drove up and parked there in the courtyard. And when I opened the door, a man came up to me and asked me for a cigarette," Ponomaryov said. "I turned toward him and said, 'I don't smoke. Pardon me, but I don't smoke.' At that moment, someone hit me from behind. I fell down and they began savagely kicking me."
Ponomaryov said the attack continued for some time and that robbery did not seem to be a motive.
"They beat me for, I don't know, five or 10 minutes, maybe 15. It's hard to say," he says. "I began shouting, loudly. A guard comes out from a nearby entrance, and they ran away. That's the whole story."
The attack came shortly after Ponomaryov met with Sabine Leutheusser-Schnarrenberger, a rapporteur for the Parliamentary Assembly of the Council of Europe's human rights committee. She has issued a statement calling on the Russian authorities to investigate the crime thoroughly.
Amnesty International is also calling for a full and independent investigation.
"Far too many abuses against human rights and civil society activists, lawyers, and journalists have gone unpunished and perpetrators believe they can act with total impunity," said Nicola Duckworth, Amnesty's Europe and Central Asia program director.
Ponomaryov confirmed that police are investigating.
"The police are working diligently. They arrived, an enormous number of police. That is, it is under control," Ponomaryov says. "I have been in contact with my lawyer and he is getting involved, and will be following to make sure the matter is investigated professionally."
The activist declined to speculate about the possible motives for the assault, saying only that he is involved in many difficult investigations involving state agencies. He told RFE/RL that he has recently called for criminal investigations into the Federal Antinarcotics Service and the Federal Corrections Service.
The co-director of For Human Rights, Yevgeny Ikhlov, told gazeta.ru that Ponomaryov had complained to police in recent months that he was being followed, but police had refused to investigate.
Ponomaryov is a longtime human rights activist. He is also a leader of the Solidarity opposition political movement, and he is a founding member of the Memorial human rights group. He served as a deputy in the State Duma from 1993-95.
Journalists In Trouble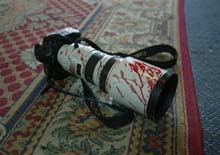 RFE/RL journalists take risks, face threats, and make sacrifices every day in an effort to gather the news. Our new "Journalists In Trouble" web page recognizes their courage and conviction, and documents the high price that many have paid simply for doing their jobs. More