Prominent Tatar Author, Blogger Beaten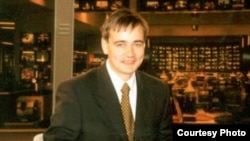 Prominent Tatar opposition blogger Irek Murtazin has been hospitilized with serious injuries to his head and body after being severely beaten, RFE/RL's Tatar-Bashkir Service reports.

Murtazin, a vocal critic of the Kazan mayor and other city officials, says he was attacked by two men near his Kazan apartment last night.

Murtazin's family members told RFE/RL that they suspect the attackers are connected to the Kazan city administration.

Murtazin is working on a book, "Mayoral Team," which details corruption in the city government. He has accused current city officials of involvement in major corruption schemes linked to the city's public transportation system.

Murtazin also wrote "Last President of Tatarstan," which describes the authoritarian methods of Tatarstan's current president, Mintimer Shaimiyev.

Murtazin worked as a presidential spokesman from 1999 to 2002 before becoming an author and journalist.
About This Blog
"Watchdog" is a blog with a singular mission -- to monitor the latest developments concerning human rights, civil society, and press freedom. We'll pay particular attention to reports concerning countries in RFE/RL's broadcast region.
Journalists In Trouble
RFE/RL journalists take risks, face threats, and make sacrifices every day in an effort to gather the news. Our "Journalists In Trouble" page recognizes their courage and conviction, and documents the high price that many have paid simply for doing their jobs. More