WATCH: One video showed protesters stomping on a poster of Supreme Leader Ayatollah Ali Khamenei.
By Golnaz Esfandiari
As Iran held anti-U.S. rallies to mark the 30th anniversary of the takeover of the U.S. Embassy in Tehran, security forces clashed in the capital with opposition supporters who renewed their protest against the reelection of President Mahmud Ahmadinejad.
The opposition demonstrators were defying Iranian officials' orders not to use the day to stage antigovernment protests.
Tensions have been running high since Ahmadinejad was named the winner of the June 12 presidential vote, a decision the opposition believes was the result of fraud. Authorities cracked down violently on the mass protests, which marked the country's biggest political crisis since the 1979 revolution.
A Tehran-based journalist, Siamak Taheri, says that since the June 12 election, holding official state holidays has become a real challenge for the Islamic establishment.
"The Islamic republic is no longer able to hold ceremonies like it did earlier on days considered important to the regime," Taheri says. "There are no more ceremonies, as such, but rather tense streets and streets full of tear gas."
'Death To The Dictator'
Witnesses in Tehran said police and Basij members used force and fired tear gas to disperse thousands of protesters, many of whom chanted "Death to the Dictator" while wearing green wristbands and holding green banners and balloons to signify their allegiance to the Green opposition movement.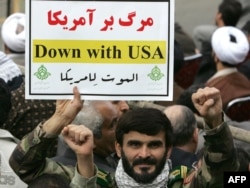 A member of the Basij militia holds shows a sign during a rally outside the former U.S. Embassy in Tehran.
A number of protesters, including several students, were reportedly detained in Tehran on Wednesday -- among them, Mohammad Hashemi, a senior member of Iran's largest reformist student group Daftar Tahkim Vahdat, who was reportedly arrested at his home.

On condition of anonymity, a woman in Tehran who participated in the protest told RFE/RL about the clashes between protesters and Basij forces.

"People were throwing stones, they used teargas and pepper gas against people," she said. "The number of people who were injured is high. I don't know if anybody died, but [Basij forces] were hitting people with batons. I was hit on the head. They don't care if you're young or old. They're beating everyone."

In the crowd was cleric Mehdi Karrubi, an opposition leader who was a candidate in the June 12 election. Karrubi attempted to reach Hafte Tir square but was prevented from doing so by security forces. (Click for YouTube video.)

Karrubi's son, Mohammad Taghi Karrubi, told Radio Farda that two of the opposition leader's bodyguards and a number of his supporters were injured. "The police forces shot tear gas directly toward Karrubi and his supporters. It resulted in the injury of two of the guards, who were transferred to the hospital," he said.

Mohammad Taghi Karrubi added that officials advised his father not to take part in the demonstration because of the possibility that those opposed to the establishment could stage a "suicide attack." Discounting the official line, he said that Karrubi's camp considers the violence used against the opposition leader's entourage as a "terror attempt" conducted by government forces.

Opposition leader Mir Hossein Musavi, who officially finished second in the election and who has called on his supporters to continue their opposition to Ahmadinejad's victory, had also announced that he would participate in today's demonstrations. But according to a report on his website, he was prevented from attending the protest by plainclothes agents.

Musavi's supporters chanted "Ya Hossein, Mir Hossein" ["Oh Hossein, Mir Hossein"] as they staged protests on the streets of the capital. Some also chanted slogans against Iran's Supreme Leader Ayatollah Ali Khamenei, who has described the questioning of the June 12 vote as the "biggest crime." One video showed protesters stomping on a Khamenei poster.

Many also chanted "Allah Akbar," which has become one of the signature chants of the opposition Green movement that emerged united after the June vote.

Anti-Russian, Anti-U.S.

Meanwhile, thousands of government supporters carried anti-U.S. banners as they marched in the capital near the former U.S. Embassy, which Iranian officials refer to as "the nest of spies."

In another neighborhood, opposition protesters chanted slogans against Russia, which they criticize for backing Ahmadinejad's reelection. The protesters called the Russian Embassy a "nest of spies" as well. (Click for YouTube video.)

Many opposition members also called on called on U.S. President Barack Obama to clearly express his support for them, chanting "Obama, Obama, either with us, or with them!"



In Washington, the White House expressed concern about the crackdown and said it was monitoring the situation.

White House spokesman Robert Gibbs said, "We obviously have seen and are following the reports of this, and hope greatly that violence will not spread."

In a statement, Obama praised the opposition protesters. He said, "The American people have great respect for the people of Iran and their rich history. The world continues to bear witness to their powerful calls for justice and their courageous pursuit of universal rights."

He added that he wants to United States and Iran to move beyond "suspicion, mistrust, and confrontation."

The last time the opposition launched mass street demonstration was in September amid official celebrations of Quds Day. Tens of thousands of supporters of Musavi and Karrubi used the occasion to demonstrate in the streets of Tehran and other cities including Shiraz and Rasht.

In recent weeks, students at Universities in Tehran, Ahwaz, Mazandaran, and other cities have held antigovernment protests. Several protests reportedly took place today at university campuses in Shiraz, Rasht, and several other cities.

Radio Farda broadcasters Hannah Kaviani, Roya Karim, Mohammad Zarghami, and Ruzbeh Bolhari contributed to this report.