WASHINGTON -- As the voices of 80 choral singers filled a Washington, D.C., church with music this past weekend, a master Georgian composer's spirit was raised in the most unlikely of circumstances.
About a century ago, Zakaria Paliashvili, regarded as the father of Georgian classical music, set the "Divine Liturgy of St. John Chrysostom" to music. The text, a staple of Eastern Orthodox and Eastern Catholic church services, was given a unique treatment by the composer, who sought to execute a delicate balancing act that was both musical and political.
His goal: to marry the ancient Georgian tradition of three-part chant -- which was disappearing under the linguistic and cultural yoke of tsarist Russification -- with the standard church music forms sanctioned by Moscow.
Disappeared Into History

The result was a 22-movement score, matched to text in both Georgian and Old Church Slavonic.
Over time, however, the piece disappeared into history.
"This is a major piece, [but] the further we went into this and talked to people as we were going along, it became interesting because no one had ever really heard the piece," says Parker Jayne, a financial analyst by day and, after nearly two years of research, a Paliashvili expert. He is also founder of the Washington, D.C.-based Capitol Hill Chorale.
"People had known of it or had heard of it, that it is existed, but no one that we talked to -- and the more we talked to people, the odder it got -- that no one had ever heard this piece performed or had actually ever even seen a copy."
WATCH & LISTEN: The Capitol Hill Chorale performs an excerpt of Zakaria Paliashvili's lost "Liturgy of St. John Chrysostom." Video courtesy of Paul Selker and the Capitol Hill Chorale.
In the summer of 2008, one of Jayne's fellow choir members, who had worked as a tour guide in Georgia, expressed interest in performing Georgian church music. The choir had performed liturgies from Russia and Bulgaria, but a Georgian work was something new, and the idea gained momentum.
In searching for a piece, the group found Vladimir Morosan, a music publisher and expert on Eastern European church music living in California. Exploring his archives, Morosan found a recording of parts of the Paliashvili "Liturgy," performed by an obscure Russian-language choral group. Although it was long since out of print, he also stumbled upon the score itself -- or, more precisely, a photocopy of a microfilm version of the score -- that he had made when doing research in Moscow's Russian State Library. No other copy could be found.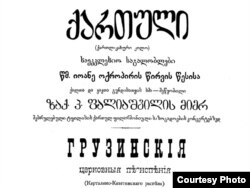 The cover page, in Georgian and Russian, of the "Divine Liturgy of St. John Chrysostom," circa 1909
'Magnificent' Work
Back in Washington, Jayne was intrigued.
He embarked on what he says were "hundreds of hours of work" to transliterate the Georgian into English, reformat the score so it could be sung by a modern choir, extract the notes matching the Georgian text -- leaving the Slavonic version behind -- and then transcribe the nearly 70-page piece into a digital music program.
He calls the result of this painstaking work "magnificent."
"There are sections of [the piece] that I am particularly in love with and would listen to over and over and over again," Jayne says. "There are particular cadences which come up in Georgian traditional music that are employed here that are beautiful, and suspensions that are very beautiful, and certain voice leadings that are just magnificent -- things that I haven't really heard anywhere else."
Teaching English-speaking singers how to pronounce tricky Georgian sounds was another challenge. That job fell to Anne Harrison, a former member of the Washington choral group who rejoined when she learned of its plan to sing Paliashvili's "Liturgy."
'Don't Overaspirate!'
Harrison, who had attended a vocal training workshop in Georgia, said there was some anxiety among the members about attempting the difficult language.
Georgians' nonaspirated consonants -- ტ -- t'ar; პ -- p'ar; კ -- k'an, meaning sounds not followed by a burst of air in the mouth -- were especially problematic for the singers, she says.
"[There was] a lot of sighing. But we reassured them a lot -- you know, 'Don't worry about it. In isolation, this is what it would sound like, but in the context of the song, you don't need to worry about it. Just don't overaspirate!'" Harrison says. "There's one other consonant that's even harder that's often transliterated with a 'q' and an apostrophe -- ყ - q'ar -- [it's like] a little explosion in the back of the throat."
During the technical work, Jayne also consulted music historians from New York to Tbilisi, all in an attempt to learn more about the piece and why, if it was penned by the composer whose work features in the Georgian national anthem, it appeared to be nearly lost.
What he found was a complex but plausible hypothesis. Despite its use of Georgian chant -- as well as Paliashvili's sampling of "Shen Khar Venakhi," one of the country's most famous hymns -- traditionalists in Tbilisi likely spurned the piece because of its foreign elements.
In Moscow, the work simply failed to earn recognition among the sea of liturgical music composed by Russian luminaries. Moreover, less than 10 years after it was written, around 1909, the socialists rose to power and all church music was dealt a severe blow.
'Great Music Is Universal'
As a result, the Capitol Hill Chorale's two performances in Washington, D.C., on June 5 and 6 were probably the first time the piece has been sung in full, and in Georgian, since the Bolshevik Revolution.
The choir could have chosen to use the Old Church Slavonic text, included by Paliashvili himself, but decided that Georgian was more fitting.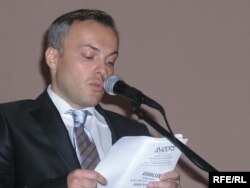 Batu Kutelia, Georgia's ambassador to the United States, addresses the audience at the "Liturgy's" June 5 performance.
The composer would have no doubt agreed.
During his research, Jayne contacted the Tbilisi State Conservatory and requested that they search their collection. They discovered that they, too, possessed a copy of the Paliashvili score, complete with an explanatory forward by the composer.
In the foreword, Paliashvili emphasizes the nationalistic value of the work and its attempt to preserve the legacy of Georgian music. Little could he have imagined that his piece would be performed a century later, and by a U.S. choir -- whose chosen concert hall was a Presbyterian church.
The cultural significance of the event was not lost on Batu Kutelia, the Georgian ambassador to the United States, who attended the June 5 performance.
"This evening will provide proof that appreciation of great music is universal and not bound by countries," he said.
Kutelia has invited the choir to come to Georgia and perform the piece at the Tbilisi Opera and Ballet Theatre, which bears Paliashvili's name.