In the summer of 1989, Ekaterina Boncheva, a young Bulgarian journalist, was hoping to travel with her husband, Dimitar, to visit relatives in West Germany.
There was just one problem. Their international travel documents -- the passports every citizen in communist Bulgaria required to travel outside the country -- had expired. But her sister-in-law in Germany assured them it wouldn't be a problem. Change was in the air, she said. Everything suddenly seemed carefree.
So Boncheva and her husband proceeded with their plans, despite their out-of-date documents and deep misgivings.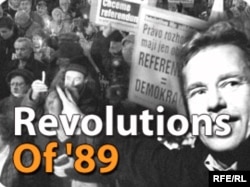 In the end, the trip to Germany was trouble-free. But Boncheva remembers the nervousness they felt when the time came to return to Sofia.
The German authorities had looked the other way. But Bulgaria's hard-line passport agents might have been far less forgiving. "Before returning to Bulgaria, my husband urged me to destroy all the written evidence of any contacts we had in Germany, like the phone number of my aunt and other people we saw there," Boncheva said.
The couple nervously ripped up any papers linked to their relatives in Germany, fearing the repercussions for traveling with illegal documents would be made worse if they were seen as consorting with people in the West.
But when they arrived in Sofia, Boncheva says she was amazed and relieved to see that their fears had come to nothing. "When we got back, there were no consequences, absolutely none. As far as I remember, I didn't even need to go back [to the police] to return my passport," she said.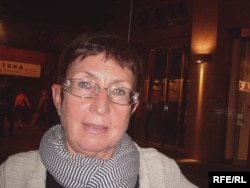 Ekaterina Boncheva
Bulgaria had spent 45 years under communist rule. But dissatisfaction was mounting with the country's longtime leader, communist dictator Todor Zhivkov, who had established himself as one of the most hard-line Eastern Bloc leaders and a firm ally of the Soviet Union.
Growing unrest in Bulgaria was reflected in public protests elsewhere in the Soviet Bloc -- Poland, Czechoslovakia, East Germany.
First Berlin, Then Sofia
On November 9, Boncheva and her husband were moving their portable radio from room to room, trying to get a good signal, when they finally settled down to bed and suddenly heard the news that the Berlin Wall had fallen.
The couple was "in our bedroom, on the bed, listening to the broadcast. We learned about the fall of the Berlin Wall on November 9th from Radio Free Europe. In Bulgaria, there was no official information about it," Boncheva said.
But a bigger surprise was still in store. Just one day later, on November 10, Zhivkov was overthrown in a so-called "palace revolution" orchestrated by members of the dictator's own Communist Party.
"I was at Sofia University, in the history department," she recalls. "And in one of the halls -- the largest lecture hall at the university, room 62 -- one of the head professors in the department had written on the blackboard, 'Dear colleagues, as of 2 p.m. today there will be no lectures, because national holidays are meant not for study, but for celebration.'"
"Obviously information had leaked that something was happening," Boncheva continued. "On the 6 p.m. newscast on state radio, they said the Bulgarian Communist Party had organized an internal coup, and that Todor Zhivkov had been overthrown. It was a very short announcement, without any further explanation."
Boncheva gathered with a large crowd of friends that night to eagerly parse the bits of information beginning to come out. What was happening? What did it mean for Bulgaria, and for them?
In some ways, she says, the news only began to seem real when she received a parcel in the mail from a cousin who had fled Bulgaria for the United States. It was the November 11th issue of the "Los Angeles Times," and it featured a photograph of Zhivkov, under the headline "Longtime Bulgarian Leader Resigns."
'This Time Is Ours'
The spirit of the moment was captured in a protest song, "45 Years Are Enough," which wished for a new era in which the people, and not the regime, would determine the destiny of the country.
"The time is ours," protesters sang before the first democratic elections. "It's time for hope and humaneness."
As the slogan of the opposition movement, "The time is ours" became one of the most memorable mottoes of the democratic movement in Bulgaria.
By June the next year, the country held its first free elections; a new constitution followed a year later, establishing Bulgaria as a democratic, parliamentary republic. Zhivkov died in August, 1998.
By 2007, Bulgaria was a member of both NATO and the European Union.
But the transition has not been flawless. Bulgaria remains bogged down by rampant corruption and economic difficulties. Twenty years later, Boncheva asks herself whether the regime really fell on November 10, 1989. More and more often, she thinks the answer is no. Traces of Zhivkov's intolerance for dissent and taste for nationalist policy can sometimes still be felt today.

Remnants Of The Regime
Part of the reason, says Boncheva, is that many members of the one-time communist elite, or their children, continue to hold positions of power. Former Prime Minister Sergei Stanishev and current Prosecutor-General Boris Velchev are both descendants of former Politburo members. Even Irina Bokova, the head of UNESCO, the UN's cultural agency, is the daughter of a prominent communist functionary and one-time editor of the central Communist Party newspaper.
The country has attempted to reckon with its communist past; Boncheva herself serves on the government lustration committee tasked with opening the country's communist-era secret police files. But Boncheva says the country still has a way to go.
And then there is Bulgaria's continued allegiance with Russia. If Sofia aligns itself politically with the Western clubs where it is now a member, economically, the struggling country is still reliant on its powerful eastern neighbor for energy and investments -- a fact that Boncheva says is dangerous for Bulgaria.
"The developments during these past 20 years have convinced me of one thing for certain. They confirmed the fact that Bulgaria, during the 45 years of the communist regime, was actually the closest satellite of the former Soviet Union," she said. "Because the transition that is still under way shows that the dependence of our country on the former Soviet Union is too strong. We were so closely bound to them that we can't shake off this dependence."
A result, Boncheva says, is that Bulgarian civil society is not as fully developed as that of the Czechs, Poles, and Slovaks. She says wistfully that it sometimes seems as though Bulgarians are unable to figure out what to do with their freedom. Her country's transition, she says, may simply need another 20 years.
"I think that after a whole generation, including mine, moves on to a more different world, and young people unencumbered by any political or ideological or financial relationships take over the governing of the country -- it's a matter of time. I am neither optimistic nor pessimistic. I'm just a realist," Boncheva said.
"I think all of us should contribute even just a little -- and only if you want to -- in terms of efforts and actions, if we want to become a truly democratic state." she said. "Because the mere creation of democratic institutions doesn't mean the society is democratic. It all depends on the people."
Revolutions Of '89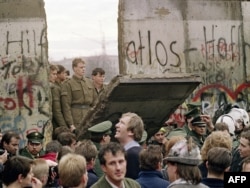 Revolutions Of '89
In the fall of 1989, a singular wind of change swept across the continent, blowing down the Iron Curtain and revealing the public's yearning for freedom.
Click here
for RFE/RL's look back at the year communism collapsed.