LONDON (Reuters) -- A Western-based human rights group has said at least 34 people were killed during election protests in Tehran on June 20, about three times the number announced by authorities.
Iranian state television said 10 people were killed and more than 100 injured in the demonstrations against the official election result, which gave a landslide victory to hard-line President Mahmud Ahmadinejad.
The protest went ahead in defiance of a demand from Iran's supreme leader, Ayatollah Ali Khamenei, that supporters of defeated candidate Mir Hossein Musavi stay off the streets after a week of mainly peaceful demonstrations.
The International Campaign for Human Rights in Iran said that the bodies of 34 demonstrators were placed in three Tehran hospital morgues on June 20.
"Imam Khomeini Hospital had 19 bodies, Rasool Akram Hospital eight bodies, and Loghman Hospital seven bodies," the group said in a statement.
"The information was collected by medical staff with access to the morgue records of these hospitals."
It said there were other hospitals near the demonstrations that could have received dead or injured protesters.
Iran's state media says at least 20 people were killed overall in the election aftermath. But Nobel Peace Prize laureate Shirin Ebadi said last week that 100 were killed.
Large numbers of people assumed to have been held in detention may also be dead, the campaign group said in the July 15 statement.
Outside Tehran's Evin prison, relatives of detainees gather every day to learn whether loved ones, missing since the election, are inside the jail or dead.
"They just wait and wait for hours. Mothers cry and sometimes chant 'Allahu Akbar' [God is great]," said a witness who lives near the prison where political prisoners are held.
Iran has accused Britain and the United States, which have criticized the crackdown on opposition protests, of interfering in its internal affairs. London and Washington reject the charge.
Iran Election Special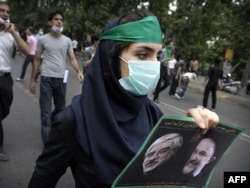 RFE/RL's Full Coverage
Following the disputed reelection of Iranian President Mahmud Ahmadinejad, supporters of Mir Hossein Musavi have taken to the streets to protest.
Click here
for news, blogs, and analysis of the presidential election and aftermath.
The Battle For Iran's Future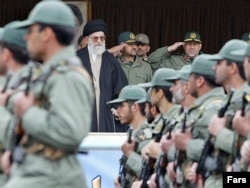 The Battle For Iran's Future
With much more than a disputed presidency at stake for Iranians, RFE/RL's Charles Recknagel and Mazyar Mokfi explore the power plays that could reshape Iran's political establishment.
Click here
for news, blogs, and analysis of the presidential election and aftermath.